Sarnath (Inde): ASI launches excavation to ascertain Sarnath's actual age
Sarnath (Inde): ASI launches excavation to ascertain Sarnath's actual age
Source - http://timesofindia.indiatimes.com/city/varanasi/ASI-launches-excavation-to-ascertain-Sarnaths-actual-age/articleshow/30713151.cms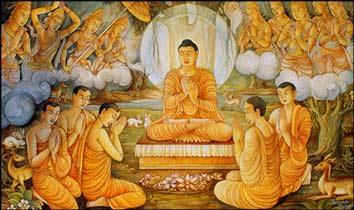 The Archaeological Survey of India has launched a hunt for past of Sarnath, the famous Buddhist site where Buddha delivered his first sermon.

The ASI began excavation on the west side of Ashoka pillar on Wednesday. According to ASI officials, the known history of Sarnath dates back to 3rd Century BC to 12th Century AD. The excavation aims to ascertain the actual age of Sarnath and the missing links through scientific dating of the place.

"The project aims at scientific dating of the place through various techniques like relative dating," said Ajay Srivastava, deputy superintending archaeologist of Archaeological Museum. Relative dating places assemblages of artifacts in time, in relation to (artifacts) types similar in form and function.
The ongoing excavation at Sarnath is being led by BR Mani, additional director general, ASI. "We hope to unearth useful finds to throw light on the past of this important Buddhist site," said Srivastava.

According to records, inscriptions of early medieval period found in Sarnath refer to the place as Dharamchakra or Sadhamacharka Pravartana Vihar.

In 1798, Jonathan Duncan, the Resident of Benaras gave an account of a casket of green marble inside a stone box exposed by the workmen of Jagat Singh, Dewan of Raja Chet Singh of Benaras, while dismantling the Dharmaralika Stupa in order to procure building materials.

Later, excavations were conducted at the site by Sir Alexander Cunningham (1835-36), Major Kittoe (1851-52), C Horne (1865), FO Oertal (1904-5), Sir John Marshall (1907), H Hargreaves (1914-15), and Daya Ram Sahni (1927-32).

In 1910, a museum was established to preserve antiquities found at the site. The antiquities in the museum are datable from 3rd Century BC to 12th Century AD.

"We have 6,832 antiquities at the site museum of Sarnath out of which 285 are on display at different galleries," said Srivastava. The Shakyasimha Gallery displays the most prized collections of the museum. In the centre of this gallery is the Lion Capital of the Mauryan Pillar which is the National Emblem of India. Apart from the images of Buddha in different posture and Tara, the inscribed colossal standing images of Bodhisattva in red sandstone dedicated by Bhikshu Bala, octagonal shaft, umbrella are also exhibited here.

Triratna gallery exhibits the images of Buddhist deities and some associated objects. A standing image of Siddhakavira, a form of Manjusri, standing Tara, seated Bodhisattva Padmapani, stele depicting miracle of Sravasti, inscriptions of Kumardevi, stele depicting Astamahasthana (eight great places) related to Buddha's life, Sunga railings are exhibited here.

Similarly, Tathagata gallery displays images of Buddha in different attitude, Vajrasattva, Bodhisattva Padmapani, Nilakantha Lokesvara with a cup of poison, preaching Buddha the most notable sculpture of Sarnath School of Art. Trimurti Gallery contains pot bellied seated Yaksha figure, image of Trimurti (Brahama, Vishnu and Mahesh) Surya, Saraswati, Mahisasur Mardini and objects like figures of birds, animals, male and female heads as well as some stucco figures. Ashutosh Gallery exhibits Brahmanical deities like Shiva in different forms, Vishnu, Ganesh, Kartikeya, Agni, Parvati, Navagrahas, Bhairava and a colossal Andhakasuravadha (killing of demon Andhaka) by Shiva.

Besides excavation at Sarnath, the ASI is also collaborating with Jnana Pravaha, Centre for Cultural Studies and Research, in excavation at Rajghat. Professor Vidula Jayaswal, former professor of archaeology at the department of ancient Indian history, culture and archaeology,Banaras Hindu University (BHU), is working on this project to know the antiquity of Varanasi.