Sardis (Turquie): Ancient city slowly coming to light
Sardis (Turquie): Ancient city slowly coming to light
Source - http://www.hurriyetdailynews.com/ancient-sardis-slowly-coming-to-light-in-turkeys-manisa.aspx?PageID=238&NID=85094&NewsCatID=375
AA Photos
When you've been conducting archaeological excavations since 1854 and you've only revealed 3 percent of what is believed to lie beneath, either your priorities are elsewhere or your quarry is really quite large.
In the case of the ancient city of Sardis, located in Manisa's Salihli district, the case is the latter. "During the excavations that have continued inside the city walls, only 3 percent has been unearthed. But the city is bigger. We started excavations last year in the field known as the 'king road.' This year we will continue working at the same spot," said Nicholas Dunlop, a professor who is heading the excavations at Sardis, the former capital of the Lydian kingdom, as well as one of the seven churches of Asia mentioned in the Book of Revelation in the Bible.

Dunlop said the king road was an ancient road through the Middle East.

This year's work at Sardis, which is home to structures such as the Acropolis, Gymnasium, baths and royal graves, will continue at five different spots.

"The remains of the city's gate were reached in the 1980s. This road was going through this spot at the time of Lydia in 500 and 600 B.C. A thousand years later, a Roman road was constructed on the road. The road was extended with marble blocks in the Roman era, becoming 18 meters wide. Various business places were built on this road in the Byzantine era," Dunlop said.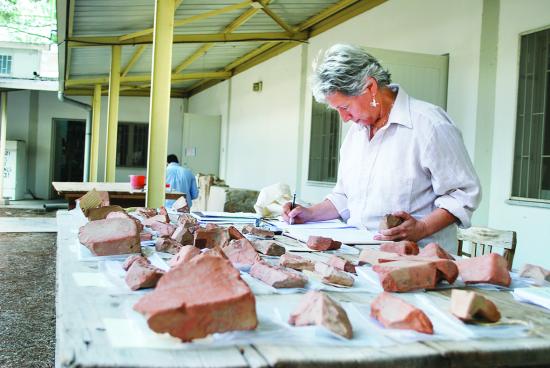 The professor said there were settlements on a square-kilometer field to the north and south of the excavation area.

"We are talking about a very large area. Works are being carried out very delicately. Excavations here will take many years," he said.

Teoman Yalçınkaya, a member of Turkish-American excavation team at Sardis, said they prepared future programs every year for restoration works at the site.

"Now there is a project to cover the synagogue. This is a very big project and its cost is expected to be nearly $5 million. [There are also moves] to cover the Lydian city walls with this project. Moreover, walls from the Roman and Byzantine eras in the area are being restored to prevent collapse. The work is financed by the U.S., and a budget of a half million dollars has been spent in three months," Yalçınkaya said.