Source - http://arts-entertainment.bgnnews.com/new-120-sq-meter-mosaic-containing-bible-verses-found-in-southern-turkey-haberi/7724
A new 120 square meter (1,300 square foot) Byzantine mosaic dating back to the 5-6th century C.E. containing a Bible verse in Greek as well as depictions of various animals living together in peace was discovered at an archeological dig in Turkey's southern province of Adana.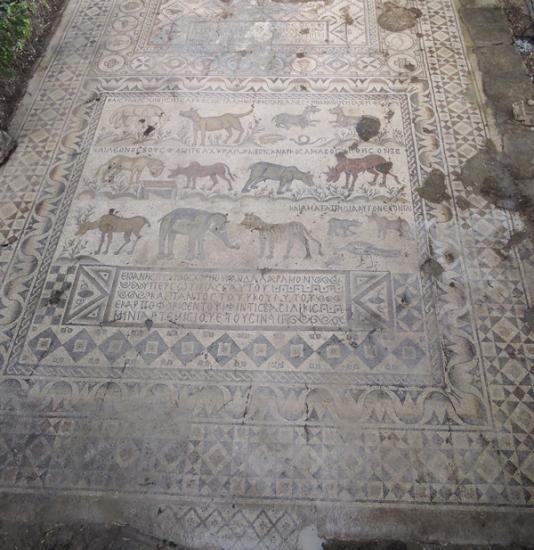 The mosaic depicts 16 wild and domesticated animals – including a wolf, sheep, leopard, goat, bull, lion, bear and snake - peacefully living together, sleeping side by side, sharing food and grazing.

The depiction of traditionally antagonistic animals co-existing peacefully is accompanied by a Bible verse written in Greek, Isaiah 65:25 - "The wolf and the lamb shall feed together, and the lion shall eat straw like the bullock: and dust shall be the serpent's meat. They shall not hurt nor destroy in all my holy mountain, saith the Lord."

The 15 meter by 8 meter mosaic was recently discovered at an archeological dig on private property being conducted by the Ministry of Culture and Tourism's Cultural Assets Directorate and the Adana Museums Directorate in the Karlık neighborhood of Adana's Sarıçam district.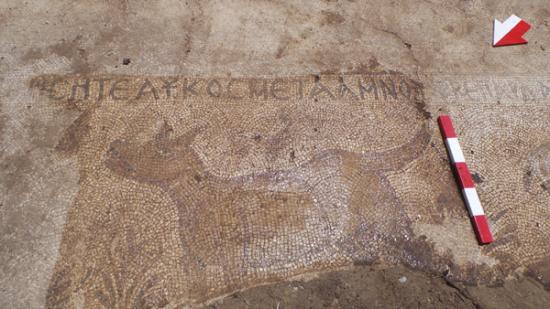 The mosaic has been moved for further study to the laboratory department at the 10,000 square meter museum complex being established at Adana's historic National Textile Factory. Following restoration, the mosaic will be transferred for display to the new museum.
The Adana Culture and Tourism Director Sabri Tari explained that there are excavations going on at 15 separate sites in Adana and its environs attempting to uncover mosaics for display at the new facility.

Acting Director of the Adana Museum Nedim Dervişoğlu explained that they had picked that site because they had deduced it was the foundation of a residence, adding that they were very excited to have made such a find at the very first place they looked out of the 15 ministry-backed excavations.