Saqqara (Egypte): Eight million dog mummies uncovered at the dog catacomb
Saqqara (Egypte): Eight million dog mummies uncovered at the dog catacomb
Nevine El-Aref
Source - http://english.ahram.org.eg/NewsContent/9/40/61381/Heritage/Ancient-Egypt/Eight-million-dog-mummies-found-in-Saqqara.aspx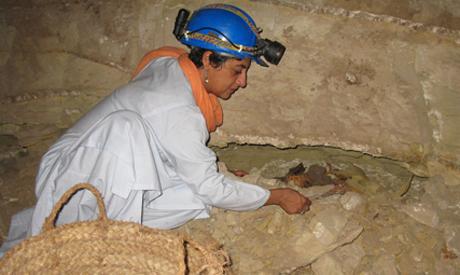 During routine excavations at the dog catacomb in Saqqara necropolis, an excavation team led by Salima Ikram, professor of Egyptology at The American University in Cairo (AUC), and an international team of researchers led by Paul Nicholson of Cardiff University have uncovered almost 8 million animal mummies at the burial site.
Studies on their bones revealed that those dogs are from different breeds but not accurately identified yet.
"We are recording the animal bones and the mummification techniques used to prepare the animals," Ikram said.
Studies on the mummies, Ikram explains, revealed that some of them were old while the majority were buried hours after their birth. She said that the mummified animals were not limited to canines but there are cat and mongoose remains in the deposit.
"We are trying to understand how this fits religiously with the cult of Anubis, to whom the catacomb is dedicated," she added.
Ikram also told National Geographic, which is financing the project, that "in some churches people light a candle, and their prayer is taken directly up to God in that smoke. In the same way, a mummified dog's spirit would carry a person's prayer to the afterlife".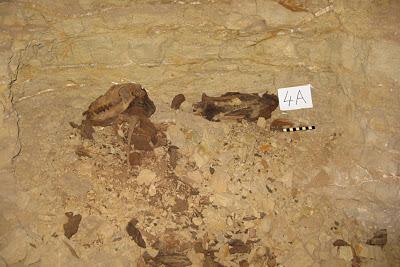 One of eight million dogs archaeologists believe are buried in a labyrinth of sacred tunnels under the Egyptian desert [Credit: Paul Nicholson/Daily Mail]
Saqqara dog catacomb was first discovered in 1897 when well-known French Egyptologist Jacques De Morgan published his Carte of Memphite necropolis, with his map showing that there are two dog catacombs in the area.
However, mystery has overshadowed such mapping as it was not clear who was the first to discover the catacombs nor who carried out the mapping, and whether they were really for dogs.
"The proximity of the catacombs to the nearby temple of Anubis, the so called jackal or dog-headed deity associated with cemeteries and embalming makes it likely that these catacombs are indeed for canines and their presence at Saqqara is to be explained by the concentration of other animal cuts at the site," Nicholson wrote on his website.
"These other cults include the burials of, and temples for, bulls, cows, baboons, ibises, hawks and cats all of which were thought to act as intermediaries between humans and their gods."
Despite the great quantity of animals buried in these catacombs and the immense size of the underground burial places, Egyptologists have focused on the temples and on inscriptional evidence rather than on the animals themselves and their places of burial.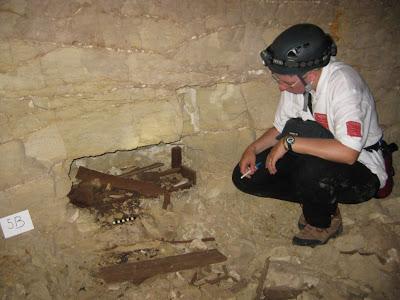 Egyptologist Hendrikje Nouwens examines a dog buried in a special wall niche - the remains of the wooden coffin can be seen [Credit: Paul Nicholson/Daily Mail]
The mysteries behind De Morgan's mapping were unsolved until 2009 when this team started concrete excavations at the cemetery in an attempt to learn more about the archaeological and history of the site.
"Results at the first season showed that De Morgan map has substantial inaccuracies and a new survey is under way," Nicholson said.
"The animal bones themselves have been sampled and preliminary results suggest that as well as actual dogs there may be other canids present. Furthermore the age profile of the animals is being examined so that patterns of mortality can be ascertained."