Sango (Japon): Researchers confirm work by Kamakura Period sculptor Kaikei; could be oldest
Sango (Japon): Researchers confirm work by Kamakura Period sculptor Kaikei; could be oldest
Naoki Matsuyama /The Asahi Shimbun
Source -http://heritageofjapan.wordpress.com/2013/11/14/in-the-news-researchers-confirm-work-by-kamakura-period-sculptor-kaikei-could-be-oldest/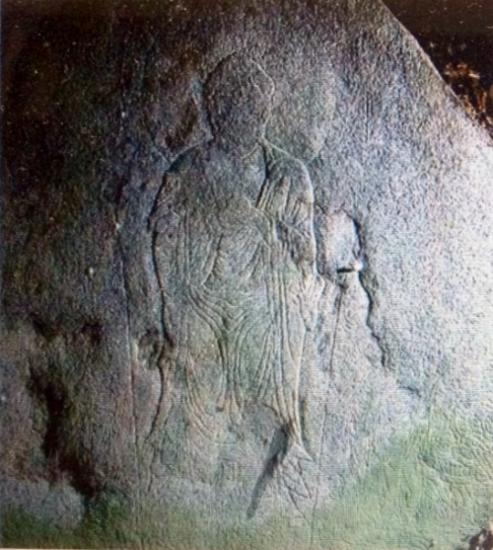 A stone sculpture of Yakushi Nyorai kept at Jishoin temple is believed to be the work of acclaimed sculptor Kaikei. (Provided by Sango town research group) 
Researchers say they have discovered what may be the oldest work by acclaimed sculptor Kaikei, who was active in the Kamakura Period (1192-1333).
A stone sculpture of Yakushi Nyorai (the Buddhist deity of healing) that was kept at Jishoin temple in Sango, Nara Prefecture, was confirmed to be a work by Kaikei, and could date more than six months before the oldest existing work by the redoubtable "Busshi" (sculptor who specializes in Buddha statues).
The temple is affiliated with another believed to have been established by the Buddhist monk Jokei (1155-1213), who was also known as Gedatsu Shonin.
The research group established by the Sango board of education began looking into the stone sculpture in May because it was in danger of falling over. The sculpture was kept in a hilly area toward the back of Jishoin temple. The researchers took apart the granite sculpture measuring 2.2 meters high, 2 meters wide and between 25 to 30 centimeters thick.
A stone cap was placed on the sculpture and on the underside of the cap were markings that said the sculpture was created based on the "original vow" of Gedatsu Shonin. Markings also bore a close resemblance to a signature mark often used by Kaikei in identifying his other works.
The research group was able to determine that the stone sculpture was the work of Kaikei based on a passage from a biography of a Buddhist priest who was close to Jokei, which said a stone sculpture of Yakushi was created by Kaikei based on a request made by Jokei.
The sculpture originally had an image of Yakushi carved into the stone along with bodhisattvas and other deities, but the faces have faded due to exposure to the weather as well as being touched for centuries by believers.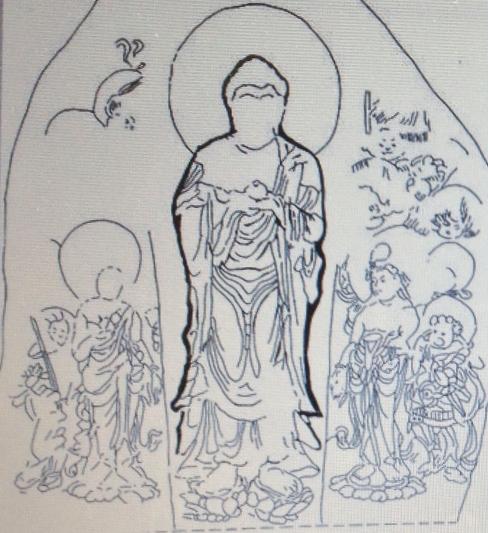 An illustration shows what the Yakushi Nyorai stone sculpture might have looked like when it was first created. (Provided by Sango town research group)
There are also other markings on the sculpture that could be interpreted to mean it was completed in February 1189, on the first anniversary of the death of the oldest son of an aristocrat who was a follower of Jokei.
Until now, the oldest confirmed existing work by Kaikei was created in September 1189. It is in the possession of the Museum of Fine Arts in Boston.
Members of the research group said the stone sculpture would shed new light on Kaikei because it was created before he became one of the representative artists of the Kamakura Period.
"We do not know of any other stone sculpture connected to Kaikei," said Hisao Miyake, a professor of Buddhist art history at Nara University. "It is very valuable because we can learn about a new side to Kaikei."
The research group will announce its findings at a symposium scheduled in November at Shujitsu University in Okayama city.