Ivan Dikov
Source - http://archaeologyinbulgaria.com/2015/08/04/archaeologists-find-last-fragment-of-early-christian-christogram-in-bishops-basilica-in-bulgarias-sandanski/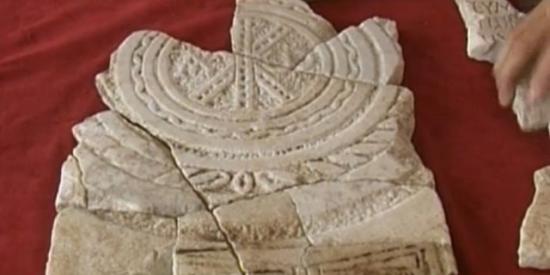 The fragments making up the 6th century AD marble slab with a christogram and a donor's inscription below it have been discovered by the archaeologists excavating the Bishop's Basilica of Ancient Parthicopolis in Bulgaria's Sandanski over a period of 25 years. Photo: TV grab from BNT
Archaeologists excavating the so called Bishop's Basilica of the Ancient Roman and Early Byzantine city of Parthicopolis located in the town of Sandanski in Southwest Bulgaria have discovered the last fragment from a marble slab with a christogram, a Christian symbol consisting of a monogram of letters standing for the name of Jesus Christ.
The "monogram of Christ", also known as the "seal of God" and Chi Rho after the respective Greek letters, which has now been put together by the archaeologists from the Sandanski Museum of Archaeology, has been discovered piece by piece over the last 25 years, reports the Bulgarian National Television.
The christogram from the Bishop's Basilica in Sandanski I, which has not been fully assembled, is dated to the 6th century AD.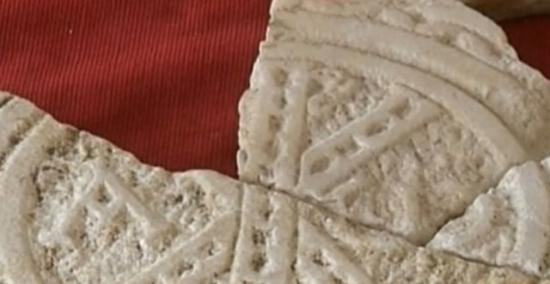 The Early Christian christogram, a monogram of Christ, found in fragments in Bulgaria's Sandanski. Photo: TV grab from BNT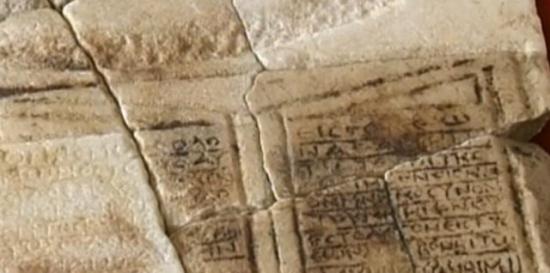 A donor's inscription consisting of "two small pages" has been found engraved on the marble slab below the christogram. Photo: TV grab from BNT
"This is a christogram, from the Greek letters Chi Rho which stands for Jesus Christ. It also features the Greek letters alpha and omega which also appear in the central part of the christogram. It is decorated with geometric elements, and has a large diameter of over 55 cm. It was used as a decoration," explains Vladimir Petkov, Director of the Sandanski Museum of Archaeology.
He points out that the monogram of Christ is a permanent motif in Christian art, and that thechristogram pieced together in Sandanski was used as a decoration of a newly unearthed space which was either the scriptorium (a room for the writing and copying of books in medieval monasteries), or the ancient library at the Bishop's Basilica in the Roman and Byzantine city of Parthicopolis.
What is additionally interesting about the Sandanski christogram is that there is a donor's inscription engraved on the same marble slab below it.
"These are two small pages in which "God's servant" Anthim mentions that he built this beautiful and magnificent building, and compares it to Solomon's Temple in Jerusalem," Petkov says.
The archaeological excavations in Bulgaria's Sandanski have yielded a number of other Early Christian finds over the years. For example, in March 2015, the local archaeologists announced the discovery of a large bronze cross for church procession from the 5th century AD.
The Bishop's Basilica of the Ancient Roman and Early Byzantine city of Parthicopolis in Bulgaria's Sandanski. Photo: TV grab from BNT
A drawing of the 6th century AD christogram discovered in the Bishopr's Basilica in ancient Parthicopolis in Bulgaria's Sandanski. Photo: TV grab from BNT