Samarlakota (Inde) : 2300 yr-old sandstone carving of 'Mother Goddess' found
Samarlakota (Inde) : 2300 yr-old sandstone carving of 'Mother Goddess' found
2300 yr-old sandstone carving of 'Mother Goddess' found in Andhra Pradesh
Ramesh Susarla
Source - http://www.thehindu.com/todays-paper/tp-national/article2898285.ece
The first-ever 'Mother Goddess' image carved in sandstone rock — representing the earliest perception of idolising woman as Goddess dating back to 3 Century BC — has been found close to the Sri Chalukya Kumara Bheemeswara Swamy temple at Samarlakota near Kakinada in East Godavari district of Andhra Pradesh.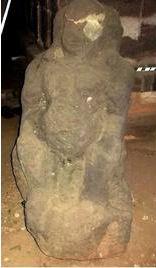 Statue of the 'Mother Goddess' dating back to 3rd Century B.C. discovered by Archaeological Survey of India at Sri Chalukya Kumara Bheemeswara Swamy temple at Samarlakota in East Godavari district of Andhra Pradesh near Kakinada [Credit: The Hindu]
Archaeological Survey of India's Superintending Archaeologist R. Krishnaiah, told The Hindu that while conducting an exploration around the Bheemeswara Swamy temple to ascertain its origin and antiquity, their Deputy Superintending Archaeologist D. Kanna Babu discovered the stunning and unique image of a seated mother goddess (Yakshini), in a remote corner outside the temple. 

The centuries old temple is revered as one of the 'Pancharama Kshetras.' From the archaeological research point of view, the 'mother goddess' sculpture was a rare discovery, said Mr. Krishnaiah. This find would be vital for reconstructing the cultural life of ancient Andhra, the origin and evolution of early cultural art. This idol was believed to be from the Ashoka period in 3 Century BC. 

Samarlakota might have played a vital role with prominent cultural activity from the early times dating back to the 11 century Chalukya period, he added. "We will conduct more explorations in the near future to bring out archaeological richness of the ancient Godavari Valley," he said. 

The archaeologist Mr. Babu, who made the discovery, said that such an early image of Mother Goddess had not been found so far in entire South India in stone media. The highly eroded sandstone sculpture is 150 cm tall, 67 cm wide and 28 cm thick life-size form of a Mother Goddess seated on a broad pedestal. 

"Her facial physiognomic feature is roundish, dignified with chubby cheeks, wide open eyes, a broad heavy nose, and close cut tender pair of lips. She is potbellied, her arms and wrists are embellished with a series of big bangles and she is wearing earrings. The head is covered with a beautiful head-dress, but it is in a deeply eroded state." 

The drapery covers her waist, hanging down between her legs and bears folds. Hands rest on her thighs and hold something which the ASI presumes are foodgrain. Mr. Babu says these features have striking similarities with the unique Yaksha, Yakshini images unearthed at important cultural sites like Beta, Patna, Deedarganj, Lauria, Nandanagarh, and Amaravathi of the Mauryan period. 

The ASI team included K. Veeranjaneyulu, senior archaeologist, and KVSSN Murthy, caretaker.