Sakai (Japon): First wooden 'tachikazari' ornament unearthed in ancient burial dig
Sakai (Japon): First wooden 'tachikazari' ornament unearthed in ancient burial dig
Masayuki Shiraishi
Source - http://ajw.asahi.com/article/behind_news/social_affairs/AJ201502050009?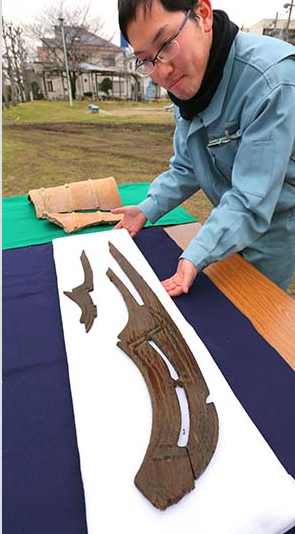 A portion of a "tachikazari" that was recently unearthed from Nisanzai Kofun burial mound in Sakai, Osaka Prefecture (Gen Hashimoto)
An ornamental piece of a more than 1,500-year-old wooden "haniwa" parasol has been unearthed here from a "kofun," a huge burial mound of a high-ranking figure in ancient Japan.
It marks the first time that a "tachikazari" (standing ornament) of that kind has been unearthed in Japan, Sakai city officials said on Jan. 30.
Tachikazari were installed on the top of parasols, called "kinugasa" (umbrellas), in ancient times.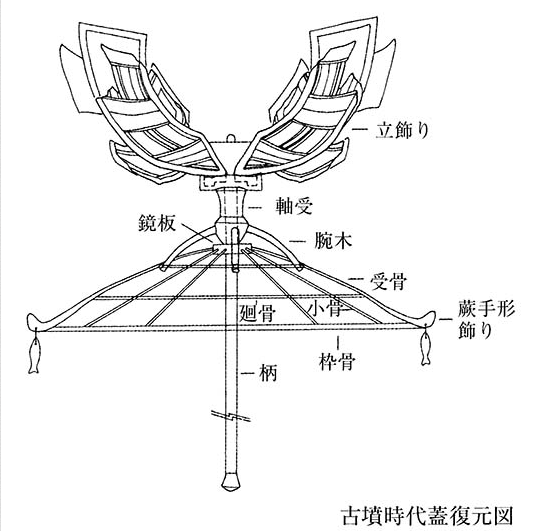 This image shows a "kinugasa" umbrella. A "tachikazari" ornament is installed on the top. (Provided by the Sakai city government)
Haniwa are figurines and sculptures made of clay or other materials and placed on kofun.
The ornamental piece was found in Nisanzai Kofun, believed to have been constructed in the latter half of the fifth century, which constitutes a part of the group of kofun burial mounds, collectively called Mozu Kofungun.
"It is interesting that in addition to clay haniwa, which take time and labor to make, wooden haniwa that are relatively easy to make were also used," said Kazuo Ichinose, professor of Japanese archaeology at Kyoto Tachibana University.
"In Nisanzai Kofun, which was constructed immediately after Japan's largest Nintokuryo Kofun (also in Sakai), 'fukiishi' (stones to decorate kofun or maintain their strength) are also few in number. Therefore, there is a possibility that Nisanzai Kofun became a model for subsequent kofun that used simplified construction methods and burial accessories," he added.
Nisanzai Kofun is managed by the Imperial Household Agency because it possibly served as a tomb of an emperor or other imperial family members. Its surrounding moat is under the authority of the Sakai city government.
In the latest research, the city government excavated the bottom of the moat and unearthed five wooden objects.
In Nisanzai Kofun, one wooden object was unearthed in fiscal 1976, followed by 23 in fiscal 2012. At that time, researchers concluded that they are part of haniwa objects that represent birds.
However, the latest discovery of the five objects led most of the experts to change their conclusion and say that they are parts of a tachikazari.
Kinugasa were parasols made of cloth and reflect the status and authority of their users. The tachikazari recently unearthed measures 79 centimeters long, 14 cm wide and one cm thick. It has patterns and some characteristics, such as incisions.
It is believed that the wooden haniwa that has the tachikazari on its top was placed on Nisanzai Kofun along with other haniwa made of clay.
Nisanzai Kofun is a keyhole-shaped burial mound, called "zenpo-koenfun," which literally means "a kofun made of a square-shaped front portion and circle-shaped back portion."
The latest research also found a place that was an edge of the front part at the time of the construction of the kofun. The finding led the researchers to conclude that the kofun was about 300 meters long because the research in fiscal 2012 had found an edge of the back part.
The length means that Nisanzai Kofun is the seventh largest among all the kofun discovered in Japan.
The city government does not plan to hold a public briefing at the location of the new find, a common practice with many archeological discoveries in Japan.