Rabindra Nath Choudhury
Source - http://www.asianage.com/india/200000-year-old-stone-age-tools-found-chhattisgarh-620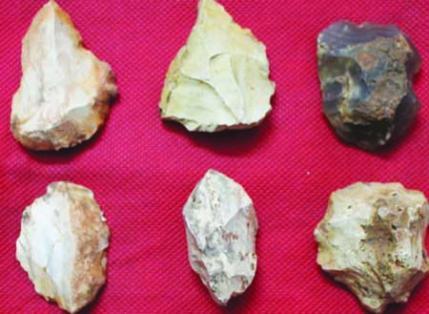 In a sensational archaeological discovery, Stone Age implements, believed to be 200,000 years old, were found at a prehistoric site in Chhattisgarh.
The prehistoric stone implements like scrapper, points, lunate, blade, clever and burin were found scattered in an area spread over 100 acres in the village of Sahaspur under Dhumda block in Chhattisgarh's Bemetera district by archaeologist J.R. Bhagat recently.
"Both finished and unfinished tools and debitages were found scattered throughout the site," Mr Bhagat, who had a year ago discovered a 3,000-year-old city buried under the soil in Tarighat, nearly 30 km from here, disclosed to this newspaper on Sunday.
"It was an accidental discovery. I came across Stone Age tools at the prehistoric site during my recent visit to a state-protected archaeological site in Sahaspur, 65 km from Raipur," he said.
According to him, techno-typological study of the tools has indicated that the artefacts belonged to Middle and Upper Palaeolithic periods (2 lakhs to 40,000 years old). Some of them date back to Mesolithic period (10,000 years old). "This may be the biggest reserve of Stone Age tools found in one site in the whole of central India so far. Hence, it may be the largest prehistoric site in Central India," Mr Bhagat revealed.
The newly-discovered site is located on the bank of an ancient water channel christened as Khujri, a tributary of river Sheonath.
The site is hardly 500 metres from a state-protected site housing a group of shrines dating back to 13th-14th century AD.
Significantly, exploration of the site has indicated that it was a manufacturing hub of Stone Age tools.
"Huge blocks of stones containing flake marks were found at the site. Besides, a large number of cores were also noticed in the patch. This clearly suggests that it was a major manufacturing hub of Stone Age implements," Mr Bhagat said.