Source - http://www.bbc.co.uk/news/entertainment-arts-25748576
It is thought these coins, minted in the name of Edmund, King of East Anglia, were buried when Vikings attacked Britain in 865
Amateur archaeologists with metal detectors found 990 items classified as treasure during 2012, according to figures from the British Museum.
All of the rare coins, rings and brooches contain gold or silver, and many date back more than 1,200 years.
The public reported more than 74,000 other historical items to the Portable Antiquities Scheme, which experts say has "revolutionised archaeology".
More than 900,000 objects have been reported since it started in 1997.
The verification process takes several months, which is why the items submitted in 2012 are only being detailed now.
Neil MacGregor, Director of the British Museum said the scheme, which launched its annual report today, was "ensuring that finds found by ordinary members of the public are rewriting history."
"Many of the most important finds have ended up in museum collections across the country, thanks to the generosity of funding bodies," added MacGregor, who launched the report with culture minister Ed Vaizey.
A total of 8,500 archaeological items have been classified as treasure - which signifies the presence of a precious metal, such as gold or silver - in the past fifteen years.
One man discovered a rare hoard of Anglo-Saxon silver jewellery and pennies while metal-detecting in Norfolk.
They were minted in the name of Edmund, King of East Anglia, and it is thought they were buried for safety as the Vikings attacked England in 865.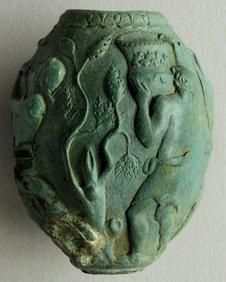 This Roman vase found in Kent is believed to have been made to hold oil and originated in France
Edmund was later captured, tortured and killed by Danish Vikings - being bound to a tree, shot with arrows and decapitated.
Roman coins dating back to the 2nd century AD were discovered by Alan Bates while metal detecting in Knutsford, Cheshire in May 2012.
And three friends in Kingston Russell, Dorset, found a post-medieval silver jug, which may have been buried during the English Civil War for safekeeping.
Another hoard of coins and silver jewellery, including Roman rings and brooches, was discovered in Knutsford, Cheshire and a 5,000-year-old stone tool was found on the banks of the River Thames in West London.
The British Museum said the public's fascination with archaeology was growing, as highlighted by the success of ITV's programme Britain's Secret Treasures.
The second series, which aired in the autumn last year, was watched by an average of 2.8 million viewers.
"I always find it fascinating to hear about the archaeological discoveries found by everyday people," said Mr Vaizey.
"The excitement of discovery is so exciting that it is important that the stories about these finds and their contribution to archaeology are known and shared."
He added that the work of amateurs, volunteers and museum curators meant "we now know much more about how people lived and worked in the past".