Elisabetta Povoledo
Source - https://www.nytimes.com/2017/05/30/arts/design/fresh-finds-at-romes-ancient-catacombs.html?_r=0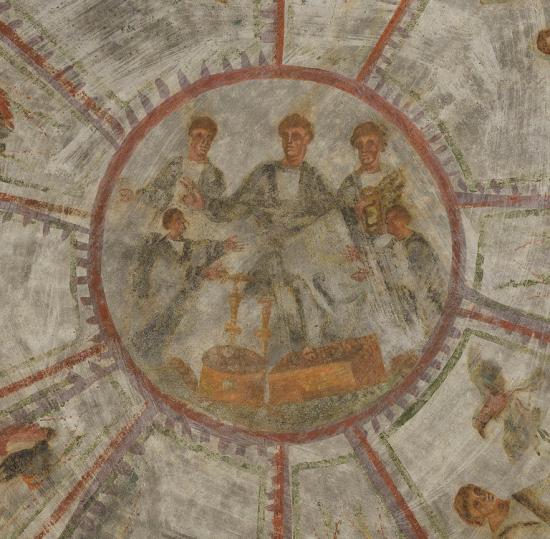 Pontifical Commission for Sacred Archaeology
Restorers on Tuesday put the finishing touches on a seven-year restoration of two underground burial rooms at the Catacombs of Domitilla, which revealed long-hidden frescoes commissioned some 1600 years ago by the city's bakers.
"We finished working on one cycle practically this morning," said Barbara Mazzei, who oversaw the restoration of the paintings on behalf of the Vatican's Pontifical Commission for Sacred Archaeology.
The frescoes had been hidden under a chalky deposit and algae during their many centuries of abandonment, while smoke from oil lamps had darkened the crusty surfaces. Using lasers, restorers stripped away the deposits strata by strata — a technique never used before in the catacombs. A mélange of figures gradually emerged, depicting Old and New Testament figures, but also vignettes relating to the baker's trade.
One of the cubicles in the catacombs, emblazoned with the name of the archaeologist Antonio Bosio. - Pontifical Commission for Sacred Archaeology
Working "millimeter by millimeter," Ms. Mazzei said, scientists discovered one scene that depicted the deceased being accompanied by two saints — possibly Nereus and Achilleus, two soldier martyrs who were probably persecuted under the Emperor Diocletian and are buried here. That revelation allowed archaeologists to date the frescoes to the second half of the fourth century, when this iconography was common.
In 1593, the archaeologist Antonio Bosio rediscovered the catacombs of Domitilla, Rome's largest early Christian underground cemetery, where more than 26,000 tombs have been found, and he emblazoned his name in one of the restored cubicles. "He was a bit of a megalomaniac," conceded Fabrizio Bisconti, the superintendent in charge of catacombs for the pontifical commission. (The restoration of the catacombs will continue, as there are dozens of rooms that are still in a rough state.)
A new museum at the catacombs will be inaugurated in June, gathering objects dating from the second to the fifth century from various catacombs in Rome.
Through these busts, epigraphs and sarcophagi, the museum hopes to recount "the passage of conversion to the new faith" from paganism and the "gradual Christianization of Rome," said the Rev. Giovanni Carrù, secretary of the commission.