Rochester (G-B): Uncovering crypt's treasures could rewrite the cathedral's history
Rochester (G-B): Uncovering crypt's treasures could rewrite the cathedral's history
Clare Freeman
Source - http://www.kentonline.co.uk/medway/news/uncovering-crypts-treasures-34536/
It's one of the biggest archaeological projects ever seen in Rochester. Work to develop the cathedral crypt has unearthed more than was ever expected.
Finds have included a skeleton which is missing the top of its skull, a Roman building, a gargoyle and a Norman structure.
Despite a radar survey of the site, nothing was revealed on the scans so all the discoveries have been a surprise.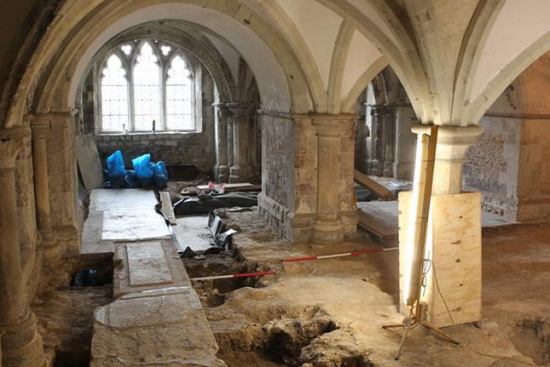 Inside the crypts of Rochester cathedral
Archaeologist Graham Keevill has been showing selected groups around the site.
He said: "The really important stuff we've found belongs to the Norman cathedral, so dating to around 1080 to 1120AD. We've been able to establish what the east end of the Norman cathedral looked like and also discovered stuff which no one has even thought might exist."
He said the project has been one of the highlights of his career, ranking alongside excavations at the Tower of London.
The gargoyle found during the excavation of Rochester Cathedral crypt
"It's a heaven-sent, once in a century opportunity to carry out one of the biggest archaeological projects that's ever been done in Rochester," he said.
The Roman building is thought to be the first to be properly excavated in Rochester, and has pits nearby where the inhabitants would have thrown rubbish.
The gargoyle appears to be a genuine portrait of a face unlike others of the time which were very stylised and the skeleton lost the top of its skull when foundations were dug for a later wall.
Mr Keevill said he thinks it is medieval and was buried in the crypt, but without carbon dating they will never know its age.
Another exciting find includes what could be pieces of the original William of Perth shrine which was destroyed during the Reformation and has remained missing ever since.
Although the cathedral is the second oldest in England, having been founded in 604AD by Bishop Justus, the present building dates back to the work of the French monk Gundulf in 1080.
Jacob Scott, Member of Vergers Team shows the remnants of a Norman staircase that the cathedral is preserving in the crypts of Rochester cathedral.
But the discovery of the Norman structure, which was not on any of the building's plans, could mean the cathedral is older than previously thought.
Mr Keevill believes the pillar could predate 1080, because the stone used to make it came from a quarry disused by the early part of the second millennium.
The pillar was found under the Kent steps, where a lift for the disabled was going to be installed, but the pillar has been deemed as being nationally significant and will remain in place.