Restoring Ancient Artifacts: What Does it Take?
Restoring Ancient Artifacts: What Does it Take?
Restoring Ancient Artifacts: What Does it Take?
Evan Conway
Source : http://www.pbs.org/newshour/rundown/2011/02/restoring-ancient-artifacts---what-does-it-take.html#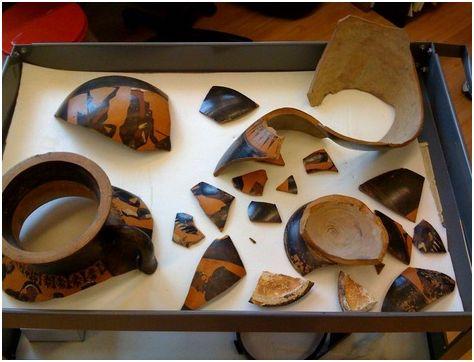 As the dust settles on Egypt's recent protests, one less-discussed outcome of the uprising is the damage done to some of the country's ancient artifacts. After would-be looters broke into the famous Egyptian museum in Cairo in search of gold on Jan. 29, approximately 70 artifacts were damaged.
Among the items were several small statues, a 3,000-year-old tomb, and a statue of King Tutankhamun. The king, who formerly stood atop a panther, was severed from the animal after the break-in.
With some twenty-five artifacts now in line for restoration, we looked further into the science of conservation.
"Science plays a much larger role than it used to in conservation," said Paul Jett, head of the Department of Conservation and Scientific Research at the Freer and Sackler galleries. Conservation science has a three-pronged focus that includes the study of materials and their deterioration, treatment of those materials, and the use of scientific methods to answer historical questions.
Western conservators, Jett explained, are always careful to make sure their work is reversible. In other words, they are careful not to make any permanent changes to the art. "Here in the west we follow a certain rule of ethics," he said.
To do so, scientists and conservators use special adhesives to glue the broken pieces together, such as a formula called Aquazol, which is water soluble. Acrylic adhesive and water-soluble resin are also used.
"If you use a resin you must make sure it doesn't dissolve the original substance," said Susanne Gansicke, a conservator at the Museum of Fine Arts, Boston. For example, the panther in the recently damaged King Tutankhamun sculpture, is covered in a "shiny black resin," sensitive to many adhesives.
Before conducting any conservation, each object undergoes a thorough scrutiny. Gansicke likens the process to patient preventive care.
Conservators first examine artifacts under infrared and ultraviolet light. This allows them to see imperfections otherwise invisible to the naked eye, Gansicke said. Radiography exposes pins and interior structures. Ultraviolet light exposes adhesives and resins.
In the case of the Tutankhamun statue damaged in Cairo, the pieces will be assembled and "consolidated." Synthetic resin could then be used to restore elements, such as gilding, to their original positions.
The time it takes to restore an artifact can vary depending on the object and what damage has occurred. "It can be a day, months or even years in extreme cases," Jett said.