Redding (USA) :Revisiting Connecticut's Valley Forge
Redding (USA) :Revisiting Connecticut's Valley Forge
Jaime Ferris
Source http://www.housatonictimes.com/articles/2012/02/23/entertainment/doc4f4512cf51490825724790.txt?viewmode=default 
Putnam Memorial State Park was Connecticut's first state park, but by the time it was set aside for the public in 1887, it had been more than 100 years since fires burned there to warm the troops of Gen. Israel Putnam during the bitter winter of 1778-79. That winter, General Putnam led more than 3,000 troops of the Continental Army into three separate valleys of north Redding, where they built temporary huts for protection against the elements and lived for six months—from Nov. 7, 1778 to May 25, 1779—before engaging the British that spring.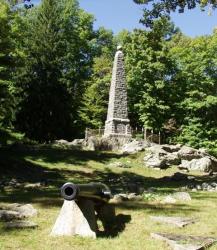 The monument at Putnam Memorial State Park in Redding. Photo courtesy of Jaime Ferris

The fires have long since been extinguished, the huts reduced to piles of stone and rubble, and generations of trees have grown since Revolutionary War troops camped at Connecticut's Valley Forge, but people's curiosity has never died—particularly that of Daniel Cruson. The retired Joel Barlow High School teacher designed and taught courses in anthropology and local history that focused on, among other sites, Putnam Memorial State Park. Now, after more than a decade of excavating the grounds, he has documented his findings in "Putnam's Revolutionary War Winter Encampment: The History and Archaeology of Putnam Memorial State Park."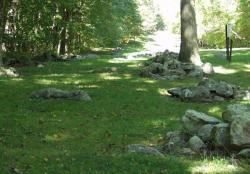 Remnants of firebacks on Company Road at Putnam Memorial State Park in Redding. Photo courtesy of Jaime Ferris

"Putnam's Revolutionary War Winter Encampment" relates the story of that fateful "winter sojourn in the wilds of western Connecticut," which is also the topic of an illustrated talk and book signing Mr. Cruson will conduct at the Gunn Memorial Library in Washington on Saturday, March 10, at 1 p.m. Hosted by the Gunn Memorial Museum, the event is free and open to the public. The snow date is Saturday, March 17, at 1 p.m.

"We're like crime scene detectives ... piecing the story together through research and excavations," Mr. Cruson said of his work. "The digs take the experience a step further and offer an understanding of how life was lived—the good and the bad. We're always finding exciting bits of history and I want to share that excitement of discovery."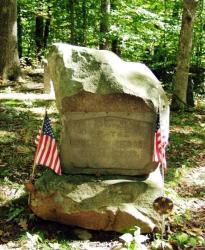 The tomb of the unknown soldiers at Putnam Memorial State Park in Redding. Photo courtesy of Jaime Ferris

Mr. Cruson conducted archaeological excavations for 12 years in the eastern-most area of the three encampments at Putnam Park, which he said "… represents a true transition as the Revolutionary Army continued to turn itself into a professional army proficient enough to finally defeat the British Army at Yorktown."

"During that winter in Redding there were skirmishes with lawless elements along the border, a near mutiny of a company of restive troops, two executions, and stories of heroism, such as Putnam's perilous ride down the 100 steps that separate the two sections of the Village of Greenwich," event literature states. "Central to all of this, however, is the daily life of the underfed, under-clothed, and underpaid soldier who endured the monotonous daily activities of the off-season.  Between the artifacts that they left behind and the documents they generated, the most complete picture of a Revolutionary War soldier's daily life that has yet been created is presented in Mr. Cruson's book."

A long-time Newtown resident who retired in 2005, Mr. Cruson has conducted extensive research and archaeological investigations in Easton, Redding, and Newtown, about which he has also written at length. To date, he has penned "The Prehistory of Fairfield County"; "Newtown's Slaves: A Case Study in Early Connecticut Rural Black History"; "Newtown: 1900-1960"; "A Mosaic of Newtown History"; "The Slaves of Central Fairfield County"; "The Newtown Savings Bank," and histories on Newtown, Redding and Easton in the Images of America series. In addition to his affiliations with several local historical organizations, he is a member of the Society of American Archeology, and The Archaeological Society of Connecticut, for which he serves as president.

But Putnam Memorial State Park has remained a strong interest that led to his directing excavations at the park from 1998 through 2006, with a follow up in 2008. "The rest," he said wryly, "is history."

"I was 7 or 8 when I used to go up to the park with my grandfather for picnics," he recalled. "I remember walking down Company Street [where only firebacks from fireplaces remain] and being overwhelmed with a desire to dig and see what was under there. Now … our picture of the encampment is so different from what it was. The research we've conducted and the excavations have rewritten history."

There were three encampments in Redding, which quartered brigades of more than 3,000 troops under Gen. Israel Putnam's command, including members of the New Hampshire Brigade of Enoch Poor and the Second Canadian Regiment of Moses Hazen. The camp consisted of log huts measuring 14-by-16-by-6 feet high (each had a fieldstone fireplace), arranged in long rows, as evidenced by the remains of stone firebacks, all that is left of them. Typically, a hut was occupied by either 12 soldiers, or a smaller number of officers.
"Our basic outline of the park is still intact, but we found some discrepancies and unexpected discoveries," Mr. Cruson noted. "The last history of the encampment was written by Charles Burr Todd [who also served on a commission that erected a monument at Putnam Park] in the 1920s, much of which relied on oral histories … some of which was incorrect."

Perhaps the biggest discovery was that a cemetery, marked by a tomb of unknown soldiers, was not a cemetery at all. When the original commissioners interpreted the remains of above-ground structures, they believed the area to be so and designated it a cemetery. Evidence of bedrock outcroppings, Colonial burial traditions and dig discoveries said otherwise.

"We knew almost immediately it could not be a cemetery," Mr. Cruson noted. Instead, it is believed to be an officer's quarters. The positioning, Mr. Cruson said, would have been ideal for an officer's quarters because he could see the enlisted men below. There were also no human remains uncovered. They did, however, unearth a doubled-ended officer's hut with a chimney at both ends and a five-foot fireplace.

"His quarters were very neat, which is bad for archaeologists, who thrive on sloppiness," Mr. Cruson said with a smile. However, digs uncovered evidence of lead pistol balls—a pistol being an officer's weapon of choice—as well as gunflints and remnants of meals eaten in the officer's hut.
Mr. Cruson also noted that the odds of anyone dying at the encampment were pretty slim, though they left the tomb of the unknown soldiers untouched to commemorate those who served there. "Soldiers more likely died in Danbury at the hospital there," he said.

Though Mr. Cruson and his team were unable to confirm the exact location of the magazine, he said commissioners incorrectly recreated an officer's barracks on remains of a foundation a short distance from a site marked magazine. Mr. Cruson believes the magazine would have been located farther back and built into the hill, far from the encampment sites. They did find evidence of an artillery park where the replicated guardhouse is situated, where remnants of expended cannonballs were discovered. It's slight evidence, he said, but its position makes sense.

"After their reconstruction, there was nothing left to excavate," Mr. Cruson said. "They destroyed it. But given the remains, we are fairly certain it was not an officer's quarters."

And huts were not destroyed when soldiers left, as initially assumed. Rather, it is now believed they were salvaged by the landowner, who took whatever wood was usable and burned the remains, which were, by that point, starting to rot.

In writing the book, which took a year, Mr. Cruson depended not only on archaeological findings, but letters, diaries, orderly books, teamsters' orders and muster rolls, adding a more human element to the park's history. Going through these logs allowed Mr. Cruson to see who arrived at the encampment and when, their particular posts, who was sick and who had deserted their posts, allowing him to recreate the encampment population.

Of particular help were the diaries of Lt. Deerborn and Sgt. Maj. John Hawkins, a member of Col. Moses Hazens' regiment. The latter diary came from Pennsylvania just before the first digs at the park began.
"I heard about it just before the first dig and I thought it was joke because I had always hoped for a journal from someone who had been there," Mr. Cruson said. "But it was real, and confirmed a lot of what we knew. He must have gotten bored on Feb. 11, because he described his position in the camp, the alignment of various regiments, routines and camp life. It's amazing to see all of the pieces of the story coming together."

Ironically, that discovery brought Mr. Cruson's journey full circle. More than a decade after starting excavations at the park, Mr. Cruson realized that the first hut he excavated was that of Sgt. Major Hawkins. "It was such a high to discover it was his hut," he said with a smile. "It's one of those highs you get as an archaeologist when you're able to put everything together and make a true human connection."