Ramjanipur (Inde) : Fresh excavation call
Ramjanipur (Inde) : Fresh excavation call
Gautam Sarkar
Source - http://www.telegraphindia.com/1131023/jsp/bihar/story_17480800.jsp#.Umf9Fvk9LP0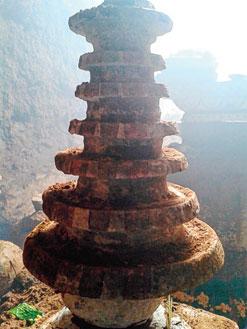 One of the stupas discovered on Friday. Picture by Amit Kumar
A team from the state's archaeology directorate on Tuesday stressed the need to carry out fresh excavations in and around the ruins of the Vikramshila Mahavihara during a visit to the nearby Ramjanipur hamlet.
The hamlet is barely 300m away from the half-excavated ruins of the ancient world university in Antichak, around 45km east of Bhagalpur. Last Friday, residents discovered nine votive stupas while digging a mound in the hamlet. On Tuesday, a three-member team from the archaeology directorate under the art, culture and youth affairs ministry visited the site to examine the stupas.
Registering officer Satyadev Roy headed the team comprising senior technical assistant Arun Kumar and senior photographer Sanjeev Ranjan.
Arun Kumar told The Telegraph: "The partly excavated stupas found at the site are 2-3 feet high. Made of burnt clay, they are believed to be votive stupas dating back to the 11th and 12th centuries. The discovery can go a long way in plugging some gaps in the history of the Pala dynasty since the time of Dharmapala. We will send a report on our findings to the state government and the Archaeological Survey of India (ASI) and request them to take initiatives towards fresh excavation in and around the area."
Kumar's demand for fresh excavation in and around the Vikramshila Mahavihara is one that local historians and intellectuals have given voice to for a long time.
"Excavation carried out by the ASI, Patna circle, from the 1960s has so far resulted in the discovery of the central hall and the main stupa of the ancient world university. But, we have been demanding fresh excavation here for a long time. I hope the state archaeology department's recommendation to the ASI would fulfil our demand of fresh excavation," said Pawan Kumar Choudhary, an expert on Vikramshila affairs at Kahalgaon.
Kumar said starting fresh excavation at the site would be a lengthy process, as several formalities of the ASI and the state government would have to be completed first.