Rach Nui (Viet Nam): archaeologists have doubts of 3,500-year toilet discovery
Rach Nui (Viet Nam): archaeologists have doubts of 3,500-year toilet discovery
A team of Australian and Vietnamese archaeologists have found what they believe is the earliest toilet in the southern province of Long An. However, Vietnamese archaeologists have expressed their suspicion over the discovery.
Source -http://english.vietnamnet.vn/en/science-technology/23957/vietnamese-archaeologists-have-doubts-of-3-500-year-toilet-discovery.html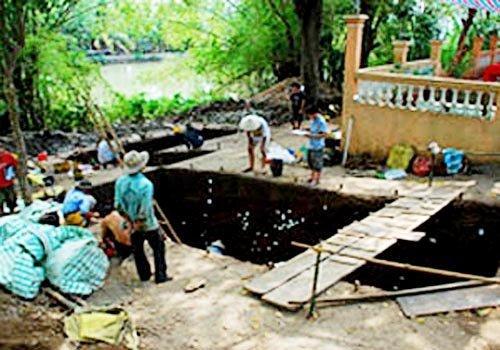 An Australian radio, ABC, recently reported that a group of Vietnamese and Australian archaeologists discovered a toilet of over 3,500 years in Long An.

Known as Rach Nui, it is an ancient man-made mound, about five meters tall, surrounded by small tidal streams and mangrove swamps. More than 30 preserved feces from humans and dogs containing fish and shattered animal bones have been located in the ancient mound. Among the remnants were betel nut and foxtail millet.

"A detailed analysis of these will provide a wealth of information on both the diet of humans and dogs at Rach Nui but also on the types of parasites each had to contend with," Australian National University team leader Dr Marc Oxenham said in a statement that.

The scientists hope the find will give clues about how the region changed from a traditional hunter gatherer society to an agricultural community, the origins of farming in southern Vietnam and South-East Asia as a whole.

However, some Vietnamese experts have doubts of the finding. Dr. Nguyen Hong Kien, from the Vietnam Archaeology Institute, said that the statement has some incomprehensible features because it did not mention scientific evidences, such as the methods, data, etc.

Dr. Kien cited a paragraph that he said to be the most difficult to understand from the statement of the research group, which was post on Asian Scientist, as follows: "The team believe they found Vietnam's earliest latrine when they stumbled across more than 30 preserved feces belonging to humans and dogs that contained fish and shattered animal bones..."

Dr. Kien also said that archaeological research works showed that people of that age could not reach such level of civilization. He did not believe that people of over 3,500 years ago could train dogs to stool at fixed place.

Dr. Vu The Long, former chief of the Vietnam Archaeology Institute's Human and Environment Research Division, said: "I made an explanation about dog feces discovered at archaeological sites in the Mekong Delta in the report on excavation at Giong Noi relic in the southern province of Ben Tre. It possibly was the feces of wild dogs, which had no relations to human's training of dogs."

He added that experts could use bio-chemical methods to analyze coprolite to define composition of feces to know what food that the animals ate. It is more difficult to define the date.