Source - http://en.people.cn/n/2015/0403/c98649-8873888.html?
Screen shot of the Weibo.
According to a story recently published by Weibo user Kunge 951, the sarira (Buddhist relics) has been discovered in Qionglai city, 75 kilometers southwest of Chengdu. This discovery has attracted the attention of many netizens.
Kunge 951 has indicated that an inscription of "sarira (Buddhist relics)" was found.
 "Now I understand why it's called 'Pagoda of incorruptible body of Shakyamuni'," said Kunge 951. He also posted photos of the pagoda with the characters "sarira" and "incorruptible body". In his analysis, he also predicts that the "sarira" are in the top of the pagoda.
Kunge 951 is a cultural relics restoration worker. Last year when his working team restored the top of the pagoda, they found a stone tablet with inscriptions on both sides. "In fact, we cannot say whether or not there are the 'sarira' in the pagoda, but records on the tablet are very detailed. I hope the authorities will help us reveal this secret," said he.
The local cultural relics bureau soon convened a seminar and discussed with archaeologists and experts from Buddhism about the finding and its meaning.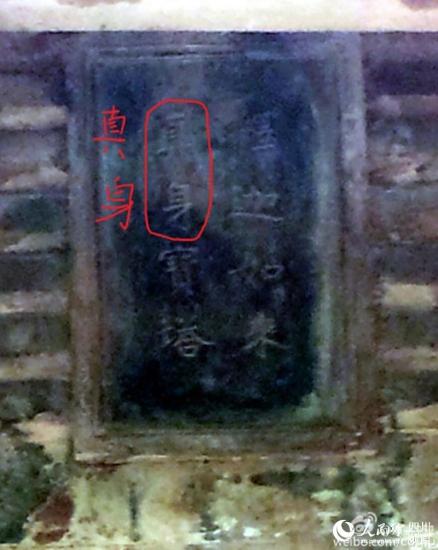 The stone tablet. The red characters mean "relics of the Buddha". (Provided by the cultural relics bureau of Qionglai City)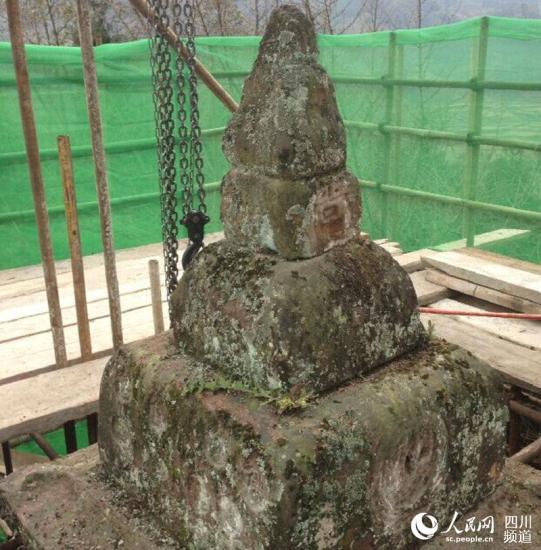 The top of the 'Pagoda of incorruptible body of Shakyamuni'. (Provided by the cultural relics bureau of Qionglai City)