Qikiqtaarjuit (Canada): Ancient Thule site still used by Kivalliq Inuit
Qikiqtaarjuit (Canada): Ancient Thule site still used by Kivalliq Inuit
Lisa Grégoire
Source - http://www.nunatsiaqonline.ca/stories/article/65674ancient_thule_site_in_northern_manitoba_still_used_by_kivalliq_inuit/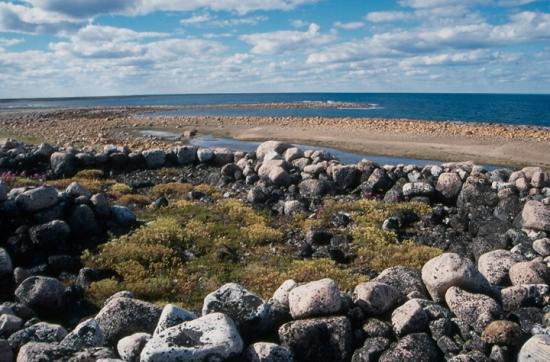 A large tent ring at Hubbard Point, Man. (PHOTO BY VIRGINA PETCH)
When the ice melts at Qikiqtaarjuit, you will find thousands of migrating beluga along with flocks of geese and herds of caribou. You'll also find seals there, and polar bears.  Because of the abundance of animals, Hubbard Point, as it's known in English, is a popular hunting ground and stopping point for Inuit on the west coast of Hudson Bay, an eight-hour boat ride south of Arviat and just north of Churchill, in northern Manitoba.
Johnny Mamgark has been hunting there with family and friends since he was a child.  Mamgark, originally from Arviat but now living in Rankin Inlet, always knew it was a popular hunting place but up until this summer, when he went there with an archaeologist and staff from Oceans North, he had no idea how popular.  It turns out his ancestors have been coming here for perhaps 1,000 years or more.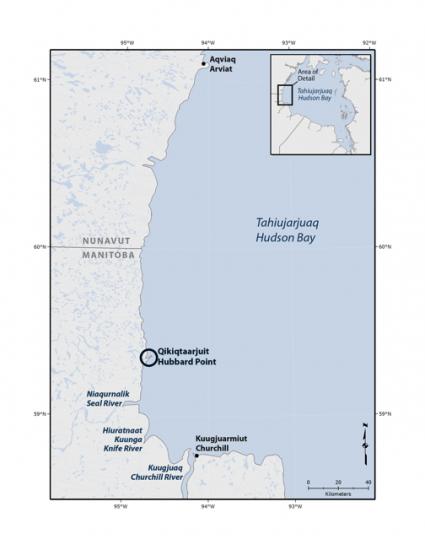 A map showing the site's location. (IMAGE COURTESY OCEANS NORTH)
That makes Hubbard Point the most southern known site to have been frequented by the Thule, the ancestors of modern Inuit.  "When they told me the stuff we found there was almost 1,000 years old, it was amazing," Mamgark said. "I thought, wow, they've been using the place forever. That's a long time. I was proud to be still using it. I'm really proud that I still hunt there."
Hubbard Point from the air, showing tent rings and other evidence of continuous use. (PHOTO BY VIRGINIA PETCH)
Most Thule sites uncovered by archaeologists are located further north and scientists have always believed that the migration of Thule was mainly west to east. It seems clear, now, that they went south as well. "I get shivers up my spine every time I think about this site and all the wonderful things it's bringing forth, regarding ancient land use and the people who were there," said Virginia Petch. Petch, an entrepreneur, archaeologist and anthropologist, runs Northern Lights Heritage Services, a Winnipeg-based company, which provides cultural and historical services including traditional land use and occupancy studies and geophysical surveys. She is now working with Oceans North, a Pew Foundation trust, which promotes science- and community-based conservation of the Arctic Ocean,  to study the site and record its significance.
Qikiqtaarjuit used to be a "little island" which is why it was so-named, but the coastline of western Hudson Bay has been rising a few millimetres every year since heavy glaciers retreated across Nunavut's interior and so now, the "island" is actually connected to the land.
With money from the Pew Foundation, and a partnership with the Inuit Heritage Trust, Oceans North made a trip to Hubbard Point in July 2014 to record some of the historic features located there and also to collect some animal bones to use for dating.
Oceans North stumbled upon the cultural aspect of the site by accident while gathering evidence to support a bid to protect the thriving marine ecosystem in that area. Oceans North says during migration, the southwestern Hudson Bay coastline is home to the largest population of beluga in the world — tens of thousands which migrate north in summer and feed in river estuaries along the way.
In speaking with Mamgark and other Arviarmiut to build a conservation strategy, Inuit kept mentioning Hubbard Point, said Chris Debicki, Nunavut Projects Director for Oceans North. So they expanded their research to look at the land and the history as well.
In summer 2013, they visited the site with Mamgark.
"You can literally see 1,000 years of occupancy right before your eyes. You see ancient structures and then you have stories from Johnny [Mamgark] about present-day use and just how important it is," said Debicki.
"I remember Johnny, he just grabbed my arm and looked me straight in the eyes and said, we have to make sure this is protected. It was an amazing moment where a great hunting partner and collaborator bought into this idea of coastal protection and conservation, and saw the benefit of it.'
Oceans North then tracked down Petch through a journal article she had written about Hubbard Point many years ago.
Petch too learned about the site by accident 17 years earlier when she was hired by a tourism company to help conduct an aerial survey.
Tent rings, rock mounds and other unusual features at Hubbard Point were clearly visible from the air, Petch said, so she asked the crew to land.
Once on the ground, she hastily made note of more than five dozen obvious human made features and then wrote an article about her findings. After that, she dreamed, for years, of returning for a more detailed examination.
"You know when you have things bothering you, you need a place to escape to in your mind? That would be the place I would go to because it was so ancient and so restful," said Petch, who was thrilled to go back this summer.
"When I first went there, I felt I had to crawl on my hands and knees because you felt like you were trespassing. I got the same feeling again, one of utter awe and respect."
Of the three animal bone samples she retrieved from excavating the site for carbon dating, one was 130 years before present, one was 330 years before present and the deepest one was 930 years old.
Petch has now made note of 218 features at the site including food caches, food preparation areas, qayaq stands, grave sites and huge communal or multi-family tent rings with large stones likely weighing more than 500 lbs, she said — all of which show a sophisticated degree of social organization.
Dozens more archeological features remain unrecorded, she said; it would take years to properly study the entire area.
She plans to report her findings in an academic journal article as well as in plain-language reports for licensing bodies and for the community of Arviat.
The best part about going back this summer, said Petch, was being there with Mamgark and Peter Alareak — Arviat hunters and elders who drew attention to features she surely would have missed.
Alareak, 69, was born on the land and his family didn't live in an actual house until the 1960s. He said he wore a caribou skin diaper when he was a baby which is a long way from who he is now: a guy with a big-screen TV and a Facebook page.
"I don't know, I just love getting to know the times through the ages — the Inuit over the years, and their place in the universe," Alareak said from his home in Arviat before heading out seal hunting with his daughter. "I guess you could say I love history."
Alareak, for instance, pointed out a miniature tent ring and a pile of small stones that he suggested, from his own family's experiences, would have been a child's play tent, with the stone "toys" representing people and animals.
"That aspect of archeology gets missed so often where we forget about the children. And here was a place where you could imagine children playing," Petch said.
"You felt such connection — more of a connection than if you were looking at stone circles. The elders brought it to life. It wouldn't have happened without them."
Alareak also pointed out rows of stones inland which looked like an Inuit game where hunters throw a rock or spear into a circle to "catch the whale."
For these, and many other reasons, modern archaeology has vastly improved with input from, and collaboration with, local peoples, Petch said.
Debicki said he is hoping to continue the archaeological survey in summer 2015 in order to document the extent of the find — it might be even older than they think — and hopefully make a case for formal protection.
"In the North, places where you have ecological abundance, it's also very common to have important cultural sites for the obvious reason that Inuit would have these ancient and present-day camps close to where you find large congregations of marine life," Debicki said.
"So it's not just a project with an aim toward simply protecting a natural environment. Our ultimate goal is to protect a human and natural environment.
For a hunter, who hopes to use the site "until he dies," Mamgark strongly supports that bid.
"That place is very, very important. There are so many animals around it. It's so valuable to us," Mamgark said. "We have to protect it from all those big tanker ships and all that mining exploration."
Debicki, along with Mamgark and Alareak, are hoping to further their cause at the IUCN World Parks Congress in Sydney, Australia, a prestigious conference to which they were recently invited. It takes place Nov. 12 to Nov. 19.
The congress is hosted by the Union for Conservation of Nature, a global environmental organization founded in 1948 and which includes 1,200 government and non-governmental member organizations, as well as 11,000 scientists and experts from 160 countries.