Pylos (Grèce): 3,500-Year-Old Warrior's Grave unearthed
Pylos (Grèce): 3,500-Year-Old Warrior's Grave unearthed
PART.2
PREVIOUSLY UNEXPLORED FIELD
What would eventually become the successful excavation of the tomb began on the team's very first day of its field work in May 2015, conducted in a previously unexplored field near the Palace of Nestor. They immediately found one of the four walls of the warrior's grave.
"We put a trench in this one spot because three stones were visible on the surface," says Davis, adding, "At first, we expected to find the remains of a house. We expected that this was the corner of a room of a house, but quickly realized that it was the tops of the walls of a stone-lined grave shaft."
In the end, the shaft measured about 5 feet deep, 4 feet wide and 8 feet long. It took the team about two weeks to clear the shaft before "we hit bronze," says Stocker. At that point, they realized they might have an exceptional prize: an undisturbed grave shaft, never stripped by looters. She explains, "The fact that we had not encountered any objects for almost a meter indicated that whatever was at the bottom had been sealed for a long time."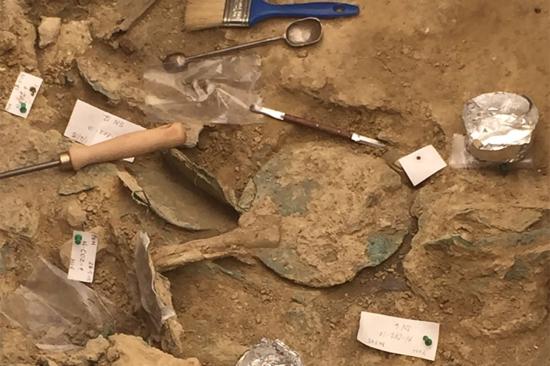 A bronze mirror with an ivory handle.
Stocker and Alison Fields, a UC graduate student of classics, did most of the actual excavation because their smaller size allowed them to work more easily and carefully around the tomb and its many precious objects.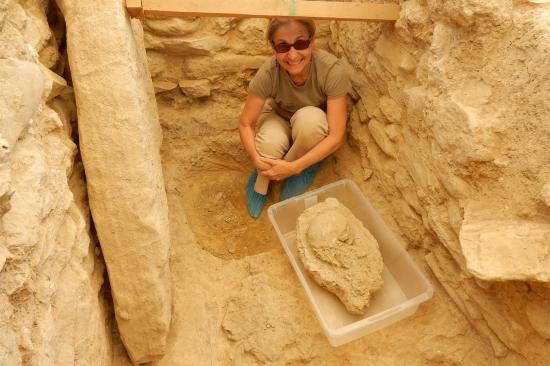 UC's Sharon Stocker with the 3,500 year-old skull found in the warrior's tomb.
WHAT COMES NEXT
Both Stocker and Davis say it was good luck to discover this intact grave. Given the rarity of the find, it's unlikely to be repeated. "It's almost as if the occupant wants his story to be told," Davis says.
And that story will continue to unfold. The UC team and others are studying the artifacts in detail, with all artifacts remaining in Greece and their final disposition determined by the Greek Archaeological Service. Former UC anthropologist Lynne Schepartz, now of the University of Witwatersrand in Johannesburg, South Africa, will study the skeletal remains.
RESEARCH PARTNERS AND SUPPORT
The excavation was organized through the Department of Classics, University of Cincinnati, with sponsorship from the American School of Classical Studies in Athens, and with permits from the Greek Ministry of Culture. Research at Pylos by the University of Cincinnati in 2013 was supported by the Institute for Aegean Prehistory, the Louise Taft Semple Fund of UC's Department of Classics and private donors including Phocion Potamianos, a Greek-American; James H. Ottaway, Jr., trustee of the American School of Classical Studies at Athens; and Robert McCabe, president of the Board of Trustees of the American School of Classical Studies at Athens, and his wife, Dina McCabe.
Davis and Stocker also give credit and thanks to their team, the "very helpful local office of the Ministry of Culture of Greece and guards who provided security; Evangelia Militsi, director of antiquities for the Messenia office of the Ministry of Culture, and Evangelia Malapani, curator of antiquities."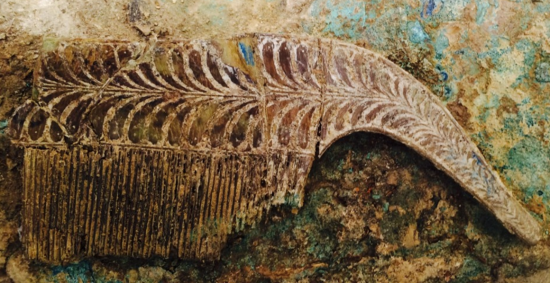 One of six ivory combs found within the warrior's tomb.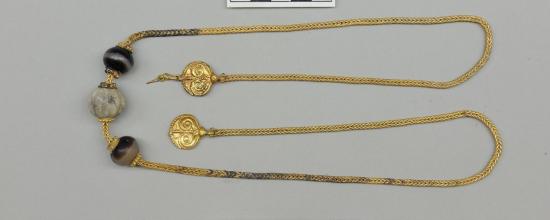 This unique necklace measures more than 30-inches long and features two gold pendants decorated with ivy leaves. It was found near the neck of the warrior's skeleton.
CATALOGUE OF OBJECTS FOUND WITHIN THE WARRIOR TOMB
GOLD
Four complete solid-gold seal rings to be worn on a human finger. This number is more than found with any single burial elsewhere in Greece.

Two squashed gold cups and a silver cup with a gold rim

One unique necklace of square box-shaped golden wires, more than 30 inches long with two gold pendants decorated with ivy leaves.

Numerous gold beads, all in perfect condition.
SILVER
BRONZE
One three-foot long sword, with an ivory hilt overlaid with gold in a rare technique imitating embroidery (found at warrior's left chest).

Under this sword was a smaller dagger with a gold hilt employing the same technique.

Other bronze weapons by his legs and feet.

Bronze cups, bowls, amphora, jugs and a basin, some with gold, some with silver trim.
SEAL STONES
More than 50 seal stones, with intricate carvings in Minoan style showing goddesses, altars, reeds, lions and bulls, some with bull-jumpers soaring over the bull's horns - all in Minoan style and probably made in Crete.
IVORY
Several pieces of carved ivory, one with a griffon with large wings and another depicting a lion attacking a griffon.

Six decorated ivory combs.
PRECIOUS STONE BEADS
An astonishing hoard of over 1000 beads, most with drill holes for stringing together. The beads are of carnelian, amethyst, jasper and agate. Some beads appear to be decorations from a burial shroud of woven fabric, suggested by several square inches of cross woven threads which survived in the grave for 3,500 years.
VIDEO=http://edition.cnn.com/videos/world/2015/10/27/ancient-greek-warrior-tomb-discovered-orig.cnn/video/playlists/intl-latest-world-videos/?