Puerto Madryn (Argentine): Warren whaling ship wreck found
Puerto Madryn (Argentine): Warren whaling ship wreck found
Archaeologists aren't sure, but suspect wreck could be Dolphin, built here in 1850
Ted Hayes
Source - http://www.eastbayri.com/news/2012/may/29/warren-whaleship-wreck-found-argentina/
Archaeologists study the bones of a 19th century sailing ship sunk on the Argentinian coast. The wreck may have hailed from Warren. Photo credit: PROAS-INAPL, Argentina
A shipwreck that lies half buried in the muck and sand of an Argentinian bay could be the last remains of a whaling vessel that was built in and sailed out of Warren during the waning years of American whaling.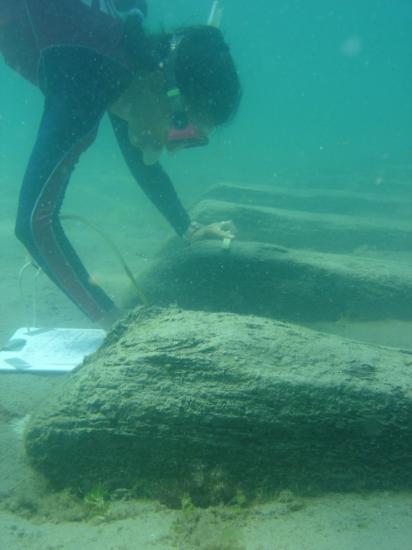 PROAS-INAPL, Argentina  -  A snorkeler dives on the wreck at high tide in this undated photo. Work at the site is complete, but the identification process continues.
Marine archaeologists from Argentina's National Institute of Anthropology believe they may have found the remains of the Dolphin, a 110-foot whaling bark built in 1850 by Chace and Davis, a shipbuilding firm in operation between Company and Sisson streets for much of the 19th century.
The wreck is beached along the coast of Argentina at Puerto Madryn in Bahia Nueva (New Bay), 5,900 miles by air from Warren. Parts of it show signs of having been burned and it is partially visible at low tide. Much of the structure above the keel is gone, leaving a section of wreckage about 80 feet long.
Argentinian archaeologist Cristian Murray said that while some locals had known about the wreck for many years, it was first noted by archaeologists in 2002 when shifting sands revealed a larger area of wreckage than was previously visible. Field work at the site is mostly complete, and the focus now is on coming up with a preservation plan to prevent its deterioration, and positively identifying the wreck.
The detective work has been aided by the Warren Preservation Society and Walter Nebiker, the author of a comprehensive history of Warren whaling that is as yet unpublished.
"The archaeological evidence is consistent with the documentary evidence that we have already found about this ship, but we can not confirm (the identity) until we make comparisons with other documents, like the ship plans, that we could not find yet," Mr. Murray wrote in an e-mail to the Times this week. "Sometimes it is difficult to imagine the links that can exist between two cities so distant like Warren and Puerto Madryn. But wrecks and whales are present in large areas of the oceans and, of course, also in the history of many people who lived on their shores."
Priceless find
PROAS-INAPL, Argentina  -  At 110 feet the whaling bark Dolphin, built in Warren in 1850, may have looked similar to this.
Though the remains don't contain riches — site work was dedicated more to detailing the construction of the ship than probing for artifacts, of which there are few — the wreck is shedding light on 19th century shipbuilding techniques. It is also re-opening what is mostly a forgotten chapter in Warren's maritime history: Its former prominence as a successful whaling port in New England.
When she was launched in October 1850, Dolphin was "probably the fastest square-rigger of all time," according to Mr. Nebiker's manuscript.
According to contemporary newspaper accounts, "Dolphin proved a first rate sea boat and remarkably fast sailer, and had outsailed every vessel it had fallen in with."
In 1850, competition for whale oil was becoming stiffer and stiffer, and that speed would have served her well. Setting out on her maiden voyage from Warren on Nov. 16, 1850, she sailed to the Azores, took on hogs, turkeys and bananas, among other provisions, and made for the Indian Ocean.
Over the next two and a half years she ran from Madagascar to the Seychelles and other locales in search of whales. It was hard, dangerous and lonely work that at times grew desperate when the prey couldn't be found.
Wrote the ship's master, Capt. Cutler, on June 8,1852: "We are getting no oil. God help us and send us many whales so that we may put once more to a Christian land again to my dear wife and family."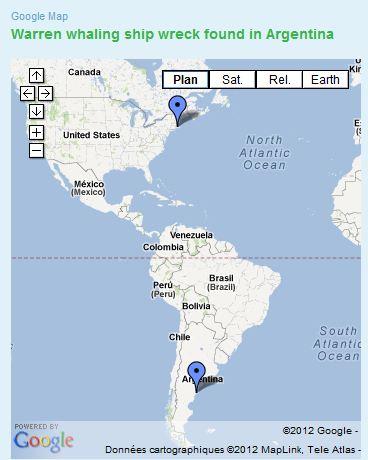 Warren whaling ship wreck found in Argentina
Marine archaeologists from Argentina's National Institute of Anthropology believe they may have found the remains of the Dolphin, a 110-foot whaling bark built in 1850 by Chace and Davis, a shipbuilding firm in operation between Company and Sisson streets, Warren for much of the 19th century.
Dolphin returned safely to Warren on March 14, 1853, laden with 259 barrels of sperm oil. Over the next five years, she went on three more expeditions, searching for whales from the Azores to the Seychelles, Zanzibar, and Australia. She left on her last trip from Warren on Oct. 2, 1858, and reports are that she was lost off Patagonia late that year. Though there is little in the record about her demise, a letter from the last captain, Capt. Norrie, to the owners back in Warren states that she "lay upon the rocks in the southwestern part of New Bay." In all, 42 sailors were rescued from the wreck.
Not just oysters
That a lone wreck from Warren may have been found half a world away shouldn't be surprising.There was more whaling and shipbuilding going on in Warren, Bristol and present Swansea (Bungtown) than many people realize.
A paper in the Providence Public Library's Special Collections notes that as early as 1766, "Several vessels employed in the whale fishery from the industrious town of Warren in Rhode Island colony have lately returned having met with considerable success. One vessel . . . brought home 300 barrels of oil."
Warren lost 14 whaling vessels during the Revolutionary War, and did not start whaling again until the early 1820s. Over the next 40 years, an average of 16 whalers per year sailed out of Warren, with crews of about 400 men. In total, the Providence paper notes, the average annual total of the products brought back — sperm oil, whale oil and whale bone — would have been worth about $8.5 million today. Shipbuilding was a big part of the local economy, too, and vessels were built in Warren that sailed out of many other ports, including Nantucket and New Bedford.
Dolphin was built at the Chace and Davis yard. There were other yards, including Sylvester Child's yard at the foot of Baker Street, Capt. Rufus Trink's yard at Company Street and James J. Cady's shop at the bottom of Washington Street.
"Jon Throop was a noted shipmaster and builder, and others included Caleb Carr, Caleb Eddy, Samuel Miller, James Easterbrooks Bowen, Daniel and John Luther, and a man called Daddy Lee."
According to the library account, the last whaler to leave Warren was the Dromo in 1861.
The wreck of the Dolphin isn't filled with lost treasure, but her riches can be counted in other ways, notes Warren archaeologist Robert Cembrola, the curator of the Marine Museum at the Naval War College in Newport.
"The story of the Dolphin should remind all of us the important role that ship building and whaling played in the history of Warren," he said. "Names like Cutler, Miller, Bowen and Luther are still with us as streets and a mill but 150 years ago they were men who epitomized the entrepreneurial spirit that made America great. The next time you drive or walk along Water Street try to imagine what the bustling wharves and shipyards must have looked like and take pride in our maritime heritage."
— With translations by Daniel Ouellette.