Pottery, beads retrace close links between India and Bali
Pottery, beads retrace close links between India and Bali
Source - http://zeenews.india.com/entertainment/art-theatre/pottery-beads-retrace-close-links-between-india-and-bali_1638822.html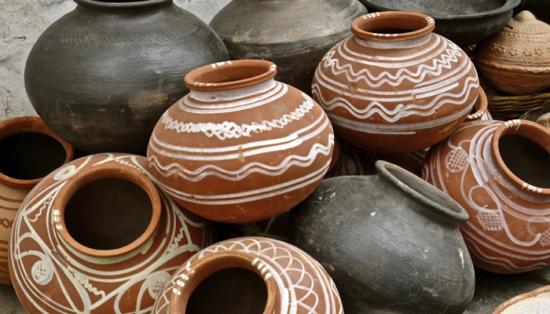 Pic courtesy: Thinkstock Photos Image for representation purpose only.
Remnants of ancient Indian pottery, beads and even Indian DNA found in human bones point to thriving trade and social contacts between India and Bali dating back to more than 2,000 years.
Besides trade, Indian merchants brought with them their language - Sanskrit - and the influence of Hinduism and Buddhism, noted Indonesian archaeologist I. Wayan Ardika said.
Fresh evidence of age-old close links between India and Southeast Asia has been found in the ancient port towns of Sembiran and Pacung in northern Bali, says Ardika.
The major Indian port of connect with Bali in Indonesia and other places in Southeast Asia was Arikamedu, a thriving port located seven kilometres from Puducherry from where archaeologists have unearthed Roman artefacts too.
"Trade between India and Bali can be traced from as early as the late 2nd century BC. A lot of evidence exists in Sembiran and Pacung, and also the ancient port town of Julah," Ardika told IANS on the sidelines of an international meet on Asean-India Cultural Links.
The influence of Sanskrit and the ideology of Hinduism and Buddhism which the Indian traders brought along "stimulated the rise of early state formation of kingdoms (in Bali) with an Indian base", said Ardika, a professor of archaeology at Udayana University in Bali.
He said Julah, located near Sembiran and Pacung, was a thriving port from between the 2nd century BC and 12th century AD - for 14 centuries.
Archaeologists have found evidence of Sanskrit in the local script of the late 9th century AD.
"In my research covering Julah, and Sembiran and Pacung, I found numerous artefacts, pottery shards, beads brought by Indian traders," the expert, who read a paper at the July 23-24 conference, told IANS.
The burial sites at Julah (from late 2nd century BC to 12th century AD) showed up Indian DNA on the human remains.
"We found Indian DNA on the human remains which indicates there was marriage; the Indian trader may have married locals," Ardika said.
The inscriptions on the pottery also had the names of places located in India like Nalanda, Amravati and Varanasi.
In those early times, high functionaries or priests in the Balinese kingdoms named their residences after Indian names like Nalanda, Varanasi, Senapati and Amravati, Ardika added.
The names of some Indian places were adopted to the local ones too - between the 9th century AD to 11th century AD.
Small clay Buddhist stupas, measuring 10 cm high, were found in Pejeng, in central Bali, a rich centre of archaeological remains.
The small stupas, dated from the 8th century AD, show a lot of Indian influence, he said, adding that many stupas were also found in central Java, indicating the reach of Indian traders.
According to Ardika, the Indian influence in Bali came in two surges - in the 2nd century BC and later in 8th century AD, which also brought with it Buddhism.
"In the early times, Indian traders came and stimulated the social structures (with Sanskrit, and Hindu and Buddhist ideology). When Bali adopted Buddhism, the second migration from the 8th century AD to 11th century AD came to strengthen the Indian influence. It was the second massive contact with India," he said.
Ardika said the finds in Sembiran, Pacung and Julah show that Balinese were in contact with not only India but China also.
Ardika said the international Asean-India Cultural Links conference was an "important start to do more research on the links between India and Southeast Asia and also China".
The July 23-24 conference was the first such meeting of artists, historians and archaeologists from India and the 10-member Association of Southeast Asian Nations.