Populonia (Italie) : News excavations
Populonia (Italie) : News excavations
Archaeologists Excavate Ancient Populonia
Source - http://popular-archaeology.com/issue/december-2011/article/archaeologists-excavate-ancient-populonia
A team of archaeologists, students and volunteers will return again during the summer of 2012 to investigate the remains of a major Etruscan port city that straddles the Mediterranean coast of Tuscany, Italy. Located near the Italian town of Piombino, it features one of the most important necropolises in the country, as well as an acropolis and a history that goes back to Etruscan settlers around 900 B.C.E. and a Bronze Age culture that dates back to about 1200 B.C.E. The ancient site is known today as Populonia, a city that was for centuries a prominent Mediterranean center for iron smelting and trade.
The "main objective is to fill as many of the gaps as possible in our knowledge of the history of Populonia and its territory, from the late Etruscan period to the late Roman age", reports the team leadership. Co-led by Andrea Camilli (Superintendence for Archaeological Heritage of Tuscany), Giandomenico De Tommaso (University of Florence), and Carolina Megale (Archeodig Project), they intend to focus their investigation on a section of the site's lower city that is still intact, where they have identified evidence of a late Roman building and, beneath that, a part of the Etruscan necropolis. Populonia is composed of a "lower city", which includes the necropolis, port remains and evidence of its important metallurgical activities; and an "upper city", or the Acropolis, which features the remains of houses, temples and other structures, located on the summit of the promontory on which the ancient port city was constructed. The lower city is well-known for its impressive monumental tombs (tumuli andaedicule-shaped tombs) of the San Cerbone necropolis, dated to the 7th-4th centuries B.C.E., an example of which is the Tomb of the Bronze Statuette of the Offering Bearer, dated to 530 - 500 B.C.E. (see photo in pictorial below).
The name of the Etruscan city of Populonia was actually Fufluna, known from coins that were discovered. Some scholars suggest that it was named after a god, Fufluns, just as other Etruscan cities were named after various divinities. Based on evidence uncovered from the necropolis area, the site was also inhabited earlier by the ancient Villanovans, a people with origins connected to theUrnfield culture of Eastern Europe. The Villanovans were key to the emerging industry of Populonia, as they are thought to have introduced iron-working to the Italian peninsula. The following Etruscans and Romans of Populonia mined and worked the polymetallic ores of Campiglia Marittima, which contain iron, zinc, copper, lead, tin and silver, the ingredients necessary for bronze, steel and silver implements. Mining continues in the area today, and the modern mine is said to be descended from the ancient mine.
More information about the upcoming excavation and field school and how one can participate can be obtained at http://www.archaeological.org/fieldwork/afob/7685.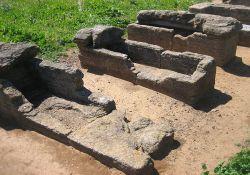 Sarcophagi at the necropolis of "San Cerbone" at Populonia.  AlMare, Wikimedia Commons
Tomb of the Bronze Statuette of the Offering Bearer. AlMare, Wikimedia Commons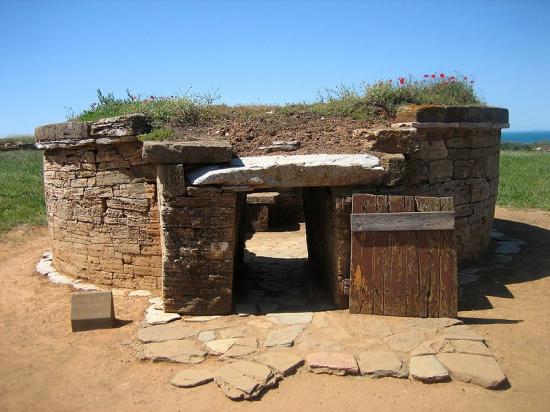 Tumulus at the necropolis of "San Cerbone" at Populonia. AlMare, Wikimedia Commons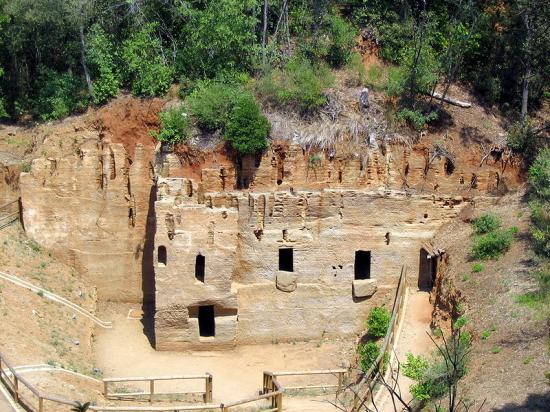 Cave necropolis, known as "Necropoli delle grotte". Wikimedia Commons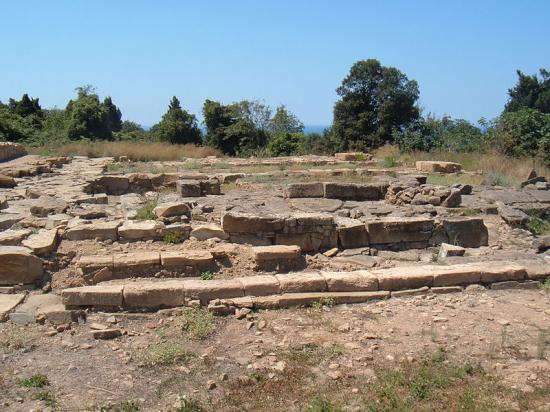 Ancient temple at Populonia. Jalo, Wikimedia Commons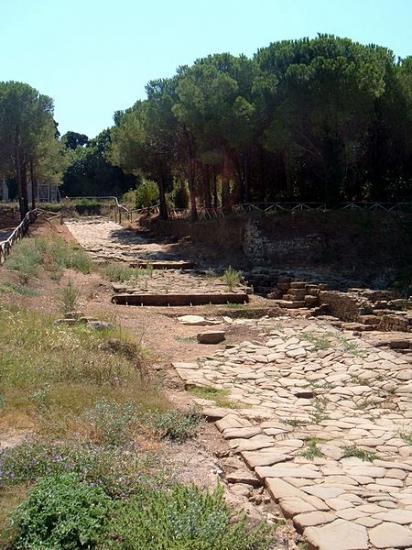 Ancient street paving stones at Populonia.  Jalo, Wikimedia Commons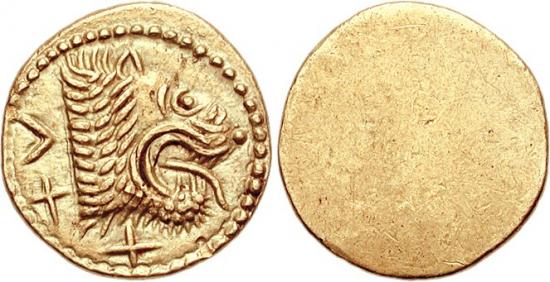 This Etruscan gold coin dates from the Second Punic War. The series it belongs to has denominational marks related to the bronze As, issued on the Roman sextantal standard (an As of two ounces) introduced circa 211 BC. Issued contemporaneously with the Roman Head of Mars/Eagle types of 60, 40 and 20 Asses, they probably did not circulate long after the cessation of the Roman types, as by circa 209 BC relations between Rome and Etruria had been strained considerably. The Etruscan types of the series differ from their Roman counterparts by the archaizing blank reverse which is shared by the silver coinage of Populonia as well, but is without parallel outside Etruria.  Text and Image, CNG, Wikimedia Commons