Pirates of the Caribbean : The Queen Anne's Revenge shipwreck
Pirates of the Caribbean : The Queen Anne's Revenge shipwreck
N. Carolina team to pull up pirate ship's anchor
Jim Brumm
Source -http://www.reuters.com/article/2011/05/19/uk-usa-blackbeard-anchor-idUSLNE74I02A20110519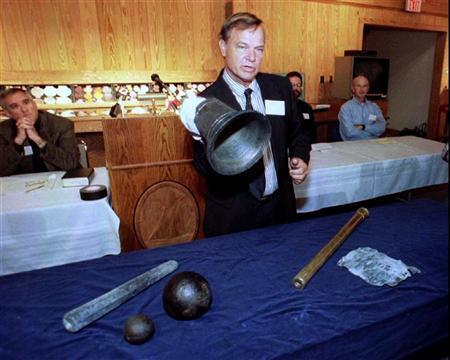 Mike Davis, president of the Maritime Research Institute, hoists a bronze bell recovered in November, 1996 at the site of what experts believe is the wreckage of Blackbeard's pirate ship ''Queen Anne's Revenge'' in this undated file photo. Credit: Reuters
North Carolina archaeologists will attempt to retrieve an anchor this week from the wreckage of the notorious pirate ship Queen Anne's Revenge -- just as its resurrected on the big screen in the new movie release of "Pirates of the Caribbean."
Research teams from the University of North Carolina-Wilmington and Cape Fear Community College set sail on Thursday to try and pull the anchor to the surface at a site where archaeologists say the ship wrecked nearly 300 years ago.
Queen Anne's Revenge was the legendary ship used by Blackbeard, the infamous English pirate who operated around the West Indies and the east coast of the American colonies.
Named after his flowing black beard, he was reported to have worn lit fuses under his hat to frighten his adversaries.
"Blackbeard and piracy are important threads in eastern North Carolina's maritime heritage fabric," said Linda Carlisle, the state's cultural resources secretary.
"The historic and economic value of this project is enormous," she said.
In 1717, Blackbeard captured a French slave ship and renamed it Queen Anne's Revenge.
Blackbeard, whose real name was widely believed to be Edward Teach or Thatch, settled in Bath, North Carolina, where he eventually received a governor's pardon.
Some experts say he grew bored and returned to piracy.
He was killed by volunteers from the British Royal Navy in November 1718, five months after the ship thought to be Queen Anne's Revenge sank.
The ship will be featured in the fourth movie of the Disney "Pirates of the Caribbean" franchise, which hits U.S. movie theatres on Friday.
The Queen Anne's Revenge shipwreck site, located off North Carolina's coast, has yielded more than 250,000 artefacts and is listed on the National Register of Historic Sites.
The area was located in 1996 by a Florida company called Intersal, Inc.
The anchor is believed to be the second biggest on the site, measuring about 13 feet (4 metres) long with arms that are eight feet (2.4 metres) wide and weighing about 3,000 pounds (1,360 kg), said Mark Wilde-Ramsing, a deputy state archaeologist.
He described the effort as an "archaeologist's dream come true."
The largest exhibit of Queen Anne's Revenge artefacts ever assembled will be shown starting June 11 in Beaufort at the North Carolina Maritime Museum in a new exhibition titled "Blackbeard's Queen Anne's Revenge 1718."