Pig Point (USA) : Hearth dating to 7290 B.C. is discovered
Pig Point (USA) : Hearth dating to 7290 B.C. is discovered
Archaeological finds boost profile of Arundel's Pig Point
Hearth dating to 7290 B.C. is discovered
Frank D. Roylance
Source - http://www.baltimoresun.com/news/maryland/bs-md-pig-point-archaeology-20110814,0,3824207.story
Three years of digging at a prehistoric Indian site in Anne Arundel County has unearthed the oldest structures and human habitations in Maryland and is making this bluff above the Patuxent River one of the most important archaeological sites in the Mid-Atlantic.

Last week, archaeologists learned from carbon-14 dating that a stone hearth they uncovered this summer was last used 9,290 years ago. That makes the site, called Pig Point, twice as old as the earliest carbon-dated human habitation found previously in Maryland.
Yet the carbon-14 date is just the latest in a series of extraordinary discoveries at the South County site that are drawing the interest of archaeologists from throughout the region.

Beginning in 2009, the team led by Anne Arundel County archaeologist Al Luckenbach has found oval patterns of wigwam post holes dating from 800 to 3,000 years ago, the oldest human structures ever found in Maryland.

They have found highly decorated pottery, tools of stone and bone, personal ornaments, copper beads from the Great Lakes, exotic tools and ceramics from the Ohio and Delaware valleys, fossil shark teeth from Southern Maryland and shells from the ocean beaches.

"If you go to [archaeology] meetings like the Mid-Atlantic Conference, folks are just drooling over this stuff," said Dennis Curry, an archaeologist with the Maryland Historical Trust.

And it could get even better.

Luckenbach's team is still finding evidence of human occupations from the Early Archaic period, 10,000 to 8,000 years ago.

As they dig even deeper into the bluff, and back in time, the next period they would reach is the "Paleo Indian" or "Clovis" time, roughly 10,000 to 20,000 years ago. Those people were the earliest whose arrival in North America, via the Bering "land bridge" from Siberia to Alaska, is universally accepted.

Last year, neighbors showed Luckenbach several fluted Clovis spear points they picked up in a field at the foot of the bluff. So his team is now on the lookout for more Paleo-Indian artifacts in their excavations, finds they could document and date.

And as they dig, they have begun to consider the chances of finding even earlier artifacts, below the Paleo level.

Claims of "pre-Paleo" discoveries elsewhere in the United States and South America have been enormously controversial among scientists. But at Pig Point, where deep, "layer cake" deposits with solid C-14 dating make chronologies quite clear, such a find would be difficult to dispute.

That would be "the absolute jackpot," said Joe Dent, an associate professor and expert in Mid-Atlantic prehistory at American University in Washington. "If they encountered pre-Paleo, this would be an international site. Archaeologists worldwide would beat a path to it."

Luckenbach has said he believes Pig Point is already "the most important prehistoric archaeological site in Maryland."

Setting aside the extraordinary artifacts, archaeologists say Pig Point is most unique and valuable because of its nearly 10,000-year record of continuous human habitation.

"Most [Native American] sites in Maryland are 10 inches deep," Luckenbach said. The shallow deposits hold a mix of artifacts from successive Native American groups who lived there over hundreds or thousands of years, with little if any chronological separation. Often the shallow deposits have been churned for centuries by plows.

That makes it impossible to separate and study the material cultures and chronology of the people who left them behind.

There are a few deeply stratified archaeological sites. Curry cited one called the Monocacy Site, excavated in the late 1960s and early 1970s at the confluence of the Potomac and Monocacy rivers, near Dickerson.

"It's got probably 10 feet of stratified stuff," thanks to periodic river flooding, he said. "But most of that 10 feet is sterile soil [without artifacts], and covers maybe a thousand years."
At Pig Point, the tools, ceramics, food waste and traces of wigwams have been repeatedly buried by fresh deposits of soil, probably washed down from higher on the bluff. That has left a continuous record, 6 or 7 feet deep, with the oldest occupations at the bottom of the layer cake, and the most recent at the top. And carbon-14 dates from many of the 13 layers have confirmed their ages.

The first season of digging produced the site's youngest carbon date of AD 1540. As the months went by, deeper levels yielded dates of AD 530 and AD 210. This year and last, burned materials from deeper hearths have yielded carbon dates of 6,500 years before the present, then 8,500 years, and last week, 9,290 years.
"The whole sequence [of C-14 dates] fit the way they should," Curry said. "It's very clear that the 6 feet of sediment is undisturbed."

Christopher Goodwin, a commercial archaeologist based in Frederick who is not involved in the work, said the firm sequence of dates and discoveries at Pig Point "not only allows us to look at individual components of pre-history and describe subsistence and material culture, but it gives us the opportunity to look at long-term patterns of change. That's what archaeology is all about. It's a fabulous site."

Goodwin believes the artifacts unearthed at Pig Point will become a "type collection," a kind of standard reference that will help archaeologists from New England to the Southeast classify and date their own discoveries.

What impresses Luckenbach about Pig Point is the site's enduring natural bounty, which for close to 10,000 years has invited continuous occupations by human groups seeking a true Land of Pleasant Living.

The dig has uncovered traces of their menu, which included wild rice, tuckahoe, hickory nuts, freshwater mussels, and lots of game and fish, Luckenbach said. Bones and scales were sent to an expert in North Carolina, who identified them as those of yellow perch and white perch.

"Eighty-five hundred years ago, it's supposed to be a different environment," he said. "But when you think about what we got out of the pit, it's exactly what you'd get still today."

The shores of the Patuxent below the site are still thick with wild rice and tuckahoe, and perch still swim in the shallows.

In time, Luckenbach hopes to scout other places on nearby bluffs, in the hope that they, too, attracted some of Maryland's earliest residents.

Based on the unique and exotic artifacts he's recovered at Pig Point, he believes the area may have been an important junction for trade, cultural and perhaps religious exchange between the Ohio Valley and the Atlantic coast, and still other cultures to the north and south.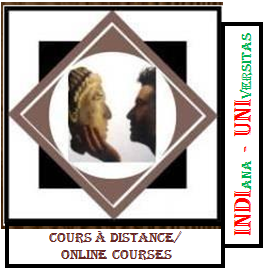 CIV 106 - 206 : Civilisations paléo-indiennes / Amerindians of North America

What may be almost as remarkable as the discoveries Luckenbach and his team are making, archaeologists say, is the fact that he's been allowed to conduct the dig at all.

Despite financial woes at both the state and county levels, the work has continued for three seasons, funded by Anne Arundel County and grants from the Maryland Historical Trust, as well as private donations.

County staff, volunteers and college interns from at least four states have dug two days a week, every week, from April to the first frost.

"It's very unusual for a county archaeology office to have the support to engage in a multiyear project like this, and to just do it to find out what's there," Dent said. "It's amazing what Al's been able to do."

Dent praised the property owner, William Brown, who first contacted Luckenbach about the artifacts he was finding there, and who has pitched in to help as Luckenbach's crews dug deeper and deeper holes in the front yard of a rental house on his property.

"People are enthusiastic about archaeologists for a while," Dent said. "But after we've been camped out in your front yard for three years, the fascination very often wanes. He [Brown] is an archaeologist's dream."

Why does he do it?

"Because they're learning and I'm learning," Brown said. "And it's important."