Piercebridge (G-B) : Roman offerings to the gods
Piercebridge (G-B) : Roman offerings to the gods
Coining it in: Britain's largest collection of Roman offerings to the gods arrives at British Museum
Ted Thornhill
Source - http://www.dailymail.co.uk/sciencetech/article-2070140/British-Museum-takes-delivery-Roman-offerings-gods.html
The British Museum is receiving the country's single largest collection of Roman offerings to the gods.
The huge haul, collected by two divers over 25 years, consists of over 3,000 objects including coinage, jewellery, furniture fittings and pottery vessels thrown into a river as offerings.
Divers Rolfe Mitchinson and Bob Middlemass accrued the collection in the River Tees in County Durham, close to where a Roman fort once stood.
Some of the Roman artefacts offered to the gods in the River Tees
The objects were located underwater near the remains of two Roman bridges in the village of Piercebridge and reported to the Portable Antiquities Scheme (PAS), which is a project that encourages the voluntary recording of archaeological objects found by members of the public in England and Wales.
The collection is travelling to London from the northeast tomorrow where it will be catalogued by specialists.
Mr Mitchinson said: 'We really haven't got a clue how much it is all worth.
'It's bigger than the offerings at Bath and on the Roman wall. It's up amongst the biggest in the country.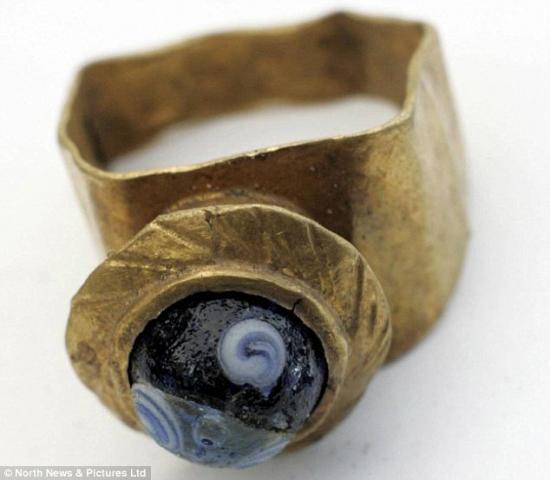 Treasure: No one knows how much the artefacts are worth
'Hopefully it will come back to a museum in the north. We don't want it to stay at the British Museum. It's very individual and belongs to the local area of Darlington.
'It would be lovely to see them back at this end of the country.'
The collection also contains hundreds of 'curse tablets' which were lead capsules thrown into the water wishing people either good or bad health.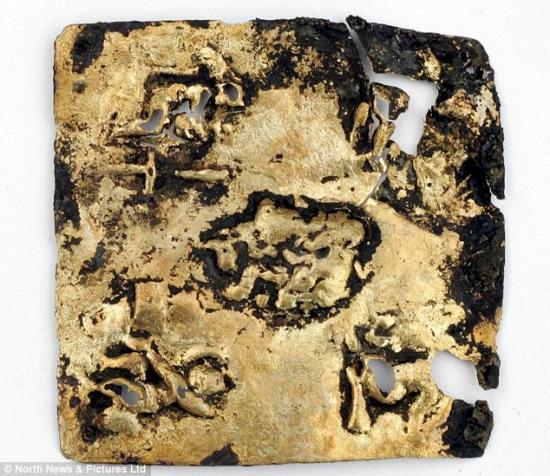 Water discovery: Part of a Roman scabbard found by divers Bob Middlemass and Rolfe Mitchinson
The bridges were the subject of an investigation by the Channel 4 Time Team programme in 2010.
The archaeology team tried to work out why so many of the offerings were found on the river bed and tried to prove the bridges were Roman.
The programme theorised that in the centre of the river there may have been an island containing shrines to the gods where people made offerings.
The island has since eroded leaving the offerings on the river bed. The programme also believed that one of the bridges may have been prehistoric and adapted by the Romans.
Philippa Walton, a National Finds Adviser for the PAS, said: 'The Roman objects from the River Tees at Piercebridge are extremely important finds which offer archaeologists an unrivalled opportunity to study the religious beliefs of people living in the north-east more than 1,800 years ago.'