Roman villa 'rare and important for Peterborough' says archaeologist
Source - http://www.bbc.co.uk/news/uk-england-cambridgeshire-16512512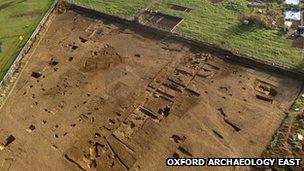 The villa, bath house and farm buildings are the first evidence of Roman occupation in east Peterborough
A "substantial, high-status" Roman villa discovered in Peterborough has shed new light on the city's occupants 2,000 years ago, archaeologists say.
Although the city - known as Durobrivae - was well-documented as a strategic area for the movement of Roman troops, there was little evidence of occupation - and no evidence of wealthy occupants in the east of the city.
Now Oxford Archaeology East and archaeologists from Peterborough City Council have discovered a 2nd Century villa and farm complex on the site of former allotments at Walton.
Dr Rebecca Casa Hatton said the two-storey villa, built in local limestone with "fine mosaic floors" and wall plaster painted red and green, was "a statement of the owner's wealth".
The city council archaeologist said: "Although we knew there might be buildings on the site, we weren't prepared for what we found.
"It became clear that this was a very grand villa and every day we were finding more."
'Unprecedented find'
The villa was built around a cobbled courtyard.
Further stone buildings, some of which also had painted and plastered walls, together with a tile kiln, suggested the main structure was at the centre of a farm estate.
Archaeologists working at the site said sweating chambers and an underfloor heating system indicated its residents "enjoyed the ritual of a hot, sauna-like bath".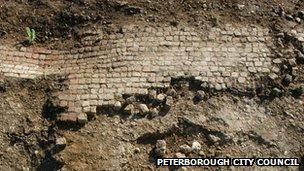 Part of the Roman mosaic floor uncovered at the excavation in Peterborough
Everyday pots and jars, ceramics for special occasions and bronze coins, brooches and pins were also found.
As well as the Roman villa, archaeologists found evidence of Iron Age occupation dating to about 100BC.
"All of this indicates this site was important both in Roman and pre-Roman times," Mrs Casa Hatton said.
"People came here and decided to make a statement of their wealth and status by building a fantastic, unprecedented Roman villa."
She said the closest similar site was the Roman palace (praetorium) at Castor, a few miles to the west of Peterborough.
The palace dates from about 250AD and is thought to be one of the largest excavated Roman complexes in the country.
"All in all this new site is quite an amazing one for Peterborough because of its importance and rarity," Mrs Casa Hatton said.
"It's important not only at a local level, but regionally and possibly even nationally."
The excavation was funded by developer Bellway Homes, with contributions from the Peterborough City Council.
The land is now being developed but the finds will be preserved at the city museum.
A public display will also be held at the Paston and Gunthorpe Community Centre on 28 January.