Source - http://www.wlwt.com/news/doctors-scientists-scan-baby-mummy-for-clues-on-ancient-life/30977948
Scientists, doctors and museum curators waited eagerly Wednesday night as staff at Cincinnati Children's Hospital performed CT and X-ray scans on a 550-year-old Peruvian child mummy.
The mummy had never been scanned before.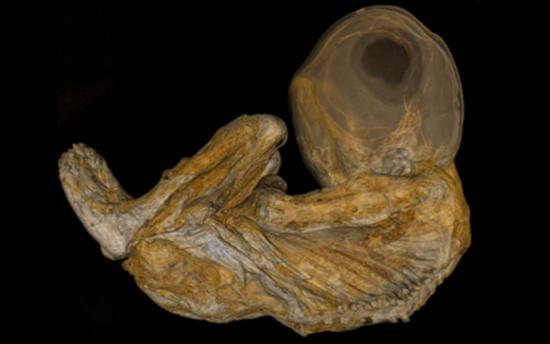 Dr. Andrew Trout and his radiology team got the first glimpse at the inside of the mummy, which is currently on display the Cincinnati Museum Center.
"We know that it's 400 to 500 years old. We think it's maybe 2 to 3 years old, but we can learn more about its age. We can learn how it died perhaps," Cincinnati Museum Center's vice president of featured experiences Dave Duszynski said.
Those answers could lie in the light and dark patterns of the X-ray and CT scan images.
A X-ray of the Peruvian mummy - Courtesy: Cincinnati Children's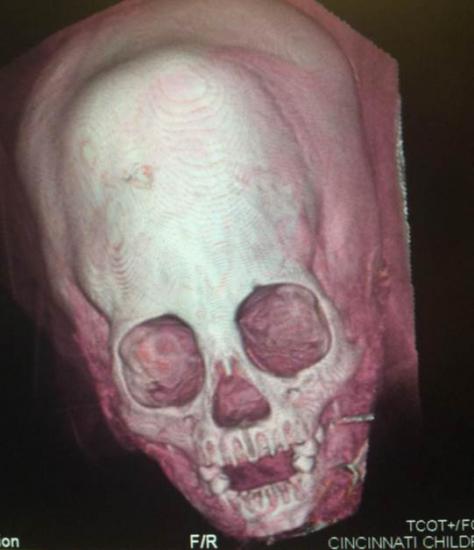 Scan results show that the child's skull was elongated - Courtesy: Cincinnati Children's
"We can see dried-out lung, it looks like, and some of the dried-out abdominal organs and liver," Trout said after looking at the images.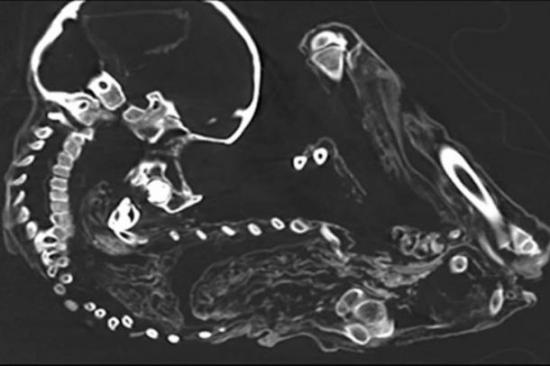 A CT scan to learn more about the deceased child. - Courtesy: Cincinnati Children's
"It was actually beautiful to see, and the doctor was amazed by how clean the bone structure still was for being 550 years old," Duszynski said.
Some of the questions will remain for a while longer, as a team of scientists and curators pour over the snapshots of a life that ended mysteriously, centuries ago.
"As far as figuring out are there anomalies or abnormalities, that's going to take some time and some detailed evaluation of the images," Trout said.
"It's just really exciting to actually contribute to science and learn something that's been unknown," Duszynski said.
The mummy was sealed in a plastic bag while the tests were conducted, so as to prevent any ancient mold or bacteria from contaminating anyone or anything. It will be back on display at the Cincinnati Museum Center Thursday morning.