Sandra Gray
Source - http://www.thecourier.co.uk/news/local/perth-kinross/video-digging-into-perthshire-s-pictish-past-1.105077
VIDEO = http://www.youtube.com/watch?v=8ACq5bUOfc4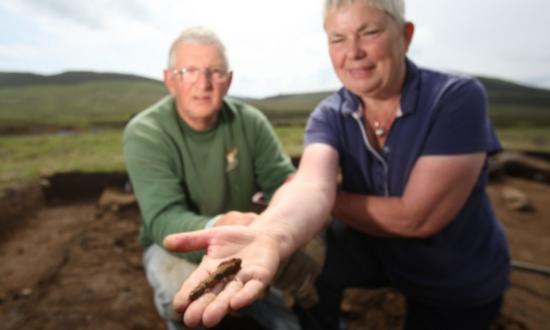 Deryck and Anthea Deane with a possible Pictish iron found at the site.    DC Thomson
Remnants of life in Pictish Perthshire have been uncovered.
The second phase of a major archaeological project at Glenshee has unveiled further evidence of how locals lived more than a thousand years ago.
The continued community excavation of a Pictish longhouse at Lair is a key part of the programme, as such structures are exceptionally rare in Scotland.
It is hoped further examination of the foundations will offer an insight into the past. Experts have been digging at the site since Monday and, as part of Perth and Kinross Archaeology Month, members of the public have been given the chance to get involved.
Outreach officer for Perth and Kinross Heritage Trust, Sophie Nicol, told The Courier the excavation has been "brilliant".
"We have been working on the site of a second house, which is just next to the one we found last year," she said.
"We have uncovered a lot of stones, which are possibly part of a wall and would have been used for building the turf on. We have also discovered some post holes."
Ms Nicol also revealed several pieces of metal have been unearthed during the dig, and that these would be submitted for further examination.
She added: "Hopefully we will a get a better idea of the structure of the building through looking at these stones.
"The little bits of metal will also be interesting and they add to our collection from last year."
The turf-built structures are often overlooked in favour of the grandeur of hillforts, the Picts defensive structures which still are evident across the country, including Moncrieffe Hill near Perth.
Nonetheless, they show how everyday Pictish people would have lived — as opposed to the wealthy kings and leaders of the time.
Meaning painted ones, the Picts lived in northern Britain in the first 1,000 years AD, recognisable through their carved stone sculpture containing various symbols, including animals and mythical beasts.