Ancient artwork offers a puzzling picture of past
John MacCormack / Photos: Billy Calzada, San Antonio Express-News / San Antonio Express-News
Source - http://www.mysanantonio.com/news/local_news/article/Ancient-artwork-offers-a-puzzling-picture-of-past-3380300.php#ixzz1oXsWH0M4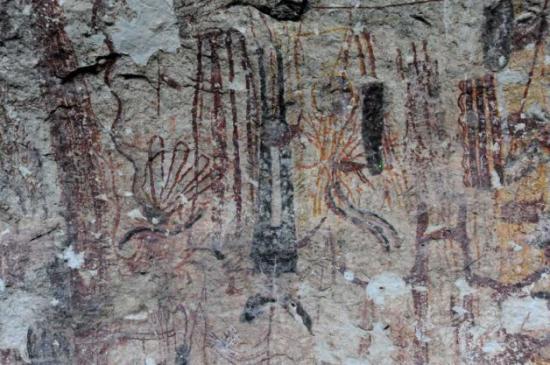 On the wall of a limestone cave above the Rio Grande, at about the time the pyramids were rising in ancient Egypt, a nomadic people painted fantastic scenes of human and animal figures, leaving a story that resists modern interpretation.
Pausing at one of the compositions, archaeologist Amanda Castañeda pointed out details, lost to the untrained eye, in a faint humanoid figure.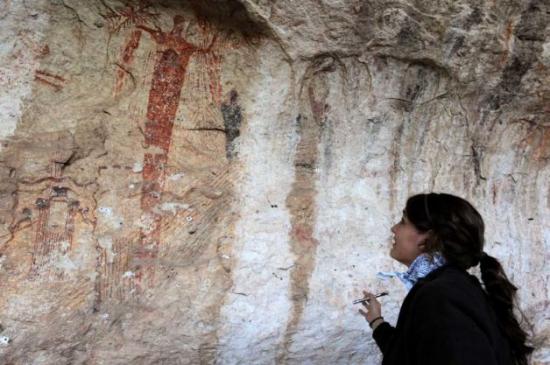 "This dates to about 4,000 years ago. What's interesting about this guy is that his atlatl (throwing stick) is backwards and his wrist has a crazy decoration. The more you look, the more you see," she said.
Across the broad stone canvas were dozens of surreal and distorted figures of humans, deer, rabbits and felines, as well as others aptly classified as "enigmatics," simply because they remain inscrutable.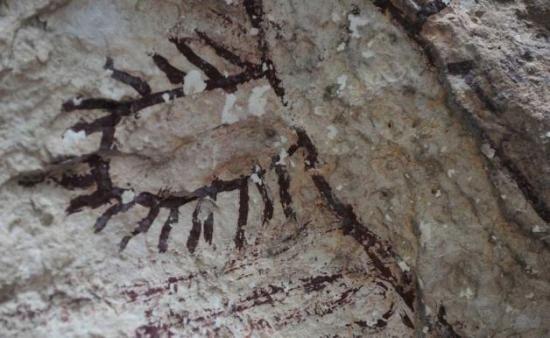 A large reddish figure of a bounding mountain lion gave the place its name decades ago.
Accessible only by boat, Panther Cave, in Seminole Canyon, is one of several hundred sites in the Lower Pecos region with ancient Indian paintings and rock carvings now recognized worldwide as archaeological treasures.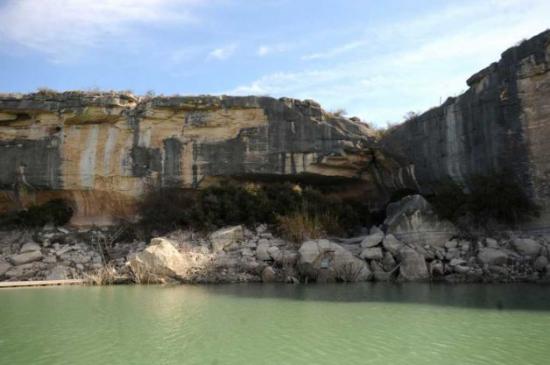 "Pecos rock art compares favorably with great rock art elsewhere on other continents," Jean Clottes, president of the International Federation of Rock Art Organizations, wrote in a recent email. He has made three trips from France to West Texas to study the rock art.
"I won't say if it is better or not because it would be like comparing great painters such as Van Gogh, Rembrandt and Velasquez!" he exclaimed.
It is also no accident that next year the Texas Archeological Society will hold its annual convention here again. The work of archaeologist Carolyn Boyd and others have made Del Rio an archaeological hotspot.
"What they are doing there is pretty phenomenal. Dr. Boyd has basically created a research center with an international reputation, and with private funding for the most part," said Britt Bousman, a professor at Texas State University and immediate past president of the state archaeological society.
Over the past decade, Boyd has developed plausible theories about the meaning of the elaborate cave drawings. Specifically, she has linked them with the peyote ceremonies of the Huichol Indians of western Mexico.
Two years ago, she said, a Huichol shaman came to see the Pecos rock art.
"It was fantastic. We walked up to the panel and Matsua just stared at it. Then he started sobbing. He said, 'They are here. All of my ancestors,'" she recalled.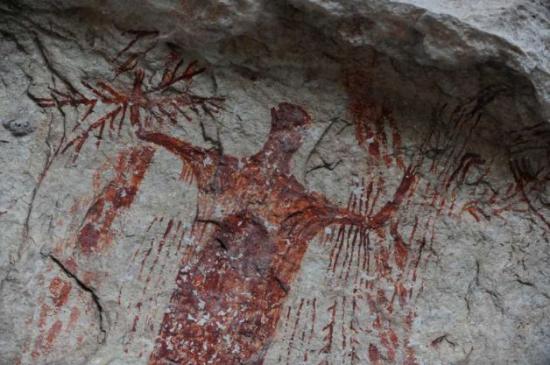 Years earlier, Boyd took reproductions of one of the most important compositions to Real de Catorce, Mexico, where the Huichol come in annual pilgrimage to gather peyote for religious ceremonies.
"I took my rendering of the White Shaman panel and showed it to one of them. And he said without prompting, 'That's our pilgrimage,' and began recognizing different elements of the pilgrimage in the panel," she said.
Regardless of its exact meanings, what is abundantly clear is that the Indian rock art, which required great effort and the use of precious resources including fatty deer marrow, was not a leisure-time activity.
"It shows they had very complex religious and social systems, and that they thought about more than surviving," Castañeda said, adding: "It wasn't just a bunch of stoned Indians."
Race against time
Castañeda, 22, works for the Shumla Archeological Research and Education Center, which since its founding 14 years ago by Boyd and her husband, botanist Phil Dering, has pursued a dual agenda: studying and preserving rock art, as well as providing classes and seminars to children, adults and visiting academics.
Amanda Castaneda, a project archaeologist at the SHUMLA School in Comstock, Texas, explains a portion of the Panther Cave mural to Greg Garetz of the National Park Service. It's well-known to the generations of Del Rio kids who have attended the open-air, hands-on classes for public school fourth-graders at Shumla's 70-acre desert campus. "It's one thing to do the heady academic stuff, but if you can't reach out to the public and connect with the children, you've failed your mission," Boyd said. The organization, which operates on grants, is working feverishly to gather information on the cave paintings and other ancient artwork. "I feel like I'm in a race against time," said Boyd. "If someone walked up to you and handed you the oldest known book in the Western Hemisphere, what would you do? Most people would spare no effort to preserve and protect it," she added.  Beyond taking photographs and making illustrations of each figure and object, researchers are collecting more than 100 pieces of "attribute data" for each one. The urgent need is apparent at Panther Cave, where insects, vandalism, and high humidity from damming the river four decades ago have degraded some images. Others are obscured by ash from long-ago fires and the silt from a monumental deluge. "That's from the 1954 flood, which came before the reservoir was built. If we had a comparable flood now, we're afraid the water would be 60 feet higher," said Greg Garetz, 61, chief of Resource Management & Interpretation for the National Parks Service.
Hands-on learning
The lesson book for Shumla's one-day class in the desert for fourth-graders probably is unlike any they've seen before. The subjects include spear-throwing, rock painting and fire-making. The idea is to make meaningful concepts as thermal energy, solubility, leverage and renewable resources and also to promote critical thinking. And in exploring these ancient survival arts, a child of the iPhone and "American Idol" generation somehow might sense a connection to the ancient hunter-gatherers who left behind little besides spear points and enigmatic rock art. Earlier this month, some 60 eager fourth-graders from North Heights Elementary took an hourlong ride west to the modest campus. The land, suitable for little more than goats and scorpions, was donated by ranchers Jack and Missy Harrington who have since been active as Shumla volunteers. "I love it. We gave Shumla the 70 acres and we've got 1,600 more they can use," Jack Harrington said, adding: "Ranching is pretty much a nonprofit organization anyway." The annual program for Del Rio fourth-graders is the cornerstone of Shumla's educational program. But until an anonymous donor stepped in, it was almost canceled this year when the district couldn't find the money. On Tuesday morning, fire-by-friction instructor Nathan Martinez was coaxing flames from a sotol ember cupped in shredded juniper bark, and new ways of thinking from juvenile minds. "Long steady breaths. That's it. There it is, now drop it in the fireplace," he said, as the tinder ignited. For the children, fire from sticks approached the miraculous. "All of a sudden, a fire came out of nowhere," marveled Alana Cassio, 10. "We learned to make fire, like other people did 4,000 years ago," said her classmate Andrea Fernandez, also 10. In the rock-painting class, instructor Angel Johnson showed how the ancients mixed fat from deer marrow with a mineral pigment, water and an emulsifier made from yucca root to make a paint that has lasted for millennia. The lesson included both chemistry and culture, as Johnson cited what she called the most important paragraph in their pamphlet. "The people who lived out here didn't have a lot of fat in their diet. So they sacrificed the food off their plate to make this paint. So do you think these paintings were important to them? They were teaching us their way of life and their religion," she said. And then, when the reddish paint was prepared, the small rock slabs were distributed and the brushes were poised, she told the dozen youngsters in smocks it was their turn. "The Indians used pictures to show ideas. They used symbols and icons. I would like you to paint an important story."