Pallavaram (Inde): A discovery that changed the antiquity of humankind who lived in Indian subcontinent
Pallavaram (Inde): A discovery that changed the antiquity of humankind who lived in Indian subcontinent
T.S. Subramanian
Source - http://www.thehindu.com/news/national/a-discovery-that-changed-the-antiquity-of-humankind-who-lived-in-indian-subcontinent/article4753744.ece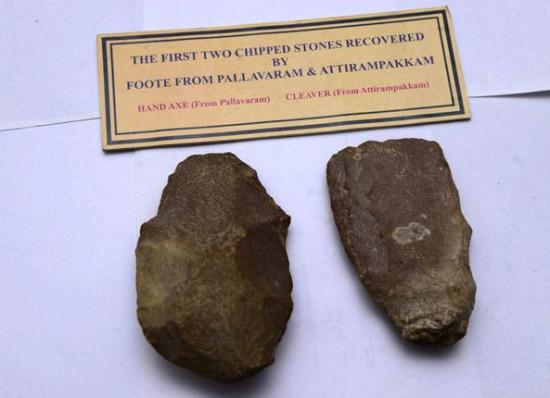 The stone hand-axe discovered by Robert Bruce Foot on the Parade Ground at Pallavaram cantonment and a stone cleaver found by Foote and his colleague William King at Attirampakkam, 60 km from Chennai. Photo: R. Ravindran / The Hindu
Geologist Robert Bruce Foote, who found a Palaeolithic tool near Chennai on May 30, 1863, classified, catalogued and described his discoveries systematically
One hundred and fifty years ago, on A discovery that changed the antiquity of humankind who lived in Indian subcontinent A discovery that changed the antiquity of humankind who lived in Indian subcontinent, young geologist Robert Bruce Foote bent down and picked up a stone tool on the Parade Ground at Pallavaram cantonment, near Chennai. It turned out to be an epochal discovery.
It was a hand-axe made of a hard rock called quartzite. Prehistoric man had crafted it to dig out tubers and roots from the soil, butcher animals he had hunted and take out the meat, and so on. As Foote, then a 29-year old assistant geologist in the Geological Survey of India (GSI), cradled the hand-axe and looked at it transfixed, he recognised it to be a Palaeolithic tool. (Palaeo means old, lith means stone. Prehistory is that part of history before written records began).
At one stroke, his discovery changed the antiquity of humankind who lived in the Indian subcontinent. It put India on the world map of prehistory. Recent research has established that such tools used by Palaeolithic population in India could be dated to 1.5 million years before the present.
Four months after this discovery, on September 28, 1863, Foote and his best friend and colleague in the GSI, William King, made another seminal discovery. They found numerous stone tools, including hand-axes, cleavers and flake tools, at Attirampakkam, near the Kortallayar river, in Tiruvallur district, 60 km from Chennai. Prehistoric man had used them to hunt animals gathering around waterholes and exploit plant and aquatic resources. Foote found some more stone tools later at Pallavaram and was convinced that a Palaeolithic population had lived in India.
Two types of dating done in France at the request of Shanti Pappu and Kumar Akhilesh, specialists in Tamil Nadu's prehistory, have established that the stone tools found at Attirampakkam could be dated to 1.5 million years. The methods used were paleomagnetic and cosmogenic nuclide burial dating. Dr. Pappu and Dr. Akilesh did this dating as part of their project to study the rich prehistoric archaeology of northern Tamil Nadu, which entailed excavations at Attirampakkam to unravel the prehistoric man's activities at the site, its environmental context and the age of the stone tools found there.
Foote was a man of multiple interests. He was a geologist, archaeologist, palaeontologist, ethnographer, museologist (one who studies the organisation, management, and function of a museum) and landscape painter. He wisely invested in shares. He was a perfectionist, too.
As Dr. Pappu says in her researched article, 'Prehistoric Antiquities and Personal Lives: The Untold Story of Robert Bruce Foote,' published in Man and Environment (Vol.XXXIII, No.1, 2008), "His name is stamped across the pages of India's geological and archaeological history, and carries as much weight today as it did a century ago… His prolific publications, comprising reports, memoirs, short notes and catalogues of antiquities, his lectures and dialogues with interested individuals, geologists and other scholars, place him amongst the foremost intellectuals of the 19 century… Through the years, literature written by and on Foote helps us gain insights into his personality — as a scientist and scholar, and as a man standing in front of India's past with a sense of wonder and reverence."
Foote not only discovered stone tools but also classified, catalogued and described them systematically. He tried to understand the technology that went into their making. He studied whether the tool was made of quartzite, agate, chalcedony or chert (a form of microcrystallite quartz), whether it belonged to Palaeolithic, Neolithic or Iron Age, the stratigraphy (a branch of geology that studies rock layers and layering) and the sedimentary context in which he found it and the geography of the location of the find, said Dr. Pappu.
In sum, he painted a holistic picture of every discovery he made. "He gave the exact locations of the sites where he found the tools and precise directions on how to reach the site. This when there was no Global Positioning System," said Dr. Akilesh.
For instance, this is how Foote describes his first stone-axe discovery: "The first implement discovered was found by me on the 30 May last year [1863] among the debris thrown out of a small gravel pit a few hundred yards north of the Cantonment at Palaveram (10 miles S.W. of Madras) and about the same distance west from the high road."
Dr. Akilesh said Foote's knowledge of the geology of the Indian landscape was amazing. He spoke about the vegetation, animals and fossils found at sites, and made ethnographic observations about them. Foote was the first to discover tiny tools called microliths in the red "teri" sand dunes of Tirunelveli district. He surveyed the famous Billa Surgam caves in Andhra Pradesh and studied the ash-mounds of Karnataka and proved that they were made of burnt cow-dung, Dr. Pappu said.
The Government Museum, Egmore, Chennai, has an eclectic collection of the stone tools Foote found at Pallavaram, Attirampakkam and in the Salem, Baroda and Hyderabad regions. According to R. Kannan, Principal Secretary, Tourism, Culture and Religious Endowments Department, the Government of Madras acquired the collection for the Museum for Rs.40,000 in 1904. The Museum has published Foote's catalogues of his collection of Indian prehistoric and protohistoric antiquities.
Foote was born in England in 1834 and died in December 1912 in Kolkata. He lies buried in the graveyard of the Holy Trinity Church at Yercaud.