Oxford (G-B): Remains of a woman and a coin dating from the 1600s are unearthed
Oxford (G-B): Remains of a woman and a coin dating from the 1600s are unearthed
Matt Oliver
Source -  http://www.oxfordmail.co.uk/news/11826371.Discovery__Remains_of_a_woman_and_a_coin_dating_from_the_1600s_are_unearthed/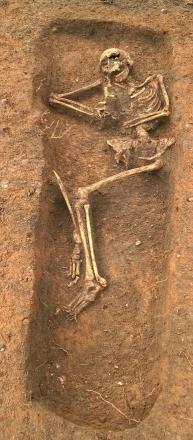 The grave and remains of a young woman have been found in excavations being carried out at St Cross College
The skeleton of a woman thought to be nearly 400 years old has been unearthed at an Oxford college.
The remains were found with a Charles I period coin during excavation works for a building project at St Cross College, Pusey Street.
Archaeologists at work at St Cross College ahead of work to expand and construct new buildings within the western quadrangle of the campus.
But the find has puzzled archaeologists, who do not know why the woman was buried there.
At first it was thought the site could be an unknown burial ground due to some other remains that were discovered, but these were later confirmed to be from animals.
Oxford Archaeology project manager Carl Champness said: "At the moment we are halfway through the excavation, but we believe it is a young female.
Why it is there is a bit of a mystery, though, because the skeleton is on its own and should not really be buried in consecrated ground."
Historical land records showed 18th and 19th century buildings were already known to be located at the site, where St Cross College has begun work to build its new "West Quad", he said.
The skeleton found on Wednesday was beneath 18th century soil from a garden, likely to have been behind a row of houses next to St Giles, Mr Champness said.
The body is believed to have been placed in a large shallow grave, in a burial shroud held in place with pins, he added.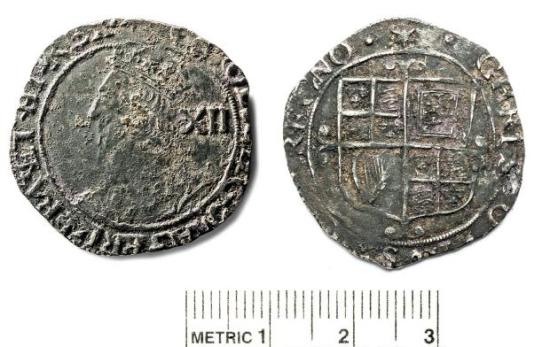 Coins dating from the 1600s were found in the grave
And a Charles I silver shilling struck at the Tower Mint in 1640 to 1641 found with the body is thought to have been placed on the woman's eyes or mouth.
Mr Champness said: "Where we are excavating was basically a back garden. That is what makes the archaeological find so unusual.
"You are only supposed to really bury someone in consecrated ground, so the fact someone has buried her here but still using Christian practices is what has us asking questions.
"What is also curious is that there were two churchyards nearby to the north and south in St Giles, so why not bury her at one of those?
"The shroud tells us it is a Christian burial and probably from around the 1600s, but we will confirm the date using radio-carbon dating.
"What we also know is this was not a quick burial. The grave was well-dug, so it is likely that whoever buried this woman did so with respect and cared about her.
"It is also likely that she was not from a poor family. If you are struggling to put food on the table, you are not going to use a silver shilling in a burial."
Diarmaid Macculloch, Oxford University's Professor of the History of the Church, said: "The coin of Charles I suggests the possibility that this was an emergency burial, during the siege of the city by forces of the Westminster Parliament in the Civil War."
Mr Champness said one theory being considered was that the woman could have died from starvation or disease.
He said: "There are no obvious signs of trauma, so there are a lot of possibilities. Whoever buried her there could have done so because they did not want people to know she had died.
"Or perhaps she was someone who was a Catholic in a time when you were not really supposed to be. At this stage we can only really speculate, so we will be doing a lot of analysis."
Once excavations are finished in the next two to three weeks, he said, the archaeological team will start processing everything it has found at the site.
He added: "We will wash it and clean it and send it off to specialists. The human remains will be taken to an osteologist – a bone expert – and they will use samples to look for trauma, disease or any other useful clues."
Mr Champness said tell-tale signs, such as abnormal growth or underdeveloped bones, can tell you whether someone was diseased or poorer and undernourished.
He added: "It's still at a very early stage, so we will keep gathering evidence and then hopefully get to the stage where we can tell this woman's story
A city at war
In 1642 King Charles I sent his soldiers to arrest five Members of Parliament, who had passed a law giving the House of Commons power over his ministers. 
But the five men managed to escape and Charles fled from London, aware that civil war was coming.
Oxford University supported the Royalist cause so Charles made the city his new capital and was put up at Christ Church.
This meant Oxford was besieged three times between 1644 and 1646.
When Oxford was encircled for the last time, by Oliver Cromwell's New Model Army, Cromwell's supporter Unton Croke made his house in Mill Lane, in Old Marston, available to General Fairfax as his base. It was from there that the siege of Oxford was planned and began in April 1646. On the 27th, the King fled the city in disguise and by the 30th Fairfax ordered his men to let no one out except to negotiate surrender.
The Privy Council soon instructed Sir Thomas Glemham, the Governor of Oxford, to negotiate with Fairfax.
Each side appointed 13 commissioners for the talks, which ran during May and June in Old Marston before terms were agreed, including that the privileges of the university be retained.
The Articles of Surrender were signed at Christ Church on June 20.