Ouganda: Rock Art Sites
Bamuturaki Musinguzi
Source - http://www.theeastafrican.co.ke/magazine/Unmasking-Uganda-s-rock-artists-/-/434746/2582592/-/4letx/-/index.html?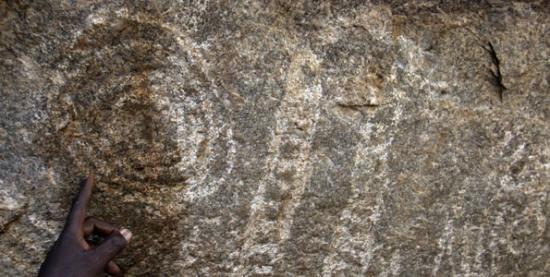 Nyero Site in Kumi District. The Ugandan government has moved to document heritage sites for conservation. PHOTO | MORGAN MBABAZI |  NATION MEDIA GROUP
A five-year study has concluded that the paintings at Uganda's rock art sites were done by settled human groups and not early hunter-gatherers as it has long been believed.
The findings also show that there is a connection between Bushmen societies of southern and Central Africa and groups that conceived the rock paintings.
The researchers noted that it is difficult to interpret the different signs because the human groups who drew them have disappeared.  
The findings are contained in a new book titled Uganda Rock Art Sites: A Vanishing Heritage of Lake Victoria Region published by the National Museum of Uganda and edited by Prof Barbara Turchetta and Jackline Nyiracyiza.
"According to our C-14 investigations on pigments at Nyero and Kakoro sites, different paintings of the Uganda side of Lake Victoria region date between 5,000 and 1,600 years BP, being on a line with Wiltonian and Magosian like industries in the late Stone Age period described by archeologists that offered us evidence of settled human groups rather than hunter-gatherers nomadic groups," Prof Turchetta said.
Prof Turchetta adds that "cultural documentation of sites and interpretation of design patterns," which excavations at Magosi (north of Moroto) showed evidence of a Magosian culture older than the one found in the Horn of Africa and Kenya.
According to the typology of artefacts, the group inhabiting the site was influenced by the late Middle Stone Age folk, though already belonging to the early late Stone Age.
Wayland and Burkitt findings (1932) also suggested a dating of Magos in the long dry interpluvial period, rather than in the first post-pluvial wet phase where Magosian cultures in East Africa are normally inserted.
Prof Turchetta wrote that during the late Stone Age, the Rift Valley region had probably settlements of seminomadic groups devoted to animal herding as it has been attested by goat and cattle fossilised bone findings.
She added that agriculture should have been progressively introduced towards the early Iron Age in the second millennium BP. Before that, in late Pleistocene an alluvional phase has been reported by geologists, which corresponds to a wet climate and a wide area covered by water.
According to archaeologist (Sutton 1986) the estimated time corresponds to the exploitation of aquatic societies based on fishing economy between the 9th and 16th millennium BC. 
"Outcrops where paintings are located showed themselves from quite far on the flat land and may have been used in the past as a reference point, to show direction of paths and orient cattle shepherds or fishermen for their movements on earth and water, at a time when dambos were rich in water flowing, some three to four millennia ago."
"They are still reference points for shepherds moving with cattle to reach flat areas rich in water. In looking at the dambos, the richest panels are close to a dambo end or ridge, where the outcrop naturally signs the end of soil erosion, which caused the water flowing easily in the valley floors and where it still prevents water over flooding."
"Except for Nyero site 2, all panels are located on the outer surface of an outcrop, some of them are visible from far, as it is the case of Kakoro main site, showing a menhir like rock, 10 metres high with the paintings almost faded due to excessive exposition to the sun light and other atmosphere agents," she adds.
Prof Turchetta observed that in recent times, overgrazed fields and spreading agriculture have strongly influenced the landscape.