O3 JUILLET 2023 NEWS
INSTITUT SUPERIEUR D'ANTHROPOLOGIE
INSTITUTE OF ANTHROPOLOGY
ONLINE COURSES / COURS A DISTANCE
DEBUT COURS : SEPTEMBRE 2023
REGISTER NOW
SUISSE –
Oberhalbstein - Archaeologists excavating the Switzerland Oberhalbstein valley have discovered a metal hoard containing more than 80 bronze artifacts dating from 1200 BC to 1000 BC or the late Bronze Age. In 2021, the Archaeological Service of Graubünden (ADG) launched a new research project to systematically examine the landscape for the remains of the conflict between Rome and the Suanetes. The Bronze Age hoard was discovered as part of this project. The hoard, which was discovered in a field south of an ancient settlement on a transalpine trade route, dates to the 12th or 11th century B.C. The items had been intentionally damaged to be unusable, placed in a wooden box, wrapped in leather and buried in the valley. Most of the buried treasures were metal objects, possibly linked to metal production in the Alps, archaeologists said. The collection included several pieces of raw copper, sickles, axes, part of a saw and jewelry pieces. They were damaged deliberately, and "killed" before being buried as an offering.
https://arkeonews.net/bronze-age-metal-hoard-discovered-in-the-swiss-alps-at-roman-battle-site/
ESPAGNE –
Mazarrón - A group of Spanish archaeologists have made detailed diagrams of a 2,500-year-old Phoenician shipwreck to help work out how best to recover it from the sea before a storm destroys it forever. The eight-meter-long Mazarrón II, named after the municipality in the southeastern Spanish region of Murcia where it was found off the coast, is a unique piece of ancient maritime engineering. Nine technicians from the University of Valencia underwent 560 hours of scuba diving over more than two weeks in June to record all the cracks and fissures in the ship, which lies 60 meters (66 yards) from the Mazarrón's Playa de la Isla.Later this year, the experts will recommend how to protect and retrieve the wreck, possibly as early as next summer. It could be extracted piece by piece using the existing cracks and reassembled out of the water like a puzzle, said archaeologist Carlos de Juan from the University of Valencia-Institute of Nautical Archaeology, who coordinated the project. "It is more reasonable to rescue the ship, treat it and exhibit it in a museum for people to enjoy it, rather than worrying every time a big storm arrives," he told Reuters. The Phoenicians, from coastal areas of present-day Lebanon and Syria, established colonies and trading posts throughout the Mediterranean from 1,500 BC to 300 BC. Historians have used the Mazarrón II, probably made around 580 BC, to document how. After it sank, it remained buried in sediment for more than two millennia until changes in sea currents due to construction on the shore unearthed it almost 30 years ago.It now lies under about 1.7 meters (5.6 ft) of crystal-clear Mediterranean water, surrounded by sandbags and a metal structure built for protection. The structure is sinking into the sand at a faster pace than the wreck and threatened to crush it, so has had to be partially removed.
https://tvpworld.com/70955197/the-quest-to-save-a-2500-year-old-phoenician-shipwreck
ESPAGNE –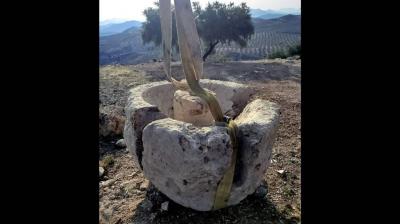 Baena - The farmer was uprooting an olive tree in a grove near Baena and accidentally uncovered the huge stone relic, El Día de Córdoba reported on July 1. The artifact has a roughly circular shape, a photo shared by the Baena Town Hall shows. At least three large grooves, possibly cracks, run down its side. A circular track is carved into the top, giving it the appearance of an upside-down mushroom with its stalk cut too short. The worn stone is an ancient Roman mill used for pressing olives into olive oil, town officials said in a news release. These types of olive oil mills, known as a trapetum, originated in Greece and spread throughout the ancient Roman empire, El Día de Córdoba reported. Workers ground the olives with a second piece that fit inside the bowl-like groove and could be rotated with a long stick. The oil mill is about 3 feet tall and about 4 feet across, Diario Córdoba reported. It weighs about 6,600 pounds.Archaeologist José Antonio Morena said the mill stone was about 2,000 years old, the outlet reported. The relic indicates that Baena's olive groves were already being cultivated, harvested and exported during ancient Roman times, Morena said.
https://www.charlotteobserver.com/news/nation-world/world/article276955033.html
USA –
Rock Island Overlook - Reanalysis of artifacts from a 1974 excavation of the Rock Island Overlook site dates the site much older than previously thought.The residues of horses from an earlier Pleistocene era at the site, dubbed 45CH204, are now dated at 13,000-16,000 years old. (The nearby Clovis Cache is dated at 11,200 years old for comparison.). Stone tools, some with the horse residue found at the site in 1974, include bifacial blanks, knives, projectile points, drills, scrapers and flakes, which are a byproduct of the andesite rock, a basalt-like material. A large amount of flakes indicated the site was "a workshop for making stone tools" and was old based on its location. The rock bottom of site 45CH204 has gravel from the ice age floods 15,000 years ago, and the stratigraphic diagram showed layers for the years since then. Pleistocene horses went extinct 12,700 years ago, and it wasn't until the 15th century that Spanish conquistadors brought European horses back to North America. Six pieces of the stone tool archeological artifacts were tested using three methods. Three of these artifacts had residues with evidence of the horses.Four other sites show evidence of Pleistocene horses: Wally's Beach in Alberta, Canada; Cooper's Ferry, Idaho; Wasden (Owl Cave), Idaho; and Paisley Caves, Oregon.
https://www.columbian.com/news/2023/jul/02/outstanding-and-unexpected-archaeological-test-shows-pleistocene-horse-existed-earlier/
NORVEGE –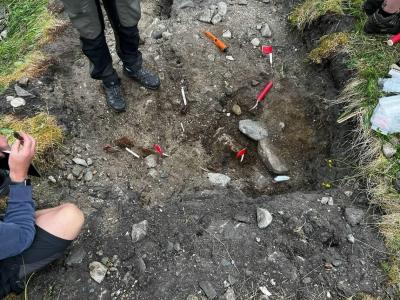 Herlaugshaugen - The grassy hill-like slope on Leka island is a massive burial mound known as Herlaugshaugen, the Norwegian University of Science and Technology said in a June 30 news release via Norwegian SciTech News. The burial mound is one of the largest in Norway, stretching almost 200 feet in diameter. Archaeologists excavated Herlaugshaugen multiple times in the 18th century and uncovered a wall-like structure, nails and "a seated skeleton with a sword," officials said. "Unfortunately, these finds disappeared in the early 1920s," archaeologist Geir Grønnesby said in the release. Even the skeleton vanished. To better understand the burial mound's secrets, archaeologists conducted a small excavation, Trøndelag County Municipality said in a news release. They found much more than they expected. Archaeologists uncovered several large metal nails, or rivets, and identified the artifacts as remnants of a ship, university officials said
Archaeologists don't know how much of the ship is left. The structure may have rotted away over the centuries, university officials said. Excavations also uncovered fragments of wood, charcoal and a horse tooth, archaeologists said. These artifacts will be further analyzed over the coming months, Trøndelag County Municipality said.
https://www.kansascity.com/news/nation-world/world/article276952288.html
INDE – Boodhinatham - The archaeology department has discovered over 52 artifacts from the Neolithic Age in Boodhinatham in Pennagaram block in the past two months. Dr R Sivananda said: "In a study conducted over a period of two months, we conducted over 17 excavations in the area and unearthed over 52 artifacts. "The Neolithic period is one of the most crucial periods in history. It was during this period that people settled down in groups and used tools for hunting using polished stones. We had found some artifacts like glass bangles, earthen pots, types of glass beads, among others. One of the most significant discoveries is that we have found five tools used by people in the era," he said. "We have unearthed a tool which we believe was used to cut trees or hunt animals. Due to the passage of time, the edges have broken or blunted, but this is a significant discovery." Further, archaeologists, who are conducting the second phase of the excavation in Nalaparampatti village, said a further study in the area could reveal more tools and help us understand the Neolithic Age.
https://www.newindianexpress.com/states/tamil-nadu/2023/jul/03/archeology-dept-excavates-over-50-neolithic-artefacts-in-tamil-nadus-pennagaram-2590901.html
ANGLETERRE –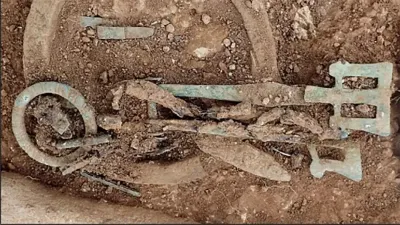 Scremby - An elite class of ancient Anglo-Saxon women were buried with hundreds of ivory rings, and the origin of these ivory rings has long remained a mystery. Ivory rings found in England have origins from African elephants according to a new study. In a new study, published in the Journal of Archaeological Science: Reports, researchers were able to use biomolecular analysis to trace the origin of hundreds of ivory bag rings found at dozens of ancient burial sites of Anglo-Saxon women. Long thought to be the ivory from mammoth or walrus specimens, the new research shows that the ivory, in fact, came from Africa around the fifth or sixth century CE. This means that the ivory was actually sourced nearly 4,000 miles (6,400 km) away from the cemeteries in which the Anglo-Saxon ivory rings were found. Given what is known about travel and trade in the first millennium AD, this is an extraordinary distance for ivory to have been transported. Despite the incredible distance, this remarkable discovery suggests that a trading network connecting Eastern Africa and Western Europe must have existed at the time. "Through a multi-methodological approach, we have established that the ivory used for the Scremby bag rings came from elephants living in an area of young volcanic rocks in Africa at some point during the 5th and 6th centuries AD," the researchers write. "This preliminary evidence allows us to consider the networks and socio-economic factors that facilitated the distribution of ivory from Africa to the British Isles at this time." The ivory rings were found in the graves of women as part of the assortment of grave goods left in the grave with their bodies. The rings themselves are somewhat enigmatic, as they resemble rings worn on fingers in shape but are much too large to have fulfilled that purpose. This indicates they were not jewelry and must have been used for something else. The rings are believed to have been part of bags that were hung from the women's hips. "Since most rings have been recovered near the hip, it is thought that the bags were suspended from the waist alongside other objects such as iron knives, pairs of copper alloy girdle hangers, and iron 'latch lifters'," the authors write. A single bag ring that was taken from an early Anglo-Saxon burial and discovered in an old cemetery close to the village of Scremby in Lincolnshire was subjected to a thorough analysis by a team of UK researchers. This cemetery was in use from the late fifth through the early sixth centuries, and the ring was one of seven removed from excavated Anglo-Saxon graves. North Africa and a large part of Great Britain were both part of the Roman Empire for centuries, so it would make sense that there would be some residual trade ties even after the fall of Rome. Why the trade appeared to end in the 700s isn't known.
https://arkeonews.net/origin-of-ivory-rings-found-in-elite-anglo-saxon-burials/
MEXIQUE –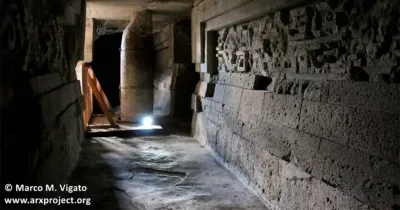 Mitla- An archaeological team from the Lyobaa project has confirmed the existence of a vast Zapotec underground complex in their study to explore the underground world of the Mitla archaeological site. Mitla is an archaeological site associated with the Zapotec culture, located in the Oaxaca Valley in the present-day state of Oaxaca in southern Mexico. The Zapotec first inhabited it during the Classic Period (AD 100-650), having first developed from a fortified village into a large religious center. The Zapotec believed that Mitla served as a gateway between the worlds of the living and the worlds of the dead for the burial of the Zapotec elite, hence the Nahuatl name Mictlán, which means "place of the dead" or "underworld." It has long been believed that the ancient Zapotec people constructed a massive and intricate labyrinth of chambers and passageways beneath monumental stone structures found at the Mitla archaeological site in the southern Mexican state of Oaxaca. The goal of this system of tunnels was to eventually lead to Lyobaa, the entrance to the Zapotecan underworld or Land of the Dead. As part of a new study led by the Lyobaa Project with support from the National Institute of Anthropology and History (INAH), researchers launched an exploration project in Mitla in 2022.Their research has also revealed fascinating details about the various subterranean structures, revealing crucial information about a spiritual mecca built by and for the Zapotecan people who occupied southern Mexico during the pre-Columbian era. Researchers are using geophysical prospection techniques to confirm the existence of previously undetected underground chambers and passageways beneath Mitla. The technologies deployed included Ground Penetrating Radar (GPR), Electrical Resistivity Tomography (ERT), and Seismic Noise Tomography, each of which uses electromagnetic emissions to penetrate the surface of the earth and generate images of what lies on the other side of that physical barrier. Most importantly, the geophysical survey findings unequivocally confirm the presence of multiple underground chambers and tunnels winding their way through the earth beneath a set of structures known as the Church Group (there are five sets of above-ground structures at Mitla, one of which features a Catholic church built in the late 16th century). The surveys also looked into areas beneath the Palace of Columns, the site's most elaborate building and a member of the so-called Columns Group of buildings. Here, the scans produced images that provided information on the building's earliest stages of construction.
https://arkeonews.net/archaeologists-may-have-found-lyobaa-the-zapotec-land-of-the-dead/
FRANCE – Bourget-du-Lac - C'est une découverte archéologique majeure. En Savoie, plusieurs spécialistes ont mis au jour un espace funéraire, le plus grand découvert dans le département, à l'occasion de fouilles effectuées par l'Institut national de recherches archéologiques préventives (INRAP). Cet espace funéraire date du VIIe siècle après Jésus-Christ, c'est-à-dire à l'époque mérovingienne. Situé entre deux maisons sur une colline qui surplombe le lac du Bourget, ce cimetière comporte 80 tombes. Les spécialistes ont constaté que les défunts regardent vers l'est, c'est-à-dire vers Jérusalem, selon le rite chrétien. "On voit que les humérus sont légèrement relevés et orientés vers l'intérieur" constate Jean-Luc Gisclon, archéologue et anthropologue à l'INRAP. Pendant plusieurs dizaines d'années, jusqu'à quatre personnes pouvaient être enterrées dans la même sépulture. Au septième siècle, la pratique funéraire chrétienne était en pleine évolution… Car à cette période, l'espace funéraire n'est plus une nécropole antique mais n'est pas encore un cimetière paroissial situé au cœur du village. "Nous avons quelques éléments de vêtements, quelques parures" énumère Julien Blanco, archéologue et anthropologue à l'INRAP, "mais c'est vraiment insignifiant par rapport au nombre de sépultures" découvertes. Cependant, ces trouvailles permettent aux spécialistes de constater une certaine cohérence "avec cette notion d'humilité dans la mort" précise Julien Blanco qui ajoute : "Cela rend difficile l'identification des classes sociales des défunts". Face à cette découverte majeure, les archéologues comptent en savoir plus sur l'histoire du département de la Savoie. Qui étaient ces gens ? Comment vivaient-ils ? Les spécialistes de l'INRAP poursuivent leurs investigations
VIDEO = https://france3-regions.francetvinfo.fr/auvergne-rhone-alpes/savoie/chambery/video-un-cimetiere-merovingien-datant-du-viie-siecle-decouvert-par-des-archeologues-en-savoie-2804030.html
EGYPTE –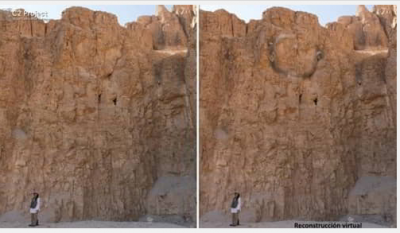 Thèbes - Au centre de la nécropole thébaine se trouvent de nombreux secrets cachés du monde antique. En 1881, des archéologues sont tombés sur la tombe TT 320, qui contenait plus de 40 momies de pharaons égyptiens célèbres, tels que Ramsès II, Séti I et Thoutmosis III. Les archéologues ont fait une autre découverte fascinante : ces momies étaient toutes gardées par une statue massive taillée dans le flanc de la montagne. Bien que très détruite, les chercheurs ont identifié une partie du temple, l'arcade sourcilière et même le creux du nez, le tout avec des proportions exactes. La découverte a été documentée par une mission d'archéologues espagnols de l'Université Complutense de Madrid (UCM) en collaboration avec le Centre de documentation sur l'Égypte ancienne du ministère égyptien des Antiquités (CEDAE). Baptisée Royal Cache Wadi Survey (ou projet C2), la mission a permis d'identifier un grand nombre d'écrits sur les rochers du site, des animaux momifiés, des offrandes, une tombe inexplorée et cette effigie de 20 mètres de haut dont on ne savait absolument rien jusqu'à présent."Elle semble représenter un visage perruqué, peut-être semblable à celui de la déesse Hathor, fille du dieu Soleil Râ. Et bien qu'il ne s'agisse pas exactement d'un Sšhinx car il n'a pas le corps d'un animal, il occuperait le même rôle de gardien que le Sphinx de Gizeh", explique l'égyptologue José Ramón Pérez-Aquino, professeur d'histoire ancienne à l'UCM et codirecteur du projet C2. Les archéologues pensent que le visage sculpté sur le flanc de la montagne n'est pas tombé en ruine à cause de l'érosion, mais qu'il a été défiguré intentionnellement. Les matériaux coptes trouvés lors des fouilles suggèrent que cette vandalisation a eu lieu "très tard, presque à l'époque médiévale". Un autre détail intéressant est que le visage du gardien s'illumine au moment du solstice, ce qui a été vérifié par l'archéologue Pérez-Accino le 21 décembre, alors que la campagne archéologique s'achevait déjà.
VIDEO= https://www.youtube.com/watch?v=j1D2yaPQLY8&embeds_referring_euri=https%3A%2F%2Fwww.anguillesousroche.com%2F&source_ve_path=OTY3MTQ&feature=emb_imp_woyt
https://www.anguillesousroche.com/decouverte/des-archeologues-decouvrent-un-visage-massif-ressemblant-au-grand-sphinx-sculpte-sur-une-montagne-en-egypte-2/