Finau Fonua
Source - http://matangitonga.to/2014/07/25/excavation-uncovers-ancient-lapita
A team of Canadian archaeologists have excavated remains of an ancient settlement outside the small village of Nukuleka, located at the entrance of Tongatapu's central lagoon.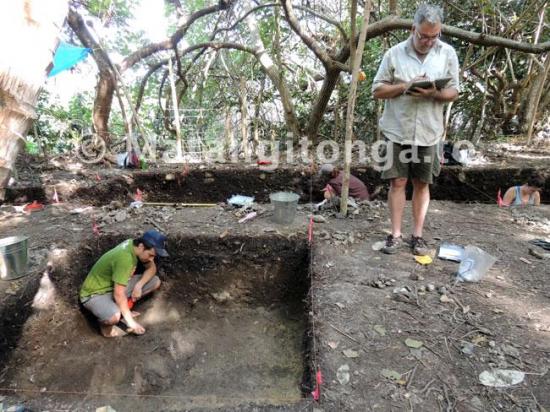 The excavation site at Nukuleka
Various items were collected such as pieces of Lapita pottery, shell fish, adzes and ivory ornaments. An ancient well/water-catchment was also discovered. The dates of items vary from recent times to as far back as 2800+ years ago.
Dr David Burley examines a shark's tooth and ancient fish and turtle bones excavated at Nukuleka
The excavation was led by Canadian archaeologist Professor David Burley, who has conducted previous excavations in Nukuleka before and has been heavily credited for his work in Lapita studies.
Burley described his excavation, "We have bags and bags of pottery sherds and bones and shell, we have a really good record of different periods of time and the kinds of shell fish that were being eaten and how that changes."
Lapita pottery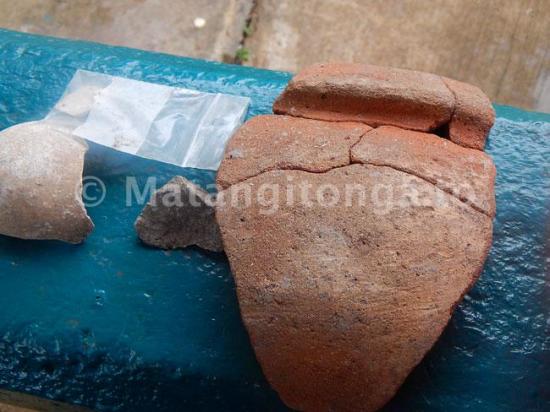 Lapita pottery shards which were found in Nukuleka
Uncovered in Burley's excavation were many sherds of Lapita pottery. Lapita pottery is a unique pottery made by the ancient predecessors of Polynesians thousands of years ago. The pottery is particularly numerous in Nukuleka where thousands of sherds have been collected. 
Lapita pottery shards uncovered during an excavation at Nukuleka
Burley explained "Lapita is a type of pottery. We find this type of pottery across the Pacific from the coastal areas of New Guinea all the way to the islands of Tonga and Samoa."
"It's very distinctive you can't miss Lapita pottery because it has this kind of design… it's very very unique. We can track the movement of people across the Pacific as they settled the island groups by finding this kind of pottery."
"When we dig this pottery up we also dig up everything else that these people used. We dig up all of the rubbish they threw out all: all of the fish bones, the bird bones, all of the ornaments they were wearing, the adzes they used to make their canoes, and the oven stones they used to make their umus, all of these occur in archaeological sites such as this."
Nukuleka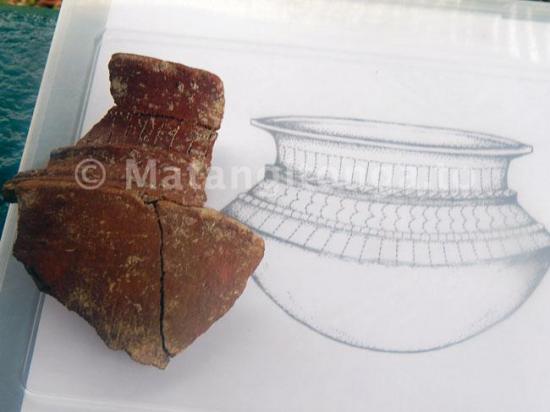 A lapita pottery shard displayed next to a historical drawing of lapita pottery. Nukuleka,
According to Burley, Nukuleka is unique, the quantity of finds is evidence of a large settlement and the age of the finds is also the oldest within the Polynesian triangle.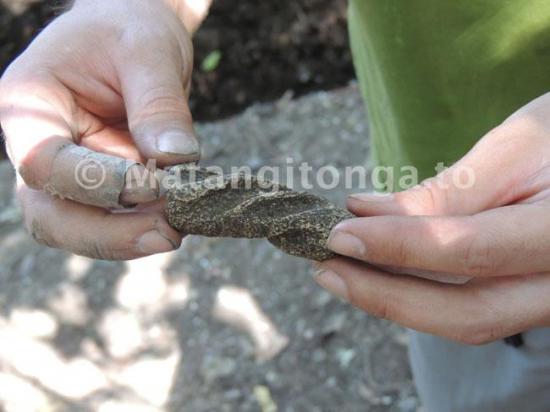 A number of artefacts were uncovered during the excavation at Nukuleka
Burley explained "What is interesting about Nukuleka is that the Lapita pottery is scattered all over here, not just in that one little site. Most sites in Tonga are small there are 30 metres by 40 metres, so you have essentially a small household of people. In Ha'apai you might have ten people living in Lifuka, another ten in 'Uiha and so on. Here , [at Nukuleka] we've got this big settlement, it's huge, it's 20 hectares in size where we can find Lapita pottery. I think Nukuleka, at least initially, was the central place for Lapita, it's the capital for Tonga"
"Tonga has to have one of the largest Lapita settlements in the Pacific without doubt…we know the people who came to Tonga were here for 80 years before they moved on to Ha'apai, Vava'u, Niuatoputapu and Samoa."
Tonga needs a museum
David Burley has stated that Tonga needs to preserve its Lapita in a museum.
"We have a couple of thousand (Lapita sherds) this year but we have some quite large pieces…I'm going back to my lab to study it and then I want to return it all back to Tonga, but Tonga has nowhere to send it to. Tonga needs a musuem, it's sad," he said.
"Tonga really needs a museum. It needs a proper facility, a proper archive to maintain its heritage. There are very few countries in the Pacific, virtually none apart from Tonga that do not have a museum".
"I hate to see it lost and shoved in a government warehouse and then shoved away by someone who doesn't know what it is and why it is important," he said.