Novato (USA): Dig unearths Miwok artifacts
Novato (USA): Dig unearths Miwok artifacts
Mark Prado
Source - http://www.marinij.com/novato/ci_23261465/caltrans-dig-near-novato-unearths-miwok-artifacts
Sacramento State Archaeological Research Center staff and Caltrans crews dig for Indian artifacts on Thursday, May 16, 2013, along Highway 101 in Novato, Calif. (IJ photo/Robert Tong)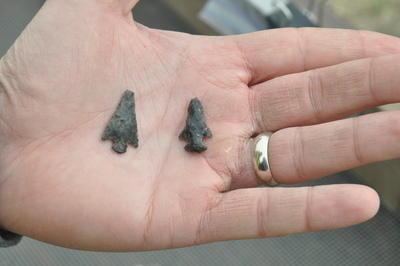 Brett Rushing displays arrowheads found during an archaeological dig for Indian artifacts on Thursday, May 16, 2013, along Highway 101 in Novato, Calif. (IJ photo/Robert Tong)
Archaeologist have been huddled along Highway 101 north of Novato for the past month sifting the dirt for clues about how humans survived hundreds of years ago. Arrowheads, parts of grinding bowls, stone tools and shells are some of what was uncovered at the Coast Miwok site established along the bay waters, which provided fertile ground to sustain an austere existence.
"It's a major site," said Nick Tipon, a member of the Federated Indians of Graton Rancheria Sacred Sites Committee, who monitored the dig that ended Thursday. "For us it is interesting to learn more about our past and our ancestors."
The work is being done because Caltrans will soon pave a frontage
road over the site as part of the Novato Narrows widening project. Caltrans brought in a team from California State University, Sacramento that has been at the site carefully digging through material.
"It's a lot of effort; all this soil is being moved by hand," said Brett Rushing, senior environmental planner in archaeology for Caltrans, as he stood at the hole-laden site Thursday morning. "Each centimeter is being moved by hand."
A crew of up to 25 archaeologists methodically dug earthen cubes out of the ground, sifted though the soil and used water to remove the dirt to bring the artifacts into light after hundreds of years. The site was known because about 100 years ago Nels Nelson, a Berkeley archaeologist, had documented shellmounds around San Francisco Bay.
When the Miwok Indians inhabited the area the bay was much closer to where Highway 101 in Novato is now situated, and the waters provided a wealth of food, including shellfish such as mussels and oysters. As the years passed, the amount of shells left by the native people created a mound, a telltale sign of the historic activity.
"They probably picked the high ground to begin with," said Mark Basgall, director of the Archaeological Research Center at CSUS. "This area probably would have been surrounded by brackish or saltwater marshes. There was also a freshwater creek nearby. It was an open camp and mainly a food processing area."
"We have evidence of low-level occupation that dates back 2,500 to 3,000 years; then there is another occupation in the last 1,000 years when most of this was left behind," he said. "It all becomes pieces to a puzzle of who was here."