Teeth could unlock toi moko secrets
Source - http://www.nzherald.co.nz/nz/news/article.cfm?c_id=1&objectid=10779928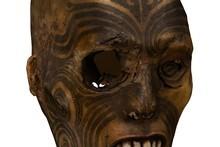 Possum teeth enamel may be the key to pinpoint the origins of Maori human remains. Photo / AP
New technology tested on possum teeth enamel may help Waikato University researchers to pinpoint the origins of Maori human remains.
Te Papa Museum in Wellington has been responsible for the country's international repatriation efforts since 2003. It holds hundreds of bone fragments, and has recovered about 85 toi moko (preserved heads) from foreign institutions.
On Monday, Te Papa will receive 20 toi moko in a Paris ceremony and on Thursday will formally welcome them home to New Zealand.
The scrupulous records of some colonial collectors have made it relatively easy for some pieces to be reburied.
However, in other cases, grave robbers left no clues and research-ers have to trawl through ships' logs and other records for leads and to piece together journeys. Complicating matters is that slaves' heads were used and regional patterns in tattoos do not provide a reliable guide to origins.
Waikato University researcher Nicky Cameron collected possum teeth from trappers and farmers because enamel on teeth is laid down in the first few years of life for most mammals, then stays mostly unchanged.
Many pre-European Maori and Moriori lived all their lives in one area and ate only local food, as possums do now, so she investigated if comparable minerals in the enamel could be matched to geological records.
Tiny samples from the teeth can show variations in the enamel of trace minerals absorbed from food and water.
Research published in the Journal of Pacific Archaeology by Ms Cameron and others said the methodology showed potential for identifying geographic origins.