Source - http://www.bbc.com/news/uk-england-northamptonshire-28245779
Archaeologists have uncovered evidence of stone buildings and large, lined tanks
Fragments of rare medieval linen and serpentine marble have been discovered by archaeologists at a dig in Northampton town centre.
The excavation is in St John's Street, at the location of Northamptonshire County Council's new £43m headquarters.
Jim Brown, from the Museum of London Archaeology, said the marble is "part of something quite valuable", possibly a portable altar.
Excavation on the 1,400 sq m site continues until late August.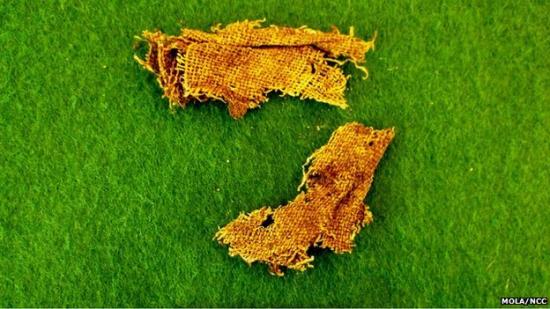 The two 50mm (2in) scraps of linen were found in the base of a tank, which helped preserve them
Similar serpentine marble has been used in a German portable altar from the 13th Century
The extensive dig began along Fetter Street, where a medieval bread oven, an early 13th Century well shaft and trading tokens were discovered.
However, the St John's Street frontage remains "are much better preserved and far more complex".
A "very nice piece of serpentine marble" was excavated and it is "not beyond the realms of possibility" that it could have been part of a portable altar, according to Mr Brown.
"Some very nice pieces of antler, a lovely collection of honestones for sharpening knives, two scraps of medieval linen and a good preservation of industrial features have been uncovered," he added.
"Due to the rarity of [linen] being preserved, it doesn't turn up very often, and when found is usually in dockland places."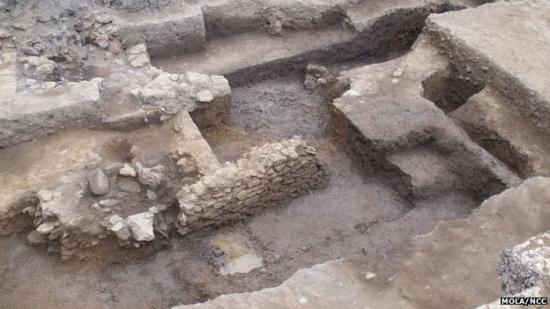 The timber and stone-lined tanks uncovered were probably used for tanning and were the sources of most of the finds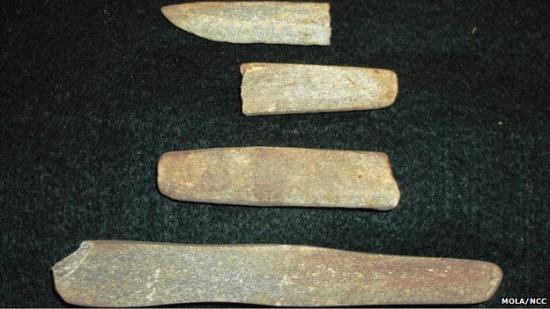 Large numbers of honestones, animal bones and antlers uncovered also point to the area being used by tanners
The affluence of late 12th and early 13th Century Northampton has been revealed by the evidence of stone walls.
As well as the "more grandiose" projects such as the castle and various ecclesiastical buildings, many town merchants replaced their timber buildings with stone houses.
The site has been explored ahead of construction starting on Project Angel, part of a major regeneration scheme in the town that includes the opening of a new bus station and changes to the town's railway station.
This part of Northampton declined in the 14th Century, the stone was removed and the pits filled in