Northampton (G-B): Project reveals town's medieval past
Northampton (G-B): Project reveals town's medieval past
Source - http://www.bbc.co.uk/news/uk-england-northamptonshire-26580195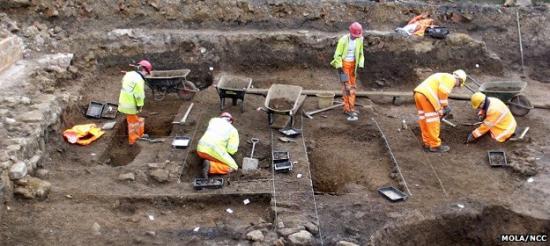 The site is being surveyed before building work begins on a new council headquarters
Three "star finds" have been discovered by archaeologists at a dig on the site for Northamptonshire County Council's forthcoming new £43m headquarters.
The excavation in Fetter Street, Northampton, has revealed the remains of a medieval bread oven, an early 13th Century well shaft and trading tokens.
Jim Brown, from the Museum of London Archaeology, said the 12th Century oven suggested "a settlement nearby".
Excavation on the 1,400 sq m site continues until the end of August.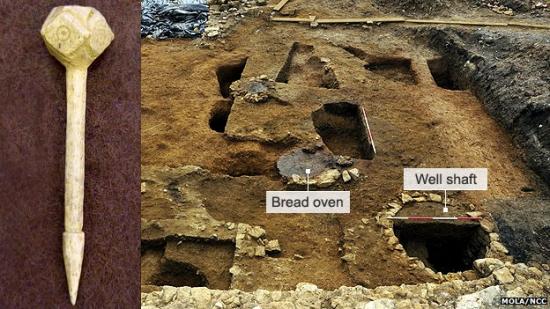 A number of sewing tools found on the site indicate a "cottage economy", said Jim Brown
"The bread oven suggests there ought to be a 12th Century settlement nearby," said senior project officer Mr Brown.
"It would have been for one or two households to share and would have worked a bit like a stone-baked pizza oven.
"By the time the well was created around the early 13th Century it's likely there were scattered domestic dwellings in the area which seems consistent with the documentary records of the time."
The site has been explored ahead of construction starting on Project Angel, part of a major regeneration scheme in the town that includes the opening of a new bus station and changes to the town's railway station.
The site yielded trading tokens from the 1400s
'Skinning of cats'
"One of the exciting finds has been a cache of objects which seems to be part of a sewing kits with needles, pins and trading tokens which date it between 1400 and 1475," said Mr Brown.
"Given the period you're looking at cottage economies so it could be a personal sewing kit, or it could belong to a seamstress who did a little bit of work to earn a living in her own home.
"Previous digs have revealed evidence of the skinning of cats.
"Northampton is a great leather working town so it would be nice to be able to identify something that went with that industry."
He added it was "quite difficult" to build a bigger picture as the key findings to date were "separated by periods of time" but the fragments "demonstrate a sequential growth of activity" that fits with the town's development.