Northampton (G-B): medieval chess workshop found
Northampton (G-B): medieval chess workshop found
Source - http://www.bbc.com/news/uk-england-northamptonshire-30214707
The pieces were found in a large dump of antler off-cuts near the foundations of a timber-framed building
A workshop that produced early medieval chess pieces has been uncovered during an archaeological dig "for the first time" in England.
Similar chess pieces have been found at digs at manor houses but this find is evidence of their manufacture.
Archaeologist Andy Chapman said it was "the most interesting find" in a series of excavations in Northampton in the past two years.
The digs were carried out ahead of redevelopment work in the town centre.
MOLA archaeologist Jim Brown said the antler chess pieces were evidence of demand for a leisure product
Archaeologists from the Museum of London Archaeology (MOLA) were responsible for the excavations.
Mr Chapman, a senior project manager with MOLA Northampton, said they had "extended and added to our knowledge" of Northampton's Saxon and medieval past.
The workshop was discovered at a site in Angel Street, the location of Northamptonshire County Council's new £43m headquarters.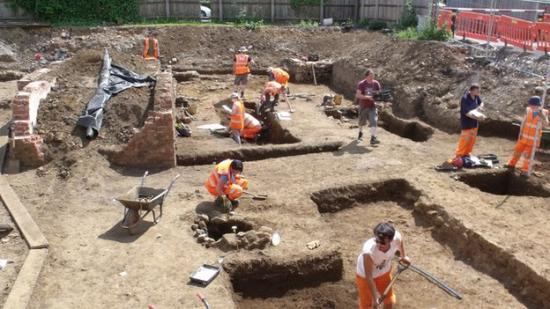 Andy Chapman said it had been long time since experts had access to such a large site in Northampton
A 13th Century malting oven found at Angel Street will be restored and put on display at a nearby brewery
Mr Chapman said: "From my point of view the chess pieces are the most interesting.
"They turn up now and again as single finds, in a manor house or abbey, but the most important thing here is it's the first time a workshop from the medieval period in England has been found."
The game had become popular with "anyone of education and wealth" by the middle to late 12th Century, he added.
Other finds at the Angel Street dig include fragments of rare medieval linen and serpentine marble.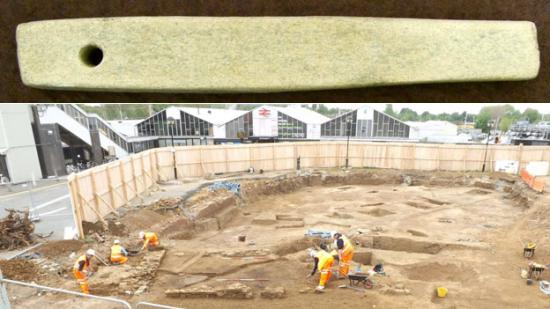 When Northampton's railway station was redeveloped, the archaeologists had access to the town's castle
The MOLA team also carried out an excavation on Northampton's Norman castle in 2013, ahead of the redevelopment of the town's railway station.
Mr Chapman said: "During the 12th and 13th Centuries it was a royal castle - the king was constantly moving around and he held parliaments there."
After Archbishop of Canterbury Thomas Becket fell out with Henry II, his trial was held at Northampton Castle.
Mr Chapman said: "People say 'Isn't it dreadful that modern developments take place', but it develops our knowledge and gives us the opportunity to look at the story of what's happened to those plots of land before."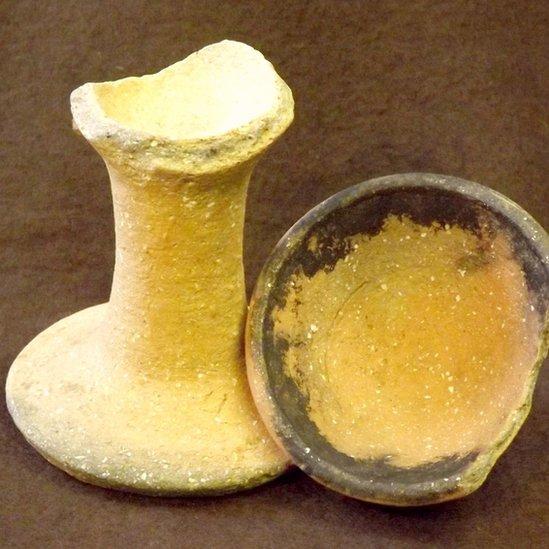 These late Saxon oil lamps were found during the excavations at the railway station