Source - http://www.bbc.co.uk/news/uk-england-york-north-yorkshire-35314396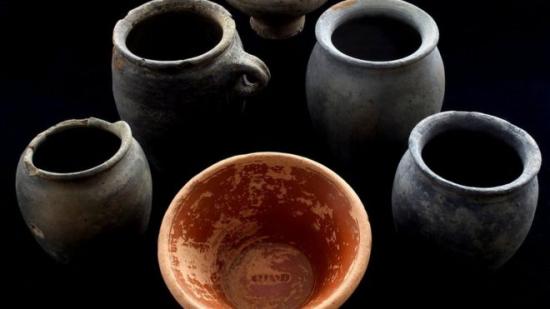 Pottery was found alongside human remains near Catterick
A rare Roman brooch and miniature sword have been discovered by a roadside in North Yorkshire.
Archaeologists have unearthed 177,000 artefacts from the Prehistoric, Iron Age and Roman periods while excavating along a stretch of the A1.
A 60-strong team has sieved through 50 tonnes of sediment at the site between Leeming Bar and Barton, as part of the two-year project.
The Northern Archaeological Associates described the items as "outstanding."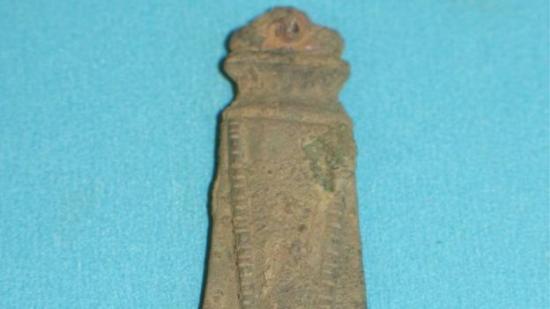 A Roman copper brooch was discovered for the first time in the UK
Scotch Corner glass gaming counters
Many of the items were discovered on the Great North Road, which runs adjacent to the A1 and dates back to the Roman period.
They include a Roman cicada brooch made in Pannonia - a region that today includes parts of Hungary, Austria, Slovenia, Croatia and Serbia - and ceramic pots found next to human remains at a Roman cemetery at Bainesse, near Catterick.
A miniature sword was also unearthed at Scotch Corner and is thought to have been a gift for the dead.
Some of the items will go to the York Museum Trust and eventually go on display.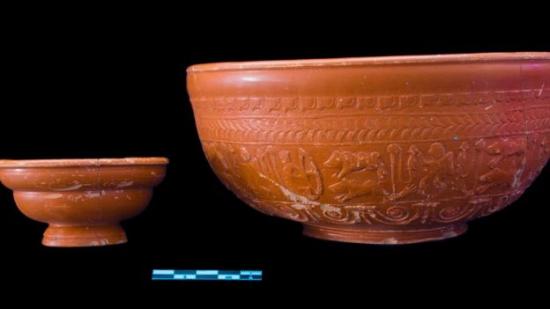 A Scotch Corner Samian bowl and cup
Dr Hannah Russ, from the NAA, said: "We are learning so many new things about the people who were living in the vicinity of the A1 in the past."
The work is part of a Highways England scheme to install an extra lane in each direction of the A1 and improve the route.
Tom Howard, from the agency, said: "It is fascinating to discover that nearly 2,000 years ago the Romans were utilising here as a major road of strategic importance and using the very latest technological innovations from that period."