New York (USA): Tree Rings Solve Mystery of World Trade Center Ship
New York (USA): Tree Rings Solve Mystery of World Trade Center Ship
Megan Gannon
Source - http://news.discovery.com/history/archaeology/tree-rings-solve-mystery-of-world-trade-center-ship-140728.htm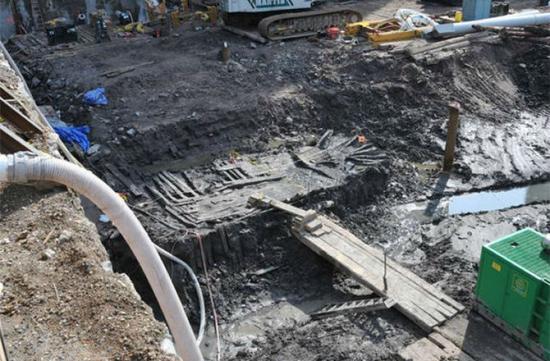 Four years after a shipwreck was revealed at Ground Zero, a new report details how tree rings helped establish the origins of the wooden vessel.,LOWER MANHATTAN DEVELOPMENT CORPORATION, VIA COLUMBIA UNIVERSITY
In July 2010, amid the gargantuan rebuilding effort at the site of the World Trade Center in Lower Manhattan, construction workers halted the backhoes when they uncovered something unexpected just south of where the Twin Towers once stood.
At 22 feet (6.7 meters) below today's street level, in a pit that would become an underground security and parking complex, excavators found the mangled skeleton of a long-forgotten wooden ship.
Now, a new report finds that tree rings in those waterlogged ribs show the vessel was likely built in 1773, or soon after, in a small shipyard near Philadelphia. What's more, the ship was perhaps made from the same kind of white oak trees used to build parts of Independence Hall, where the Declaration of Independence and U.S. Constitution were signed, according to the study published this month in the journal Tree-Ring Research.
Archaeologists had been on-site throughout the excavation of the World Trade Center's Vehicular Security Center. They had found animal bones, ceramic dishes, bottles and dozens of shoes, but the excitement really kicked up when the 32-foot-long (9.75 m) partial hull of the ship emerged from the dirt.
The vessel was quickly excavated, to prevent damage from exposure to the air. Piece by piece, the delicate oak fragments were documented and taken out of the rotten-smelling mud. The timbers were sent to the Maryland Archaeological Conservation Laboratory, where they would be soaked in water to keep the wood from cracking and warping.
Did an Abandoned 'Ghost Ship' Disappear?
A few timbers were sent back to New York, just 20 miles (32 kilometers) north of the World Trade Center, to the Tree Ring Laboratory at Columbia University's Lamont-Doherty Earth Observatory in Palisades, New York. Researchers at the lab dried the fragments slowly in a cold room and cut thick slices of the wood to get a clear look at the tree rings
The team established that the trees used to build the ship — some of which had lived to be more than 100 years old — were mostly cut down around 1773. Then, to determine where the wood came from, the researchers had to find a match between the ring pattern in the timbers and a ring pattern in live trees and archaeological samples from a specific region.