Nausicaä of the Valley of the Wind
Nausicaä of the Valley of the Wind
Hayao Miyazaki's 'Nausicaä of the Valley of the Wind' as personal archaeology
Charles Solomon
Source - http://herocomplex.latimes.com/2011/04/26/hayao-miyazakis-nausicaa-of-the-valley-of-the-wind-as-personal-archaeology/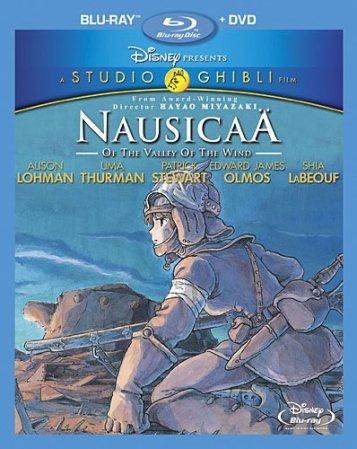 NEW ON BLU-RAY
Although Hayao Miyazaki is best known as a filmmaker, he gained widespread attention in Japan for his complex ecological manga, "Nausicaä of the Valley of the Wind," which he began in 1982 and continued off and on for 12 years. In 1984, he adapted it to the screen in his first personal film, which has just been released on Blu-ray.
One thousand years after a savage war devastated much of the Earth, humanity clings to existence at the fringes of a vast, polluted wasteland inhabited by monstrous insects. Nausicaä, the princess of the tiny realm of the Valley of the Wind, discovers that the forest, which people regard as a toxic threat, is actually purifying the environment, creating breathable air and uncontaminated soil. Her insights enable her to see beyond petty power struggles and national rivalries to a viable future for the planet.
Miyazaki said that his inspiration came from two sources: One was the original Nausicäa, the Phaeacian princess who cares for the shipwrecked Odysseus in Book Six of "The Odyssey." The second was a princess who loved nature, especially insects, and refused to conform to social norms in the 11th century Japanese collection of stories "Tales of the Tsutsumi Middle Counselor."
Although Miyazaki had been working for more than two decades as an animator, screenwriter, designer, storyboard artist and director, he had only directed one feature before "Nausicäa": "Lupin III: The Castle of Cagliostro" (1979). Yet "Nausicäa" is a surprisingly mature film. Miyazaki already understands how to create a compelling image on the screen, how to use the camera in complex aerial sequences, and most importantly, how to present a story visually.
In many ways, "Nausicäa" serves as a sort of overture to Miyazkai's more mature works. In the film, he began to explore elements he would develop more fully in his later films: daring heroines, exciting flying sequences, colorful side characters, strong interpersonal relationships and a call for an ecologically sustainable way of life.
Nausicaä is the first of Miyazaki's intelligent, compassionate and capable heroines. She's more mature than Sheeta in "Castle in the Sky" or Chihiro in "Spirited Away," and less angry than San in "Princess Mononoke." But all four characters share a love of the natural world and an ability to win the hearts of others. Nausicäa's empathy enables her to calm the fury of the stampeding, insect-like Ohm, but she also makes Prince Asbel of Pejite realize that his desire to avenge the death of his twin sister can lead only to further destruction and sorrow.
Similarly, the warmly rough and ready Asbel anticipates Pazu in "Castle in the Sky" and Ashitaka in "Princess Mononoke." All three are young men of noble character who are willing to learn and be led. While these heroes are clearly attracted to the heroines and vice versa, Miyazaki conveys those feelings through their attitudes and actions, rather than through on-the-nose speeches or leering looks.
For years, "Nausicaä" was available in the U.S. only as the badly re-edited "Warriors of the Wind." The English dub from Disney presents the film in its entirety, with strong vocal performances by Uma Thurman, Patrick Stewart, Shia LaBeouf, Alison Lohman and Edward James Olmos. The clarity of the Blu-ray transfer enables viewers to fully appreciate Miyazkai's skill as a storyteller, especially in the dynamic flying sequences
The original DVD extras include a choppy Japanese documentary on the creation of Studio Ghibli, with actors impersonating directors Hayao Miyazaki and Isao Takahata and producer Toshio Suzuki, and Miyazaki's storyboards, timed to the sound track. In a new interview shot for the Blu-ray, Miyazaki says he created "Nausicäa" as manga that couldn't be adapted to animation. He wasn't even sure how many legs the Ohm had, which caused problems when they had to be animated.