Nara(Japon): Ruins indicate dignitary's residence in 8th-century capital
Nara(Japon): Ruins indicate dignitary's residence in 8th-century capital
Kazuto Tsukamoto / Yumi Kurita
Source http://ajw.asahi.com/article/behind_news/social_affairs/AJ201512030039?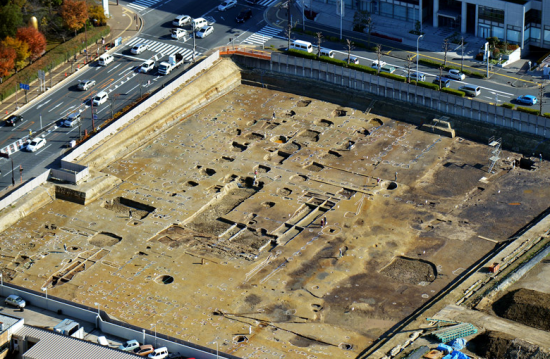 The site of what could have been the residence of an aristocrat in the ancient capital of Heijokyo in Nara (Kazunori Takahashi)
-Archaeologists excavating the site of a former police station here found signs that a powerful aristocratic family lived there in the late eighth century when it was an upscale district of the Heijokyo capital.
The prefectural Kashihara Archaeological Institute said Dec. 2 that researchers had uncovered evidence of 37 buildings constructed with pillars dug into the ground, as well as 10 wells.
It was clearly a sizable complex in the Nara Period (710-784).
Although it was hailed as a significant discovery, the prefectural government said it has no plans to preserve the site. Instead, it intends to invite a foreign hotel chain and other businesses to develop the area for accommodation ahead of the Tokyo Olympics in 2020.
The site is close to the Heijokyu palace and the residence of Prince Nagaya (684?-729), a grandson of Emperor Tenmu (?-686), who was forced to commit suicide as political turmoil raged.
"It made it clearer than ever that the area was an upscale neighborhood occupied by numerous aristocrats," said Ikuo Tanabe, a specially appointed professor of archaeology at Nara Prefectural University.
The site is where the Nara Police Station stood.
The buildings were constructed at intervals during the late Nara Period. The largest structure measured 27.5 meters north-south and 7.5 meters east-west.
The researchers estimated the housing complex occupied a 120 meter-square plot in Heijokyo's inner city.
Three boundary lines separated the eastern one-third portion of the compound in a north-south direction, and smaller structures apparently stood along the western edge.
Fragments of special "sansai-gawara" roof tiles, which are coated with three paints, along with shards of clay pottery, have been unearthed, the institute said, adding that no "mokkan" wooden strips that served as documentary records had been found.
The researchers said there was evidence the structures might have been reconstructed after they were damaged by a flooding of the nearby Sahogawa river.
The site makes it an ideal location to alleviate a shortage of hotel rooms in Nara, as statistics show that the total number of hotel rooms in the prefecture is still the lowest among all prefectures.
A prefectural official in charge of attracting businesses to the prefecture said there are no plans to review the proposed development of the site.
"The section in charge of cultural property management has reported that it will preserve detailed records on the discovery," the official said.
VIDEO = http://ajw.asahi.com/article/behind_news/social_affairs/AJ201512030039