Nara (Japon): Great Buddha has a bad hair day
Nara (Japon): Great Buddha has a bad hair day
Hideaki Ishiyama
Source - http://ajw.asahi.com/article/behind_news/social_affairs/AJ201512030044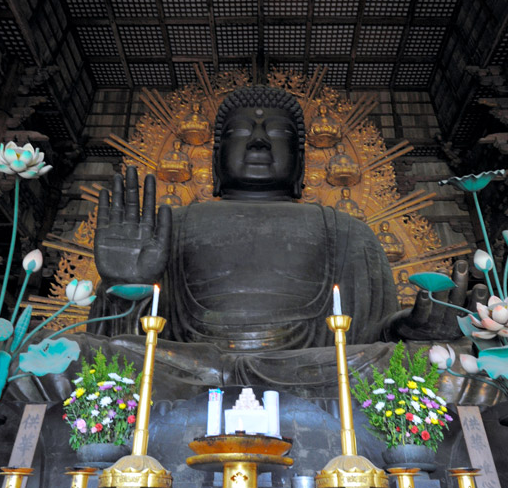 The Great Buddha statue at Todaiji temple (Asahi Shimbun file photo)
It might be splitting hairs, but the hairstyle of the Great Buddha of Nara is only half as impressive as it has been made out to be.
It was believed that the statue at the Todaiji temple had 966 "rahotsu" ball-like curls on its head, but state-of-the-art laser technology debunked this millennium-old myth by showing it had just 492.
And nine of those have now fallen out, or off, leaving unsightly bald patches on the Buddha's head.
The colossal statue of the seated Buddha, now sporting 483 curls, measures about 15 meters high and was built on the orders of Emperor Shomu (701-756) and completed in 752 during the Nara Period (710-784).
Each of the head curls measures 22 centimeters in diameter, 21 cm in height and 1.2 kilograms in weight. These coils of hair characterize the Buddha after enlightenment.
Koei Hashimura, an official with the temple, was upbeat after the finding. "We hope the latest finding will draw interest toward the Buddha and the holy text of the Kegon sect (of which Todaiji is the head temple)," he said.
According to Todaiji officials, a Heian Period (794-1185) document recounting the history of the temple states: "Between December 749 and June 751, 966 units of rahotsu were produced."
The figure has been widely accepted as true because documents from the Edo Period (1603-1867) and the Meiji Era (1868-1912) also stated that the statue had 966.
The Buddha was renovated during the Edo Period, and temple officials said it is unclear whether the statue originally had 966 and lost some during that process.
The temple tried to count how many curls of hair there were, but ornaments depicting the aureola, or sacred lights, illuminating the Buddha from behind, blocked their view.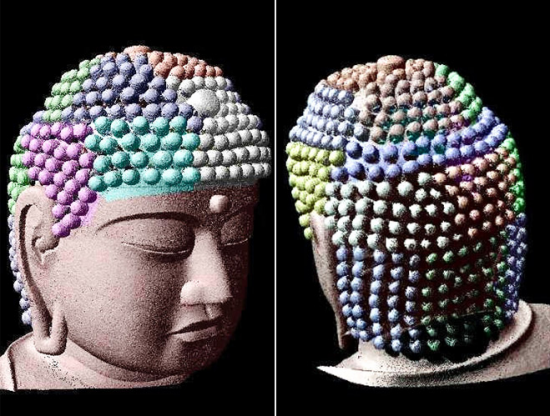 A 3-D construction of a laser scan shows the head of the Great Buddha statue at Nara's Todaiji temple. (Provided by Takeshi Oishi)
They decided to call in a research team that has the technology to scan cultural properties using laser beams.
Takeshi Oishi, an associate professor of interdisciplinary information studies at the University of Tokyo's Institute of Industrial Science, led the team that found the Buddha now has just 483 curls.
"This is something we could even call 'cyber archaeology,'" Oishi said. "We believe the technology can be applied in various fields."
The system allows researchers to create an accurate 3-D map of an object by measuring the time it takes for different surfaces to reflect back the laser beams. The method is ideal as it can scan even in tight corners by emitting lasers from multiple spots.