Naples (USA): Excavation of ancient canal offers insight
Naples (USA): Excavation of ancient canal offers insight
Excavation of ancient Naples canal offers insight
Archaeologist seek to learn more about waterway built by area's ancient Indians.
Kevin Lollar
Source - http://www.news-press.com/article/20120412/GREEN/304120046/Excavation-ancient-Naples-canal-offers-insight?odyssey=tab%7Ctopnews%7Ctext%7CHome

Archaeologists believe that sometime between 1200 and 1400, Indians living in the Naples area constructed a canoe canal from the Gulf of Mexico to Naples Bay. through what is now Old Naples. This painting by Naples artist Paul Arsenault depicts the mouth of the canal. at the bay. / Special to news-press.com
A handful of mud and wood has given new insight into an ancient 4,150-foot canoe canal that once connected the Gulf of Mexico to Naples Bay.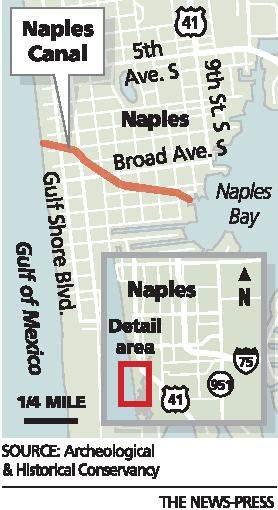 Now, archaeologists want to excavate part of the canal, which has been filled in since the 1920s, on property owned by the city of Naples, Bob Carr, executive director of the Archaeological & Historical Conservancy in Davie, said Wednesday.
"We hope to look carefully at the canal," Carr said. "We have big ideas, possibly opening an area where tourists can see the excavation and having a marked Naples Canal trail. This would be good for tourism and science."
Before the arrival of Europeans in the early 16th century, Indians built a series of canals in South Florida, including a 2.5-mile canal that connects Pine Island Sound to Matlacha Pass through Pineland and a 7-mile canal system at Ortona.
All of South Florida's canals from that era were built to facilitate trade.
"Compared to other canals in South Florida, the Naples Canal was like U.S. 41 versus I-75," archaeologist John Beriault said. "It was an important canal that enabled coastal trade to take place, but it wasn't as important as the Caloosahatchee waterway canals."
At 15-20 feet in depth, the Naples canal was the deepest of all Florida's Indian canoe canals.
It was built to shorten the amount of time a paddler had to spend in the open Gulf; an Indian traveling in the Gulf from the south could put into Naples Bay at Gordon's Pass, paddle north and out into the Gulf through the canal then continue up the coast to Doctor's Pass, where he would enter Moorings Bay.
The canal would reduce the distance traveled in the Gulf by three miles.
Because the canal has been filled since the 1920s, scientists had never studied it but, in 2011, a team of archaeologists followed a backhoe as it dug a waterline in downtown Naples, hoping to discover part of the canal.
On Nov. 10, the backhoe uncovered a section of canal at 10th Avenue South and Gulf Shore Boulevard South, and archaeological technician Scott Faulkner jumped into the 8-foot-deep hole to grab mud and wood samples.
Organic material from the samples was carbon dated to the year 1670, but because the samples were taken from 1.5 feet above the canal bottom, Barr estimates the canal was dug between 1200 and 1400.
As to who built the canal, which was about 40 feet wide at the top and 12 feet wide at the base, archaeologists aren't sure; Carr believes it was Indians from the Ten Thousand Islands rather than the Calusa, who dominated South Florida for centuries from population centers at Mound Key in Estero Bay and Pineland.
His reasoning is based on pottery found in the area.
"The pottery was a decorated type that doesn't occur in the Calusa heartland," Barr said. "If you make different pottery, you don't make it because you live in a different neighborhood. You make it because you have different traditions."
In the late 19th and early 20th centuries, the canal was visible and "an object of curiosity and awe for winter visitors," archaeologist George Luer wrote in the March 1998 Florida Anthropologist.
Andrew E. Douglass wrote of the canal in the 1885 Florida Antiquarian: "It is impossible to imagine the object of so vast and laborious an undertaking... But by whomever constructed and for whatever purpose, it is a work of great, and, we must suppose, well organized and intelligent labor, and well calculated to excite astonishment and admiration."
Like others of the time, Douglass didn't believe Indians could have accomplished such a feat of engineering.
"People thought it was a pirate canal," Carr said. "It had to be done by Europeans.
"What people don't realize is that the earliest canals in North America were these canals in South Florida. The fact that they had the social structure to organize the labor and the engineering ability create the canals is amazing."