Naples (Italie): How the mummified remains of child who died 450 years ago shed new light on hepatitis B
Naples (Italie): How the mummified remains of child who died 450 years ago shed new light on hepatitis B
A group of researchers, whose work was published Thursday in the journal PLOS Pathogens, were surprised to find how little the 16th-century strain of hepatitis B had changed genetically when compared with modern-day samples of the virus.
Sheryl Ubelacker / The Canadian Press
Source - https://www.thestar.com/news/canada/2018/01/05/how-the-mummified-remains-of-child-who-died-450-years-ago-shed-new-light-on-hepatitis-b.html
An international team of disease detectives has shed new light on a virus that kills almost a million people around the world each year by probing an unusual source — the mummified remains of a young child who died about 450 years ago in Renaissance Italy.
The scientists were able to sequence the complete genome of an ancient strain of hepatitis B after extracting DNA from the naturally mummified body of the two-year-old girl, which was interred with a number of other bodies in the sacristy of the Basilica of Saint Domenico Maggiore in Naples.
In the mid-1980s, before the advent of advanced genomic sequencing, Italian researchers had suggested the child likely died of smallpox because of evidence of rashlike scarring on her body.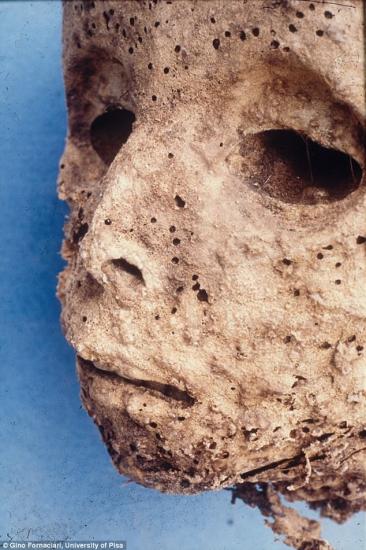 "The blisters are clearly all over the face ... when you look at the image, your first thought would be smallpox," agreed Hendrik Poinar, an evolutionary geneticist at McMaster University in Hamilton, who co-led the new study with evolutionary biologist Edward Holmes of the University of Sydney.
But after extracting viral DNA from small samples of the child's skin and bone and analyzing its genetic signature, researchers turned up no evidence of smallpox.
"Nada. We couldn't find anything," said Poinar, director of McMaster's Ancient DNA Centre, who previously helped sequence the genome of the extinct woolly mammoth and traced the genetic evolution of the bacteria that causes bubonic plague.
One of the scientists then turned to what's called a pathogen enrichment array, a means of testing a DNA sample to see if there's a genetic match detected among markers for hundreds of viruses, bacteria and other disease-causing agents.
What emerged was a clear signal for hepatitis B, leading the researchers to speculate that the child may have been affected by a rare childhood disease that can follow infection with hepatitis B, known as Gianotti-Crosti syndrome.
"That's a rash that breaks out extensively on children and it can cause death," said Poinar.
What surprised the scientists, whose research was published Thursday in the journal PLOS Pathogens, was how little the 16th-century strain of hepatitis B had changed genetically when compared with modern-day samples of the virus.
Hepatitis B is a primarily blood-borne virus that affects the liver. While most adults recover fully from the disease within a few months as their immune system clears the infection, some people develop a chronic lifetime infection that can lead to cirrhosis or liver cancer. A vaccine can prevent hepatitis B, but there's no curative treatment.
It's estimated that one-third of the world's population has been infected with the virus at some point in their lives and that about 350 million people are currently living with a chronic infection.
"This is a virus that still causes considerable morbidity and mortality today across the globe, especially in underdeveloped countries and for lower socioeconomic status individuals," said Poinar, noting it began infecting humans about 60,000 years ago.
"The more we understand about the behaviour of past pandemics and outbreaks, the greater our understanding of how modern pathogens might work and spread, and this information will ultimately help in their control," he said.
"Understanding the evolution of pathogens is quintessential to figuring out how to eradicate them."