Nan'ao One (Chine): Underwater archaeological work progresses into 3rd phase
Nan'ao One (Chine): Underwater archaeological work progresses into 3rd phase
CNTV
Source - http://www.kaogu.cn/en/detail.asp?ProductID=3559
Underwater archaeological work of Nan'ao One, the excavation of the ancient ship in Guangdong Province, has now progressed into the third phase, where archaeologists have found something other than porcelain vases and jars.
Most of the items found on the sunken ship are top quality porcelain pieces from Jingdezhen and Zhangzhou. However, the researchers found several bowls, basins and pestles at the back of the ship, which look quite different from the previous relics.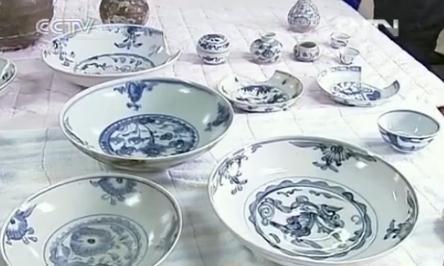 Zhou Chunshui, Vice-Captain of "Nan'ao 1" Excavation Team, said, "We know that the back of the ship was where sailors rested and had meals in. So these pottery pieces are not the goods the ship was carrying, they belong to the ship's crew."
While the excavation work continues, researchers are trying to locate the full body of the ship remains, hoping to rebuild a 3-D ship model on their drawing board. What's more, the technicians are working on welding a large steel frame on top of the ship.
Cui Yong, Captain of "Nan'ao 1" Excavation Team, said, "This frame made of steel will fix the ship remains on its current position underwater, and keep them from falling apart; it also functions as an assistance and protection for divers, they can attach themselves to the frame to free their hands, hence better excavate the ship."
Two rounds of excavation have taken place in the last five years, after a fisherman stumbled upon the ship in the South China Sea. With the help from local residents, a total number of 20-thousand porcelain items have been cleaned and collected so far.
According to the overall plan, all relics on the ship will be collected by the end of this year. However, the sunken ship body will not be moved or salvaged, unless scholars come up with a full plan to ensure the ship is not damaged if brought to the surface.