Nam Dinh (Viet Nam) :Tiny 300-year-old tomb found
Nam Dinh (Viet Nam) :Tiny 300-year-old tomb found
Tiny 300-year-old tomb found
Source -http://vietnamnews.vnagency.com.vn/Life-Style/215600/Tiny-300-year-old-tomb-found.html
An ancient tomb in the northern province of Nam Dinh is the smallest composite tomb discovered in Viet Nam so far, Nguyen Lan Cuong, deputy general secretary of the Viet Nam Archaeology Association, told Viet Nam News.
The outer coffin was 107cm in length, 36cm in width and 40cm in height, while the inner coffin was 94.5cm in length, 27.3cm in width and 33.4cm in height. The compound was said to consist of lime, molasses, sand and charcoal with a piece of cloth used to enclose the contents.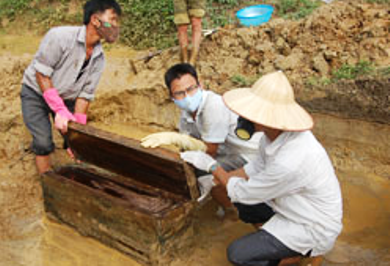 VNS Photo Nguyen Lan Cuong
Archaeologists found a skull and bones, affirming their thought that it was an exhumation tomb. Based on initial studies of the relics unearthed, Cuong supposed that the tomb was built around 300 years ago in the later Le dynasty (1533-1788).
This is the first time researchers have identified oil used to embalm the body. The archaeology crew took the oil and specimens in for research: the bones were put in an oblong earthenware container for reburial and brought to the regional cemetery, while the coffin was displayed at Nam Dinh Museum.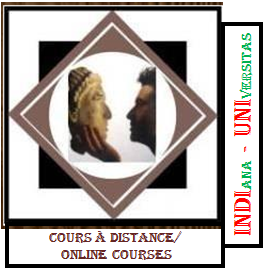 CIV 107 : Civilisations d'Asie du Sud-Est
Five months ago, the tomb was discovered in the process of constructing a road in Vu Ban District's Lien Ban commune. It was excavated last week by the Viet Nam Archaeology Association and the provincial museum.
Meanwhile, an excavation group found a mummy dating back 200 years in a Cau Xeo ancient tomb in Long Thanh of the southern province of Dong Nai.
The search revealed the tomb to be 8.5m in length and 4.6m in width. A coffin with a semicircular lid was put inside a composite and wooden outer coffin. Archaeologists also discovered a mummy covered by in piece of cloth in the coffin. The mummy was considered to be a lady living in the Nguyen dynasty (1802-1945). — VNS