Ancient Canaanite citadel discovered in the middle of the Nahariya, which had been burned down four times, will be incorporated into the basement
Ruth Schuster
Source - http://www.haaretz.com/jewish/archaeology/1.695784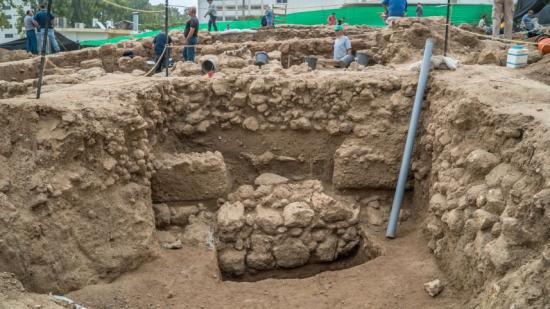 This 3,400-year old Canaanite fort discovered in the heart of the modern Israeli city of Nahariya will be incorporated into a residential high-rise.Eran Gilvarg, courtesy of the Israel Antiquities Authority
A 3,400-year-old Canaanite fort discovered in the heart of the modern Israeli city of Nahariya will be incorporated into a residential high-rise to be built at the spot.
The Bronze Age citadel apparently served as an administrative center serving Mediterranean mariners, stated the Israel Antiquities Authority. It had been destroyed at least four times by fire and was rebuilt each time, says the IAA.
Among the artifacts discovered in the ruined citadel's rooms are ceramic figurines with human and animal forms, bronze weapons, and pottery vessels that hadn't been made locally – they had been imported. That is further testimony to the extensive trading relations among the peoples around the Mediterranean Sea basin.
Among the burnt layers, the excavators found abundant remains of cereals, legumes and grape seeds, the IAA said. Whether the grape seeds prove that wine had been made in the area remains an open question, though analysis of clay vessels dating to 4,000 years ago, from the cellar of a Canaanite palace nearby, found remains of red wine, and a fine, aromatic vintage fit for a king at that.
There was probably a dock alongside the citadel, postulate Nimrod Getzov, Yair Amitzur and Dr. Ron Be'eri, directors of the dig on behalf of the IAA.
The building is being erected near the beach on Balfour Street by the Kochav construction company. The remains of the ancient citadel will be on display in a sort of mini-museum in the building's basement.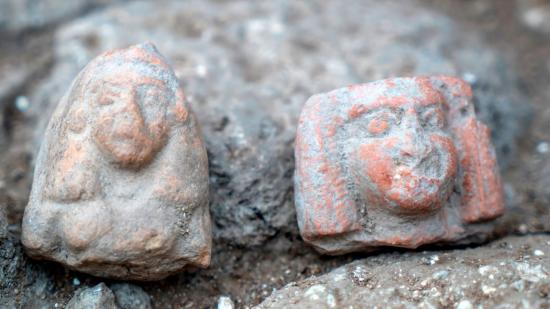 Female figurines dating to the Late Bronze Age. Photographic credit: Eran Gilvarg, courtesy of the Israel Antiquities Authority.
The excavation had been a large one. Pursuant to its aim of involving the younger generation in heritage, the IAA tapped youth groups for assistance in excavation, including students from the Shchakim High School in Nahariya.
Many things about the Canaanites have remained mysterious. There is little evidence to enlighten archaeologists as to who exactly the Canaanites were, and what system of rulership they had. There have been no significant findings of alphabetic writing from the region during the Middle Bronze Age, though neighboring Egypt and Mesopotamia had advanced civilizations with highly advanced writing systems. We do know however that the Canaanites liked their wine, as evinced by the discovery in that palace of an enormous collection of wine jars and grape seeds.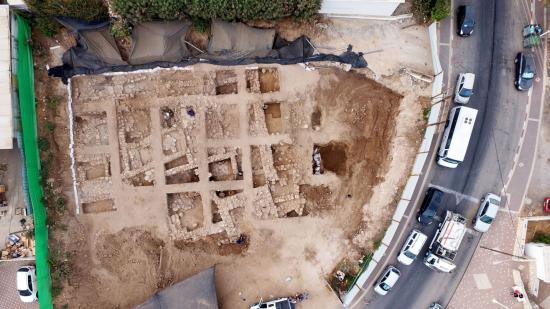 An aerial photograph of the excavation.Guy Fitoussi, courtesy of the Israel Antiquities Authority.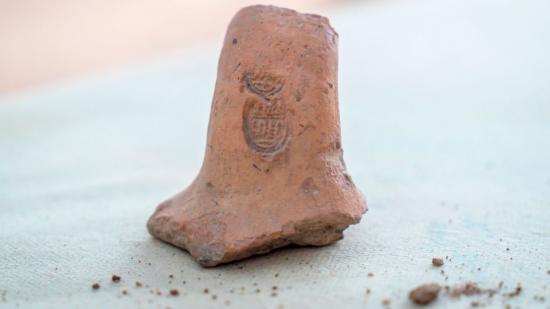 A stamped jar handle dating to the Middle Bronze Age.Israel Antiquities Authority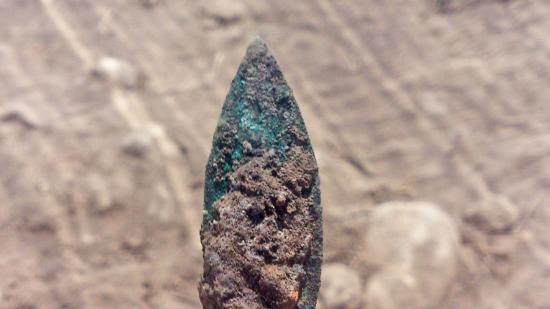 An arrowhead made of bronze.Photographic credit: Eran Gilvarg, courtesy of the Israel Antiquities Authority.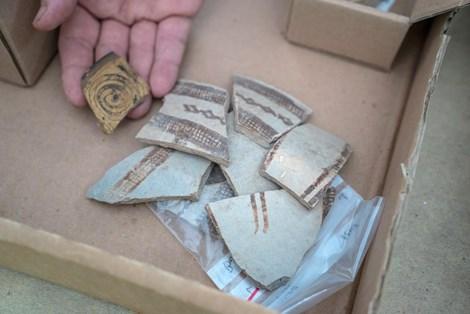 Fragments of decorated pottery vessels imported from Cyprus and Greece 3,400 years ago Guy Fitoussi, courtesy of the Israel Antiquities Authority