Madhur Tankha
Source - http://www.thehindu.com/news/cities/Delhi/archaeologist-identifies-rare-terracotta-find/article5064119.ece?homepage=true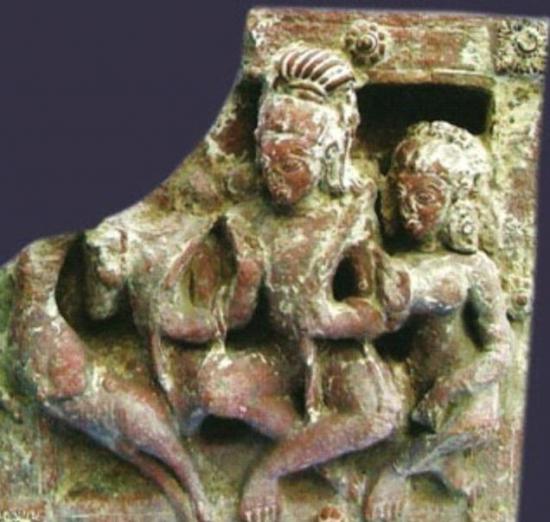 The terracotta figurine is now lying at the Jhajjar museum in Haryana.
A rare terracotta figurine with the Ramayana as its theme has been discovered by noted archaeologist D.P. Sharma. He wants the Union Culture Ministry to house the artefact at a prominent museum maintained by it.
The figurine, on which Valmiki's Ramayana has been inscribed, is currently kept at a museum in Haryana. Dr. Sharma discovered the Brahmi inscription on top of the figurine at the Archaeological Museum of Gurukul in Jhajjar.
"Right now, this terracotta figurine, which has Ram, Sita and Laxman, is lying at the Jhajjar museum in Haryana. The security at the museum is lackadaisical and the figurine can be stolen easily. I have managed to identify Valmiki's Ramayana in the inscription. This figure is from Nachara Khera in Haryana," he said.
Dr. Sharma said a gold-plated figurine, with the entire story of Sita's abduction by Ravana, is housed at the Bharat Kala Bhavan of Banaras Hindu University.
"Another terracotta figure was discovered at Kaushambi. It narrates the abduction of Sita by the demon king. It has been kept at the Allahabad Museum. We need to keep all such artefacts in one museum so the public can see them all under the same roof and feel proud about our rich heritage."
Dr. Sharma mastered the art of reading Brahmi while studying History at Allahabad University. Referring to the inscription on the figurine, he said: "The inscription reads that while travelling to Panchavati, Ram met a vulture (jatayu) who gave certain clues about Sita who had been abducted by Ravana".
Apart from reading the inscription, Dr. Sharma had to analyse this discovery in comparison to other styles. "I had to study and research for long hours almost on a daily basis for a year before arriving at this conclusion. I have mentioned this discovery in my latest book. Officials at Archaeological Survey of India have described my discovery as extraordinary."
It was former ASI Director General B.B. Lal who informed Dr. Sharma that a rare terracotta figurine was kept at a museum in Haryana. Dr. Sharma's identification has been corroborated by ASI officials.